When you play in the NHL as long as Jaromir Jagr has (and for as many teams as he has) you are teammates with a lot of players. When you are still playing, as he is at the age of 43-years-old, you will play alongside players that weren't even born yet when you made your NHL debut. Often you eventually become teammates with players you may have had battles with; epic playoff battles or battles on international ice.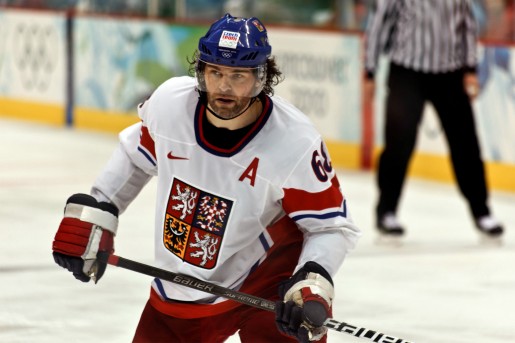 "Playing against Jags was always an honor since he was one of the best players in the world, but that didn't mean I took it easy on him," ex-NHL defenseman Brendan Witt told The Hockey Writers via email. "I was always looking for an advantage by playing the body any chance I had and would always tell him it's going to be a long night. When he was traded to Washington from Pittburgh he told me he was thankful that he didn't have to play against me (anymore). That was truly a great compliment from one of the best."
Earlier this season our Ross Bonander wrote about Jagr's prowess on the ice and how he is an elite space-maker on the ice:
During this past season I spoke with a bunch of his (now ex) teammates on the New Jersey Devils for THW about what makes him such a successful player and teammate off the ice, what they've learned from him, what they've observed in the day-to-day activities of being around a living legend day in and day out.
Often early on in Jagr's career it always seemed like he was having fun playing the game, like most young, successful players do. He would do his little salutes after scoring goals, pump his fists, etc; but once he shaved the mullet off it seemed he wasn't having fun anymore — he was often portrayed by media as being a surly guy after games, a pain to deal with and so on. When he joined the New York Rangers he seemed to have found that fun in the game again, despite the fact the mullet didn't make a comeback (unfortunately for us). He played three full seasons with the Blueshirts including his team record 54-goal season in 2005-06.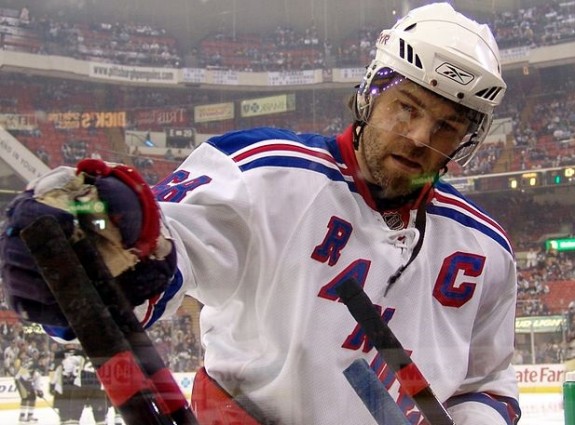 Scott Gomez was teammates with Jagr in New York, and again this past season with New Jersey. Never at a loss for words, Gomez had a lot of things to say when we asked about being his teammate then and now, and what he's like as a teammate. "When guys know how to get open, and the difference with him compared to other guys I play with is you can throw it (the puck) in certain areas," he explained, "and he's just so big, so strong, so smart; he knows what to do and he puts in the work. There's no question about it; he's kind of a psycho, there's no question about that either," he said while laughing. "With all the voodoo tricks, and the guy has got something new everyday. He is something special and I think for anyone, a young kid out there, this guy does put in the work. It's not like he just comes out here and…wings it. He really works on his craft."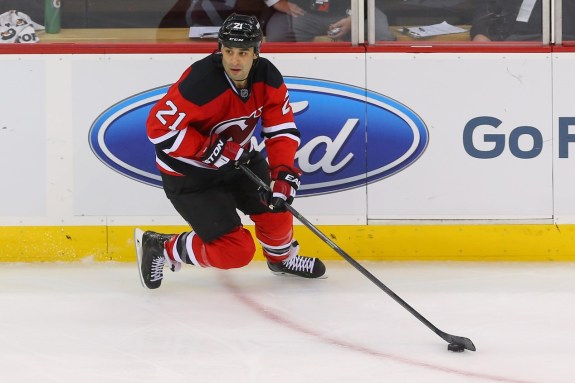 Gomez went on to explain how Jagr has adapted to the way the style of NHL play has evolved. "He's adapted a little bit (since we were teammates with the Rangers) with the new rules; it's a new game. In the old days you could hold on to the puck maybe just a little bit longer, the way the rules were and everything, but this guy has adapted to everything. It's incredible; I wasn't kidding when I said he definitely puts in the work in his craft and that's what makes him what he is."
Cory Schneider was only teammates for a season and a half with no. 68 but he saw the impact he had on the guys in that locker room almost immediately from day one when they both arrived for their first day as a part of the Devils franchise. "He's brought a lot of professionalism to our team (right from the start), he's seen it all, he's been around; he's done everything. It's a joy to play with him and watch him do what he does; he's a generational-type player, you don't see guys like that come around very often."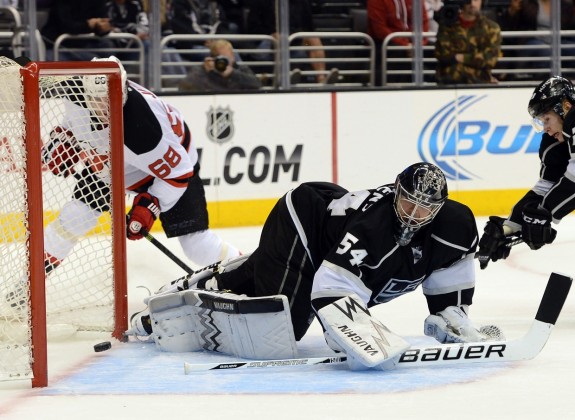 A few of the younger players really took a liking to being around Jagr on a daily basis, not only was he a guy they idolized growing up or the guy they played with on their video games as kids, but now he was their teammate and a big joker as well. "(on the bus trips or on the plane), he gets up, wanders around a little bit, jokes around a lot with the guys," said Adam Henrique. "He's never wrong. He's always right. And he's always open (smiles), that's one thing I've learned." Jagr walked by just as the last word came out of Henrique mouth and he patted his teammate on the back and said with a devilish grin, "That's right Rico, always."
Jaromir Jagr scored his 15th NHL hat trick on January 3, 2015 vs. the Flyers:
Most of the players conceded that he was one of the funniest guys in the room, including Tuomo Ruutu who we asked if he was a better hockey player or comedian. "He is funny, said Ruutu laughing loudly, "but he'd have to be really funny because he's really great at hockey." Jacob Josefson was one of those who watched no. 68 as a star in the league when he was a young boy and was thrilled he was able to be his teammate. "It's amazing just to watch him every day; you learn a lot of things from him. I remember watching him as a kid; he was one of the biggest stars in hockey, it's so much fun being his teammate."
Watch @NHLDevils' Jagr take sole posession of 10th on all-time assist list at #StadiumSeries: http://t.co/XTZaqoSHhO pic.twitter.com/OgrXIFKzj9

— NHL (@NHL) January 27, 2014
Henrique concurred that just being around him on that daily basis they were learning so much about not only learning how to play the game better, but to prepare for it also. "He's awesome to have in this room; he keeps it light, he likes to have fun in here. I played with him for a bit there on the same line; he's so smart, sees the game so well — not like others. He notices a lot of little things, I just try to learn from that; obviously he's been around this league a long time and very successful," he said before adding. "He's one of the best to ever play the game; I just try to be a sponge and listen to whatever he's saying, when he's talking about little things out there."
Like most players Stephen Gionta was a little saddened when Jagr was traded to the Florida Panthers ahead of the trading deadline this past March. But he was thankful he was his teammate for part of his legendary career. "It's unbelievable that he's played at this high level for so long; the competitiveness he has, the work ethic — I think that's the thing that sticks out the most (for me). Guys should pick up on it and see how hard he works on and off the ice. He's always working on his game and he's always talking too; it's was a great experience for me (to be his teammate)."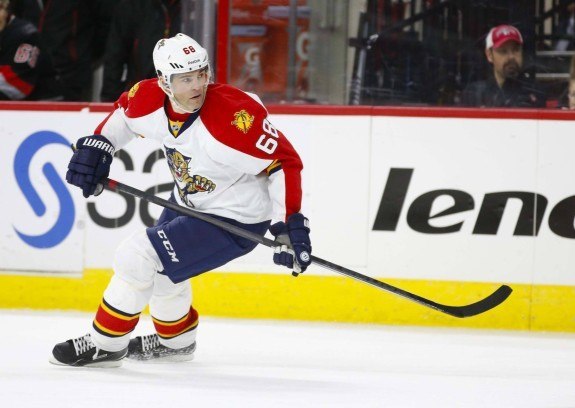 With the Panthers Jagr played in just 20 games but was quickly re-signed for next season and one of the key reasons was the impact that he has had on the young core of players that are starting to blossom in the organization. "He might be old, but he's really so good on the ice," Jonathan Huberdeau told my former colleague Jameson Olive of Fox Sports Florida. "He tells [us] to keep it simple. He's got so many guys on him so it opens up (ice) for us."
As usual Gomez was again best able to sum up the impact that Jagr could still have on the next generation of players in the NHL. "Look, we're not all going to be Jaromir Jagr, it's just the way it is. But the younger players can pick up the work habits definitely, but that's what a team is; right? Everybody brings something different in here to this room. We all wish we could be like him and put up those numbers but that's not going to happen."
Jaromir Jagr Player Spotlight on MSG Network with Deb Placey:
He's right, Gomez is 100% right. Especially the direction the NHL is headed with (maybe too much) attention put on blocked shots (due to superior equipment) and the overload of analytical data about why players can/can't, should/shouldn't would've/could've scored goals…..chances are Jagr may be the last link to that past generation of NHLers that saw multiple 100-point and 50+ goal scorers each and every season.
Dan Rice can be reached via Twitter: @DRdiabloTHW or via Email: drdiablo321@yahoo.com
Dan Rice is in his 9th year of reporting for THW & has covered NJ Devils home games for 15+ years at various websites. He began his journey working for legendary broadcaster/writer Stan Fischler from 2002-04 & completed an internship at the ECHL; he also has been writing features for the NWHL (nwhl.zone) website since 2016.