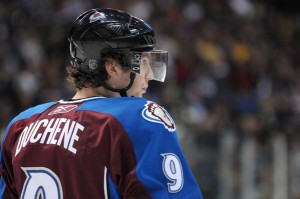 On June 26th, 2009, Matt Duchene endeared himself to Colorado Avalanche fans when he was visibly excited to be passed up by both the New York Islanders and the Tampa Bay Lightning.  Not that Duchene would have minded the distinction and prestige of being a first or second overall selection, but as a child, he was a fan of Joe Sakic, Peter Forsberg, Patrick Roy, and the great Colorado Avalanche teams of the late 90s and early 2000s, so more than wanting to be a No. 1 or No. 2 overall pick, Duchene wanted to wear the Burgundy and Blue of the Colorado Avalanche.
During his rookie campaign, Duchene would prove to be a valuable asset to the Colorado Avalanche as he led all rookies in scoring with 55 points (24 goals and 31 assists).  He would finish the season as a finalist for the Calder Trophy for Rookie of the Year and be named to the NHL All-Rookie Team.  In his sophomore year, Duchene would increase his point production to 67 points and be named to his first NHL All-Star Game.  He also became the youngest player in franchise history to eclipse the 100 point mark, a record previously held by his boyhood idol, Hall of Famer Joe Sakic.
Just when Duchene seemed prime to elevate his career to superstar status, he experienced a frustrating third year, which was plagued by injuries.  He got off to a bit of a slow start that season, which was not unusual for him.  By early November, he seemed to be turning to corner as he recorded his first career hat trick and four-point game against the Dallas Stars.  However, shortly after that, he was felled by a knee injury and later an ankle injury which would limit him to just 58 games that season and even when he returned from his injuries, they clearly still affected his speed and production.  He finished the season with just 28 points.
Once thought to be the future of the franchise, Duchene almost became an afterthought for the Avs.  Fellow 2009 draft pick Ryan O'Reilly elevated his offensive game and finished with a team-leading 55 points and 2011's second overall pick, Gabriel Landeskog virtually rose to superstar status overnight.  Landeskog would go on to win the Calder Trophy (Duchene finished third just two seasons prior) and was even named captain of the Colorado Avalanche, making him the youngest captain in NHL history.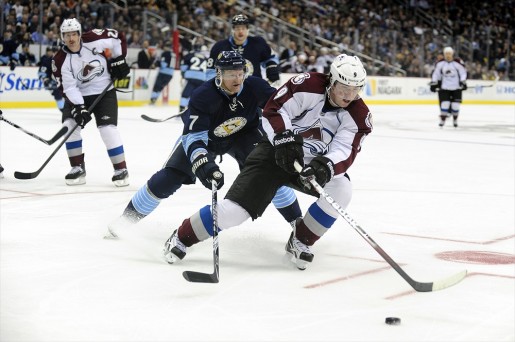 With the rise of his teammates around him and his frustrating third year, Duchene certainly could have gotten down on himself but instead he dedicated himself to righting the ship of his career.  In June, Duchene signed a two-year, $7 million contract extension with the Avs.  With players of similar status as Duchene such as the Islanders John Tavares, the first overall pick in Duchene's draft class receiving a six-year, $33 million contract and the Sabres defenseman Tyler Myers, the winner of the Calder Trophy when Duchene was a finalist, getting a seven-year, $38.5 million extension with Buffalo, it seemed logical that Duchene could have fought for a longer deal with much more money involved.  Duchene however, just wanted to get the contract out of the way and focus on improving his game.  He said that his next deal is when he'll get the big payday.
So Duchene took a very team-friendly deal for the Avs which will keep him a restricted free agent at the end of the 2013-14 season and certainly keeps him motivated to produce on the ice in order to earn his big contract next time around.  Duchene didn't stop there however.  Over the summer, he trained with Pittsburgh Penguins superstar Sidney Crosby, arguably one of the best hockey players in the world today.  Duchene also made dramatic changes to his diet by eliminating gluten, sugar, and dairy.  He was also certainly not idle during the lockout as he had stints with Frolunda HC in the Swedish Elite League and HC Ambri-Piotta in the Swiss National League A.  When the lockout ended, he was on the first flight back to Denver ready for the abbreviated training camp with the Avs.
Traditionally a slow starter, the Avs cannot afford a slow start from Duchene during this lockout-shortened 48-game season.  Duchene is currently tied for the team lead in scoring with 7 points in as many games and leads the team with 5 assists.  Let's hope that his point-per-game production so far IS a slow start and that he continues to explode from here.
It has only been seven games thus far, but Duchene looks to be playing with speed, strength, and confidence.  Duchene's speed is probably his greatest asset and the injuries last season certainly slowed him down and hampered his effectiveness.  Duchene took full advantage of the off-season to fully recover from his injuries and looks to be as fast as ever.  Duchene has always had impressive moves with the puck, a bit reminiscent of another one of his boyhood idols, the legendary Peter Forsberg.  The knock on Duchene early in his career however, was that he was too small and could easily be moved off the puck.  This year, his off-season improvements have appeared to have given him increased strength and he is much stronger with the puck, it seems.  He did this while not sacrificing his speed and perhaps even adding to it.  Perhaps it was training with one of the game's best in Crosby or getting his legs underneath him in Europe, but Duchene seems to be skating with the confidence this season that earned him league-wide accolades during his first two seasons.
With Ryan O'Reilly yet to re-sign with the Avs (making Duchene's quick and painless new contract last summer all the more impressive) and young captain Gabe Landeskog currently sidelined with head and leg injuries sustained from a contraoversial hit by Sharks defensemen Brad Stuart, the Avs are once again Duchene's team.
Of course, the Avs are hoping their captain will return very soon and the hockey world is hoping for a resolution to the O'Reilly contract dispute and the Avs will need both of them as well as the continued rise of Matt Duchene to compete in this highly competitive Western Conferenence.