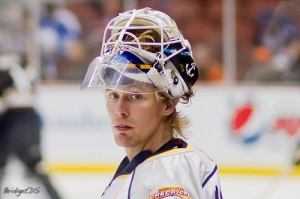 It's no secret that the Tampa Bay Lightning struggled defensively last season. It was also obvious that it would be that factor that would keep them from being an elite team in the Eastern Conference. However, it looks like they've solved their defensive woes, at least in the early part of this season. For a team a season ago that obtained the worst goals against average in the league, with 3.39, and a goals per game average that was good for ninth in the league, there was no question that defense would be the big question heading into this season.
With a quality mix of young talent and veteran leadership, Tampa Bay's defensive core, along with Anders Lindback in net, is ready to take the next step to make their team a legitimate threat in the Eastern Conference. Veteran defenseman Sami Salo, who is now 38 years old and in his 14th NHL season, is a newcomer this season and has made an immediate impact. Salo is leading the NHL in plus-minus after his first six games, with a plus-10. Additionally, he has notched five assists for five points in those six games. Another veteran that seems to be providing a sense of solidity on the back end is Eric Brewer. Known for providing a physical presence and sticking up for teammates, Brewer has been a scoring threat as well in the early stages of this season, netting three goals in six games played.
After spending just 12 games with the Lightning during the 2008-2009 season before being dealt to Philadelphia, Matt Carle is back in a Tampa Bay uniform and will figure to be a key part of the defensive core this season. Carle has produced a goal and two assists in his first six games this season.
Possibly the biggest factor to curing Tampa Bay's defensive woes from last year may be the development of Swedish defenseman Victor Hedman. Hedman is doing it all so far this season. Offensively, he's been a steady contributor, chipping in with two goals and two assists so far this season, but a more impressive statistic is that Hedman is a plus-eight. The play of Hedman has been huge for the Lightning, who were in dire need of a consistent defenseman at both ends of the ice.
Lindback has been stellar in net in addition to the solid play of Tampa Bay's defensive core, posting a 4-1-0 record with a 2.80 goals against average and a .914 save percentage. If Lindback keeps his play up and the core four of Salo, Hedman, Carle, and Brewer can stay healthy, to go along with one of the most dynamic offenses in the league, then the Lightning will undoubtedly be one of the top teams in the Eastern Conference this season, a statement that would have seemed far-fetched a season ago.
Follow me on Twitter: @Matt_Metcalf