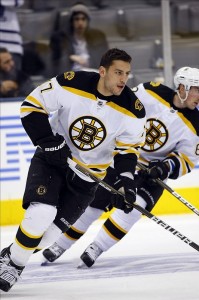 When Boston's Shawn Thornton dropped the gloves with Buffalo behemoth John Scott Thursday night, he earned the respect of his teammates, the fans, opposing fans, and likely Scott himself. Despite giving up six inches in height and over 50 pounds to the 6-foot-8 , Thornton had no second thoughts about throwing punches with Scott, and for that he deserves credit. He knows his job is to fight the other team's tough guys and, despite overwhelming odds, did his job.
However, he never should have had to do it.
Though Thornton knows, understands, and loves his role on the Bruins, the Scott fight was not his battle. It was Milan Lucic's, who ran Ryan Miller last season without fear of retribution from a soft Buffalo roster.
All that changed last summer, as the Sabres added the gritty Steve Ott and goon extraordinaire Scott – this was done in direct response to the lack of toughness Buffalo showed in response to Lucic's charge of Miller. Lucic, who was unapologetic whenever he spoke of the Miller incident, was arrogant whenever the Bruins faced the Sabres last season.
"I'm not calling their team out, all I'm going to say is I think everyone knows if it happened on our end of the stick what would have happened," a smarmy Lucic said on Felger & Mazz's afternoon show on 98,5 The Sports Hub shortly after the incident. He also joked that he had "60 pounds" on Miller, not the 50 pounds Miller said in his post-game comments. Lucic knew there would be no retribution from the Sabres because they had no one who could answer the bell with Lucic.
However, when the ball rang with Buffalo's new tough guy Scott, Lucic was nowhere to be found Thursday night.  Instead, he relied on Thornton to fight his battle for him, letting the spiritual leader of his team take an absolute beating while he sat on the bench.
The Lucic defenders will say trading Lucic for Scott is a bad move, or that Zdeno Chara should have stepped up, or that it is Thronton's job to fight the big fights. However, there is no excuse for Lucic not stepping up. His actions last year led directly to Buffalo's acquisition of Scott, and Lucic claims to be a tough guy. It was his spot to step up and fight Scott, not Thornton's.
When the Sabres had no one to stand up to him, Lucic had no problem taking a run at a 170-pound goaltender. He mocked the Sabres and made jokes about the incident. But when the Sabres put a guy on the ice that could defend himself, Lucic chose to send out his teammate to fight his battle for him.
In other words, he did what so many guys do when they fight Lucic – he turtled. When the two teams meet again on Feb. 10, the only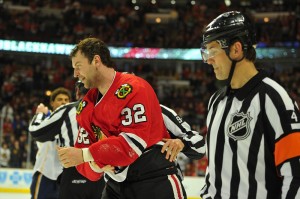 guy who should be lining up to fight Scott is the same guy who should have on Thursday night – No. 17. It is his responsibility and his job – not Thornton's, not Chara's, not Adam McQuaid's.
It's time Lucic step up and accept responsibility for his actions. He had no problem taking responsibility when Paul Gaustad was the guy he had to fight, and now it's time for him to pay the piper and fight the guy they brought in for the simple purpose of defending Miller.
For the record, I think Lucic can take Scott down. He is big yes, but Lucic is certainly tough enough to not only fight Scott, but win the bout.
Of course, until Lucic decided to step up and do his job, we will never know.