There was a huge welcome return to the Chicago Blackhawks line up two weeks ago in the form of defenseman Duncan Keith.
Keith has been out injured for a month, undergoing successful knee surgery to repair a torn meniscus. It was originally thought that he would be out for up to six weeks, but made his return after just four weeks after the operation.
Mad Minutes
The 32 year old is a big asset for the Blackhawks. He is a two way defenseman with a deadly shot. His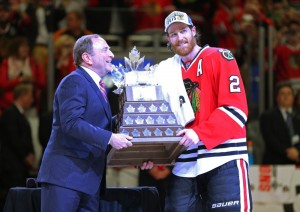 time on the ice is through the roof, proved during last year's playoffs, particularly after fellow blue liner Michal Rozsival was left out of the line up for the remainder of the season after he fractured his ankle. In the 23 games the Blackhawks played before lifting the Stanley Cup, Keith racked up a total of 684 minutes and 37 seconds of ice time. To put it in perspective, he spent a total of just under 11 and a half games on the ice.
Let's not forget the Stanley Cup Final, in Game 6, where he scored the goal that would help him and his team lift the Cup later on that night!

With his incredible amount of ice time, and added to that, his on ice presence not just during the playoffs, but throughout the whole season, it made him a worthy Conn Smythe trophy winner.
Beating Heart of the Team
Duncan Keith is a part of the heart of the Blackhawks. His time out with his injury was a big blow to the team and had left them with a huge void to try and fill. Coach Joel Quennville had to rely on his other defensemen including the likes of Brent Seabrook, Niklas Hjalmarsson and Trevor van Riemsdyk.
Keith was out for ten games for the Hawks. During those ten games, the Hawks struggled with to keep their game consistent, but managed to win exactly half of them. The games that they lost, however, all came within seven games in fifteen days.
Taking a step back from looking at his on ice stats, and the fact that Keith really does wear his heart on his sleeve, last year, the Blackhawks started a campaign for their fans. The "What's Your Goal" campaign really took off, with hundreds of Hawks fans getting involved. Duncan Keith got involved in one particular story: the story of Cammy. It showed his softer, yet still very passionate nature.
Looking At the Numbers
With his long awaited return, the Blackhawks have played eight games, including six on the annual Circus Trip. Out of the eight played, the Blackhawks have won five with Keith scoring himself four goals and as many assists, proving to the hockey world that he is a major asset to his club. Arguably, he is the defenseman every team in the NHL wants, even if it's just for the amount of time and effort he puts into his game.
I currently live in Luton, United Kingdom and I am big a fan of the Milton Keynes Lightning (English Premier League) and the Chicago Blackhawks.
I write match previews and other articles for the Milton Keynes Lightning website and I also help to write and put together articles for the match night programme.
I am a Media Performance graduate but my passion lies with ice hockey