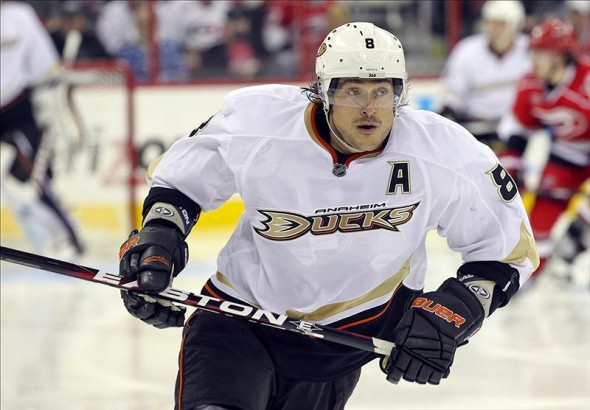 Selanne To Return For (At Least) One More Year
Although notable NHL news has dried up in the wake of the Parise/Suter signing, free agent signings continue to trickle in, and today the Anaheim Ducks received some welcome news indeed: the 42-year-old Face of the Franchise has decided to return for (at least) one more year. Anaheim's official twitter made the announcement with a splash of Hollywood-style suspense:
Teemu Selanne has made his decision. Be the first to see it now on the #NHLDucks Mobile App: http://t.co/yyj5cfBj

— Anaheim Ducks (@AnaheimDucks) July 12, 2012
Shameless mobile app plug aside, the desired effect was achieved. I may have been in the middle of work, but I dropped everything I was doing and went straight to my pre-downloaded Anaheim Ducks mobile app and watched, breathlessly, as Selanne announced his "decision" – a decision that just about anyone with so much as half an ear rooted in the hockey grape vine has "known" was coming down the pike for several weeks now.
For the video impaired:
As one friend so succinctly stated it in a text message, "And there was much rejoicing." And how.
The Finnish Flash Signs One-Year Deal
There was never any doubt that should Teemu Selanne decide to continue his dazzling NHL career, he would do so with the Anaheim Ducks. Southern California is, after all, "his happy place," as he's so often said, so the question of Selanne's return vs. retirement was never a matter "where," but rather "if."
After all, the man has played in 1,341 regular season games, racking up 663 goals, 743 assists, for 1,406 career points. He's won a Stanley Cup. The Calder Memorial Trophy for Rookie of the Year. The Rocket Richard for goals scored in a single season. Olympic medals. World Championship medals. He's shattered records and won hearts wherever he's been. Truthfully there's nothing left to play for save a genuine love of the game, which is a something Selanne has in spades, and a shot at another Stanley Cup.
In signing this contract worth a reported $4.5M, Selanne greatly improves Anaheim's chances of qualifying for the post-season once again. He played in all 82 games lasts season and led the Ducks in points with 66 (26g, 40a)…as a 42-year-old…on a team with a core of Ryan Getzlaf, Corey Perry, and Bobby Ryan. While the "big three" will undoubtedly have to step up their game in the 2012-13 season to provide more offensive support, losing your leading scorer to retirement would have been a blow that the Ducks might not have been able to recover from. If he stays healthy, Selanne has not lost a step and is a safe bet to pencil in for 20-25 goals and somewhere in the neighborhood of 60 points.
Said Selanne regarding his decision to return:
"I think it was a little bit easier than last year. Last year, I was rehabbing my knee and wasn't sure if I would be able to play again. This year it was easier. Obviously, 82 games I played all of them last year.  It's never easy. At this age, it's not going to get any easier. I still feel that I have something to give and that I can still play on this high level. Even with the tough first half we had last year, I still enjoyed the game so much. That is why I think I knew way earlier than normal that I wanted to play again. Our team, we want to win again. That is a big part of my decision too."
On the topic of his age, he added:
"Age is a funny thing. A lot of times, I don't really feel 42 right now. After all, they are tough numbers. It all depends how good you feel, how healthy you are and how much passion you have for the game. That is why I still enjoy the game. It's fun to go to the rink every morning.  It sounds pretty old when you say 42 as a hockey player. Mentally, I am still the same level as Getzlaf and those other guys. That is most important and that is why I am still in the game."
One interesting statistic of note, via James Mirtle on twitter:
One last stat… Goals per game age 35+: 1. Selanne, 2. Richard, 3. Lemieux. http://t.co/VFgp7kb7

— James Mirtle (@mirtle) July 12, 2012
Holy cow, that's some elite company for Selanne to be headlining. However, the Ducks cannot rely on the offensive contributions of a man now in his fourth decade. For a chance at success, the Ducks will need for their impressive, but underachieving core of young players (Getzlaf, Perry, Ryan, Cam Fowler, et al.) to step up in a major way.
A Look at The Numbers
Obviously the thing that most Anaheim fans are thrilled with is the prospect of getting to see Teemu Selanne fly down the wing on the Honda Center ice for at least 41 more games – the prospect of him single handedly raising 17,174 people to their feet with an emphatic goal. But it's also fun to play prognosticator, so here's a look at some of the all-time records Selanne is within striking distance of:
Points – Selanne currently sits 19th all-time with 1,406. With a season similar to his last, he could conceivably pass:
18. Dale Hawerchuk (1,409)
17. Doug Gilmour (1,414)
16.  Adam Oates (1,420)
15. Bryan Trottier (1,425)
14. Stan Mikita (1,467)
Goals – Selanne currently sits 12th all-time with 663. In the 2012-13 season, he could pass:
11. Jaromir Jagr (665 – although he'll surely score a few in Dallas this season)
10. Luc Robitaille (668)
9. Mario Lemieux (690)
8. Steve Yzerman (692)
7. Mark Messier (694)
Powerplay Goals – Selanne has always been a beast on the powerplay and currently sits  4th all-time with 248. By the end of this next season he has a good chance of passing:
3. Phil Esposito (249)
2. Brett Hull (265)
Looking Forward
Regardless of how the 2012-13 season plays out for Teemu Selanne and his Anaheim Ducks, one thing is for certain: the NHL and hockey in general is a better place with Teemu Selanne in it, and we should all feel blessed for the opportunity to watch him perform for at least one more year. Viva la Flash!
As a lifelong hockey fan and resident of Southern California, he recently started a blog called SoCal Puck, which aims to explore all things hockey in Southern California. He grew up playing roller and ice hockey in the Orange County area and currently plays on several beer league teams. Collin also contributes at Sunbelt Hockey Journal.