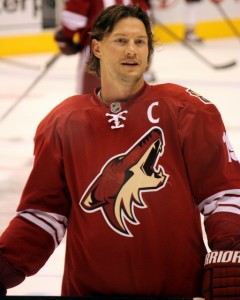 It's been just under two weeks since the doors to the free agency market opened up. So far, plenty of big names have made up their minds and chosen where they will be playing come autumn. However, many hockey fans in Arizona are still wondering if their captain will return to The Grand Canyon State next season.
Shane Doan is arguably the best player who is still available. Now thirty-five years old, Doan completed his seventeenth season with the Phoenix Coyotes/Winnipeg Jets organization this past spring.
Reports have suggested the Coyotes' captain is more than willing to re-sign with Phoenix. But Doan has made it clear he is uncomfortable with the ownership situation. It is well-known around the league that the Coyotes' aren't exactly stable at the moment. Tickets have been hard to sell at times, and with the state of the team up the air, the situation is certainly something Doan is concerned with.
"We don't want to create a false expectation he will leave until it's a real possibility," Doan's agent, Terry Bross, told the FAN590 radio station. "Shane's first desire is to finish what he started in Phoenix and stay with the franchise and finish his career where he started it."
Doan was named captain of the Coyotes' during the 2003-2004 season, and has led the team ever since. Fans of the "Desert Dogs" are wishing upon stars that he will return to their lineup in September, but at this point, by no means is it sure to happen.
There are many teams across the league who have expressed interest in the current unrestricted-free agent – that much is known. According to Bross, there are as many as sixteen teams interested. But what isn't known is who Doan has reached out to with genuine enthusiasm.
A native of Halkirk, Alberta, a very small village which currently has an estimated population of just over a hundred people, Doan would make for an interesting fit with the Edmonton Oilers in his home province. The Oilers are operating an elite-prospects factory right now, and could really use a veteran presence such as Doan on their first line.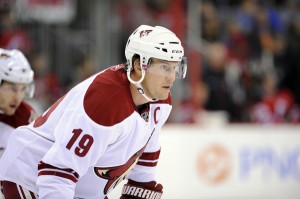 With a young nucleus of Jordan Eberle, Taylor Hall, Ryan Nugent-Hopkins, Justin Schultz, and Nail Yakupov, the Oilers have built up an astonishing core for the future. At the moment, however, outside of Ryan Smyth, Edmonton is lacking leadership on their top three lines. Joining such a young team would be a major adjustment for Doan, especially given the fact he may be looking to make a legitimate run at the Stanley Cup before his retirement. Patience would be required, but the payoff could be huge after just a few more seasons.
If anything can come from what is currently known, it appears Doan will likely sign with a team in the Western Conference. Reports have stated he has received either four or five solid offers already. However, Doan is in no hurry to make a decision.
Another possible destination is Vancouver, British Columbia. According to multiple reports, the Canucks have been all over Doan. At this point, they might just be the favourite. There are many solid reasons for Doan to sign with them: he played junior in B.C., he's a part-owner of the Western Hockey League's Kamloops Blazers, and the Canucks offer him the most realistic chance at winning a Stanley Cup. Above all, his wife is from B.C., and as all the husbands out there know, that's a pretty massive factor. For a player who probably only has a few more good seasons of high-level hockey remaining, this could be a great opportunity to finish his career in a more familiar location.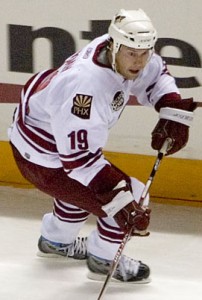 For all hardcore Toronto Maple Leafs fans, yes, it's possible Doan will come to the GTA. But don't get your hopes up as high as the CN Tower; the odds of Doan signing there are somewhere between one and negative five. Technically, it's still possible. Seriously though, the Leafs haven't won a Cup since 1967, but hey, who's counting?
The storybook ending would see Doan signing with the Winnipeg Jets, in the city where it all began. However, much like the Leafs, the Jets probably aren't going far anytime soon. As much as it would be a perfect fairly tale if he signed with Winnipeg, it wouldn't make much sense from a career standpoint.
What the Jets did this past season was outstanding, and they deserve full credit for coming back into the league and nearly making the playoffs. But that doesn't mean they're going to win the Cup in the next couple seasons. Sure, the Los Angeles Kings won the Stanley Cup after coming into the postseason as the eighth seed, so it can clearly be done. It would be fantastic for the media if Doan came back to the Jets, no doubt about it. Just don't expect too much.
The Carolina Hurricanes, Chicago Blackhawks, Detroit Red Wings, Los Angeles Kings, and Pittsburgh Penguins have all been mentioned as possible landing spots for Doan as well.
Family, friends, career goals, personal preferences, and many other factors will ultimately help Doan make the right choice. He's a great leader, and would be a welcomed addition on almost every team. He's earned the right to take his time and decide where he will sign his next contract.
If this was an easy decision to make for Doan, rest assured, he would have made it already. The options are there, the fans are calling out, and journalists are getting a little antsy. Doan is taking his time to select the right team and do what's best for himself and his family. And that's the way it should be.
________________________________________________
Follow me on Twitter: @DavidOConnor95    "Like" my page on Facebook: David O'Connor