By this point, everyone in Flyers nation probably has noticed that Vinny Lecavalier hasn't stepped foot on the ice in the month of December, and judging by the numbers he has (or hasn't) been putting up, he's unlikely to see the ice anytime soon. Point production, however, is just the tip of the iceberg when you look at why Vinny isn't in the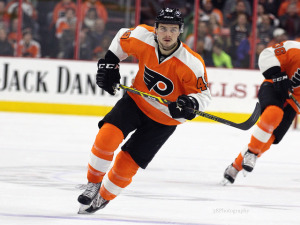 lineup. And why he probably won't be in the lineup, especially if the Flyers keep riding their point streak.
A Very Fragile Situation
There comes a point where not all of the blame can rest on Lecavalier's shoulders. Paul Holmgren knew when he signed Lecavalier that his career was on the downward trend, and taking a $4.5 million cap hit for a guy that had one injury free season since 2008-2009. Holmgren also knew that Lecavalier was a career minus-117 (before he signed as a Flyer) and that he was unlike any other forward on the Flyers roster. Lecavalier is a one-way, offensive minded forward. That's not a product of him here, that's just how he's been his whole career, and any marginally intelligent hockey mind should have known that. The Flyers aren't (and weren't really ever) a finesse team. They are a team that feeds off of garbage goals, structured offensive zone play, and special teams. And it's been that was for years now. Add in the fact that the Flyers forwards are a relatively defensively responsible group, and there really was never a chance for Lecavalier's style of play to fit in. It's led to misunderstandings and deep frustrations.
https://twitter.com/DStrehleTFP/status/543473169542434816
Lecavalier is obviously frustrated, and as I mentioned above it isn't entirely his fault, but there comes a point where you need to come back down to reality. Lecavalier doesn't deserve to be playing, Scott Laughton does. Quite frankly, salary should matter here, and neither should experience. Lecavalier has been a defensive nightmare this year, and despite making what he makes, the Flyers are better off scratching him at this point, and that is in part due to the play of Scott Laughton. Despite his young age, Laughton has nearly hit Lecavalier's point total already, and he has looked extremely good defensively.
Better off Without Vinny?
It's really hard in hockey to say that someone is actually pulling the team down with them, but with Vinny Lecavalier, it's hard to argue that with what the stats are telling us. Take a look at just how much Corsi improves when Lecavalier is off the ice, the results will surprise you.
| | | |
| --- | --- | --- |
| Player | With Vinny (CF%) | Without Vinny (CF%) |
| Michael Del Zotto | 35.50% | 51.70% |
| Mark Streit | 35.10% | 49.80% |
| Wayne Simmonds | 44.80% | 49.80% |
| Luke Schenn | 35.60% | 51.40% |
| Braydon Coburn | 42.60% | 47.20% |
| Scott Laughton | 41.10% | 48.00% |
| Brayden Schenn | 35.30% | 50.50% |
| Zac Rinaldo | 29.00% | 41.30% |
This table brings to light a very sad reality for Vincent Lecavalier. He is bringing the team down.
As many of you know, corsi percentage goes a long way in describing which zone the puck is in while the player is on the ice, and how long they are pinned, or on the offensive attack. The chart above is sorted by ice time played with Lecavalier. Del Zotto played over 60 minutes with him, and Rinaldo played a few seconds under 20 minutes with him. These numbers show a very clear distinction, and it's a disturbing trend that follows nearly every player on the team. Corsi dips dramatically when Lecavalier is on the ice with you, rather than when he is not.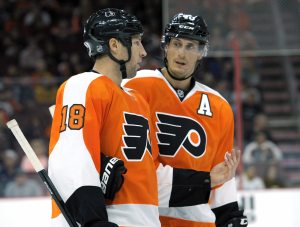 Take Michael Del Zotto as our case study. His corsi percentage goes up 16% (!!!!) without Lecavalier on the ice with him. That is astonishing. If you want to crunch the numbers even more. Del Zotto's Corsi For per 20 minutes (CF20) with Lecavalier is 13.85, and his CA20 is 25.12. Take Lecavalier off the ice and Del Zotto's CF20 is 19.27 and his CA20 is a 17.97. To put this in simpler terms, that means that when Del Zotto is on the ice without Vinny, the team gets about 6 more shots off then when Lecavalier is with them. More importantly, opponent gets 8 less shots off per 20 minutes. That's huge. the  The ice is much less tilted toward the defensive zone when Lecavalier isn't out there.
Most well-rounded, good players increase CF% when they are on the ice. For example, Claude Giroux's table would look the exact opposite of the one above. Nearly every player on the team has a CF% over 50% when they are on the ice with Giroux. The same goes for Wayne Simmonds and Jakub Voracek. Even Matt Read, who has been a ghost this season, only drops players CF% by about 2%.
The Flyers can't afford to spend time in the defensive zone running around, and these numbers further reinforce the fact that the Flyers are running around in the defense zone when Lecavalier is out there, alot more.
What To Do?
It's a tough situation when you are scratching a possible hall of famer. Not to mention taking a huge cap hit to have the guy sit in the press box all game. But the Flyers need to keep doing it. Since scratching Lecavalier, the Flyers are 3-1-2 and starting to find their groove again. More importantly they are finally getting goals and points from guys other than Giroux, Voracek, and Simmonds. They have outscored their opponents 9-2 in their last two games. That is a huge plus, and something that could put this team back into playoff contention.
If benching Lecavalier means increased production for guys like Matt Read, Sean Couturier, Scott Laughton, and Brayden Schenn, then it's something that the Flyers are going to have to continue doing. The sad reality for Vincent Lecavalier is that he is lost on a team where he just does not fit in, a team where his style is such an outlier, that he is bringing other players down around him. That isn't something the Flyers have time to deal with, or can afford to deal with.
Matt is a contributor for the Philadelphia Flyers at The Hockey Writers. He has previously covered the Flyers for GrandstandU. He enjoys playing hockey and making music in his spare time.