They say that goaltending is the most important position in hockey. Whether that's true or not is up for debate. What isn't questionable is a goaltender's ability to steal games on their own — think Dominik Hasek at the '98 Olympics. On the flip side, they can also lose a game. That is why goaltenders are under so much pressure day in and day out. It's why we scrutinize every save, game and season and why Winnipeg Jets fans are responding so favorably to yesterday's move that sent Ondrej Pavelec down to the minors.
The Rise of Ondrej Pavelec
WPG re-assigns Copp, Dano, De Leo, Peluso, Petan, Melchiori, Strait, Pavelec. Peluso, Melchiori, Strait and Pavelec require waivers.

— Bob McKenzie (@TSNBobMcKenzie) October 10, 2016
Pavelec was drafted by the Atlanta Thrashers with the 41st overall pick in the 2005 NHL Entry Draft. He started his career with the American Hockey League's Chicago Wolves. As a rookie, Pavelec played 52 games, posting a 2.77 goals against average and a .911 save percentage. They were the worst numbers on a team that started four goaltenders. The Wolves made the playoffs, where Pavelec helped them win the 2007-08 Calder Cup.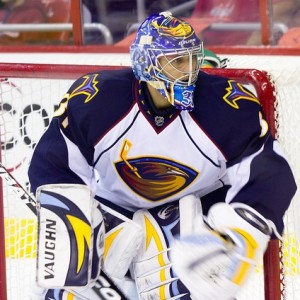 Pavelec was the starting goaltender for the Wolves in the 2008-09 season. He improved his stat line while playing fewer games, but couldn't lead his team to glory once again.
He started his first true season in the NHL in 2009-10. Johan Hedberg and Pavelec split the season in net. However, the numbers weren't even close. Pavelec finished with a poor 3.29 GAA and .906 SV%. That being said, Pavelec was a 22-year-old netminder. Often, goaltenders take a while to mature in the NHL, and after a poor season, there was plenty of room for improvement. Pavelec was considered a top five goalie in his draft class, which included the likes of Carey Price and Jonathan Quick. Sites like Hockey's Future had Pavelec highly ranked and touted, making expectations high for success in the NHL.
The 'Fall'
A bad goal is not a great way to start a new season. Getting pulled during your first game is worse. What happened within the first two minutes of the 2010-11 season is something completely different.
Pavelec was told he had a neurocardiogenic syncope episode, which is a type of fainting spell. The fall caused him to hit his head and suffer a concussion. Multiple tests were done, and thankfully there was nothing else wrong. The episode did cause him to miss the start of the season.
When Pavelec returned, he was a man on a mission. He finished with (at that point) career highs, sitting at 2.73 GAA and a .914 SV% while taking full ownership of the starting position for the Atlanta Thrashers. While both stats ranked outside the top 20, he was also on a horrible Thrashers team that finished 25th in the league.
The Winnipeg Jets Era
The Thrashers were relocated to Winnipeg, becoming the Winnipeg Jets in 2011. Even though the name changed, fans knew it was still the same Thrashers that finished in the basement last year that they were inheriting. But a new GM promised hope, so a few years of poor play could be forgiven. That included the play of Ondrej Pavelec who was often defended because he played behind a horrible defence.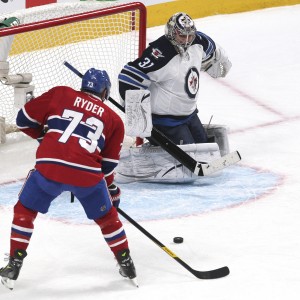 For three seasons, the Jets made small strides to get better. But for three seasons Pavelec's stats fell. By this point, players like Mark Scheifele and Jacob Trouba were beginning to show promise of a bright future, but Pavelec was not providing hope in net.
Things changed for the Jets in 2014-15. Backup goalie Michael Hutchinson came out strong and tried to take a stranglehold of the starting job. High-end goalie prospects started pushing their way up, including Connor Hellebuyck and Eric Comrie. The job no longer seemed safe, and Pavelec felt that.
He tore up the NHL in the last months of the season and ended with career highs in both SV% and GAA. Many thought the shared workload contributed to it, and others believed it was the competition. Either way, fans loved it, because it got the Jets into the playoffs. Even though they were swept, there was hope. If the goaltending could hold up, maybe the Jets could continue to make waves.
That was not the case. Pavelec went into the 2015-16 season with two goalies pushing him, and he came up short. He regressed in both stat categories and posted a .500 record. Hellebuyck looked amazing and started showing the organization that they didn't need Pavelec anymore.
What Happens Now?
Pavelec was sent down to the Manitoba Moose yesterday. He will surely report to the team, but the question becomes how much will he play? It's not like the Jets don't have another goaltender down there, in Comrie, that would love to play more. It would be harmful to Comrie's career to proclaim Pavelec as the Moose's sole starter.
lots asking if #nhljets Ondrej Pavelec will report to AHL affiliate Manitoba Moose. Would be very surprised if he didn't.

— gary lawless (@garylawless) October 10, 2016
The Jets have a few options here. Pavelec's contract runs out this year (a contract he signed to start his second year in Winnipeg). Jets general manager Kevin Cheveldayoff and company could wait it out and let him walk at the end of the year. The more likely scenario is they continue to try to trade him for 10 cents on the dollar. At this point, they would be lucky to get a third round pick for him, as an AHL demotion will not boost his stock.
Ondrej Pavelec is not finished in the NHL yet. He has plenty of years left, but will likely never get a starting role again. A team may pick him up as a veteran backup either this year or next. He could also come in as an injury replacement if needed. Maybe he just needs a new start with a different franchise. As the weeks go on, the questions will come pouring in. Did the collapse affect him more than we think? Was the change to Winnipeg bad for his career? Did Claude Noel limit his potential? Was he just not 'fit' enough?
One thing is certain. This move signals the Jets' full commitment to the youth movement this year. It will be painful for all involved, including the fans, but the light at the end of the tunnel is getting brighter and brighter. It's a beautiful thing to watch!