Her first words Wednesday morning, May 25, were "If I book this flight …" The words came before our alarm clock went off. Before her eyes even opened.
Such is the life of a Sharks fan with a business conflict.
The challenges at home started in earnest with the Sharks Game 5 win over St. Louis, when it became probable the Sharks would make it to the Stanley Cup Final.
She wants to go to the Stanley Cup Final if the Sharks are in it. At least one game, if not more.
But life is complicated for her. She has two sets of business meetings in Europe, between now and the completion of the hockey season. Call it a challenge.
This explains why we were watching television on Tuesday evening, May 24, rooting for Tampa Bay to beat Pittsburgh. Not because there was a particular preference for either team, but there was a strong preference for schedule certainty. If Tampa Bay won Game 6 and therefore won the series, the Sharks would host Games 1, 2, 5 and 7 for the Cup Final. If Pittsburgh wins the series, the Sharks host Game 3, 4 and 6. In the Eastern Conference Game 6, only Tampa Bay could win the series and lock in the schedule should the Sharks also make it.
We were cheering for schedule certainty. "Good news," I shouted to her early in the game as she was unpacking from work, "Tampa is on the power play." The Lightning would not score, but soon after, the Penguins went on a 5-on-3 power play. "Bad news," I shouted towards her as Phil Kessel scored for the Penguins.
Schedule certainty would have to wait at least another two days.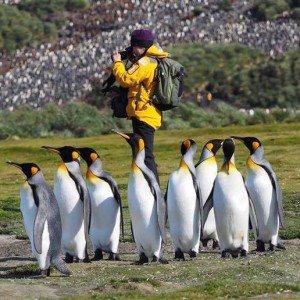 Mind you, this is all taking place before Game 6 of the Sharks-Blues series. The Sharks haven't yet punched their ticket to the final round.
Yet here we are, looking at schedules and dates. How does she get from Germany to San Jose in time for a game? We're just assuming the Sharks will host it. One flight showed only business class seating. It may be a first world problem, but we're on an economy seating budget. One flight arriving at 4:30pm in Oakland is too late assuming San Jose is hosting the June 9th game. Taking an earlier flight means she may have to travel to a hub destination the night before to get an early AM non-stop. Alas, Sunday is a work day and her work part stretches until at least 8pm. Leaving time to get to the airport, for check-in for … the variables quickly become mind-numbing. Sure she can take the 11:30pm flight to the right city but the wrong airport, then take a middle of the night transport to the right airport for an early flight across the Atlantic to the shores of the Pacific. And if Pittsburgh wins their Game 7, it'll all have been to watch the game on TV. Assuming the Sharks make it to the Final in the first place.
By early Wednesday morning, she'd booked the long haul leg, though the details of how she'd get from Germany to the other airport were still to be determined.
Am I concerned over all her travels? In the big picture, not that much. This is a person who has petted a cheetah, ridden an ostrich and photographed a lion in the wild. She's scuba dived with sharks, rafted raging rivers, hiked the Inca Trail and climbed Mt. Fuji. She's been in -40-degree weather (it's the same in °F and °C) and was in Jaipur, India for its hottest day on record. When she was young, her and her family survived the massive Tangshan earthquake; its aftermath left them living in makeshift tents on the streets for several months. If by now you think she's too good for me, we agree.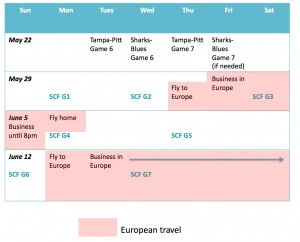 As it stands now, she'll be here for Games 1, 2, 4, 5 and 6. Assuming the Sharks make it that far.
She'll fly home from Europe on Monday, get in about 2pm, assuming connections are made and flights aren't delayed. Which should be time for us to get to the Shark Tank at 5pm, assuming a game that day at the Shark Tank. All this and we're still not certain the Sharks make it to the Final.
If Murphy's Law has a favorite word, it is probably 'assume'. 'Assume' got used a lot in this article.
Yes her calendar is crazy. But die-hard fans are crazy in a different way. She knows a Stanley Cup Final is potentially a once in a lifetime experience. She's not a sports fan, she's a Sharks fan. Flying home for a hockey game which might not even take place sounds crazy. In this case, crazy is relative. YOLO? If the Sharks can find a way to make it this far, she can find a way, too.
ZEKE is a native of the DC area where he witnessed the birth of the Capitals franchise. After graduating from Cornell University, which had seen hockey glory before he arrived, he moved west to San Jose. There he witnessed the birth of the Sharks franchise. His wait to witness a Championship from any of these teams finally ended in 2018.