Currently the Philadelphia Flyers sit comfortably with the 18th overall selection in the 2016 NHL Entry Draft. The Flyers will be able to add someone with considerable skill and NHL upside to the stable of prospects they've been churning out the last handful of seasons. So, who might Ron Hextall and co. select at the podium when there number is called? It could be Calgary Hitman defenseman, Jake Bean.
I wonder if PHI will target dman Jake Bean at the draft. He was Sanheim's defensive partner in Calgary and they had to have seen him plenty.

— Joshua Janet (@JoshJanet) May 1, 2016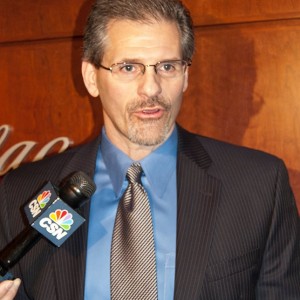 Now, we all know what you're saying, "another defenseman, really?" and the answer to that is, quite simply, a resounding, YES.
Elite, athletic defensemen are the most valuable commodity in today's NHL. With speed and puck movement at an all-time premium, there is never enough high-end defensemen in which a team can stock up on.
As we all know, drafting a 17-18 year old kid is the ultimate crapshoot.
The Science of the Draft
There's no guarantees that the defensemen whom the Flyers have already acquired via the draft will turn out to be anything of value at this point either.
Also, when it comes to the NHL draft – perhaps more so than the other pro sports – teams aren't drafting for the needs of the here and now. The NHL draft is more of a projection of what a player will turn out to be 4-5 years down the road, when these 18-year-olds become 22-23-year-old men.
By the time the 2016 draft picks are NHL-ready the current Flyers roster will be mostly overturned. The team will have new needs, and hey, maybe in 4-5 years that need will be an elite, puck moving defenseman in the likes of a player like Jake Bean.
What Kind of Player is Jake Bean?
Jake Bean scored 24 goals this season to lead WHL Dmen. Injury kept him from U18s. Great timing on shot release; extremely accurate shot

— Brendan Ross 🇨🇦 (@RossyYoungblood) April 20, 2016
Well, we know he can do one thing from the blueline, and that's put the puck in the net. Bean possesses one of the hardest and most accurate shots in the 2016 draft class. He combines his puck skills with elite-level skating and hockey IQ, think Shayne Gostisbehere, heard of him?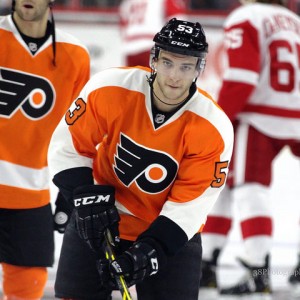 Watching Bean play can remind Flyers fans of their rookie sensation, Gostisbehere. Bean makes transitioning from defense to offense look effortless.
He can skate his way out of trouble as well as carry the puck dynamically through the neutral zone.
Powerplay Phenom
Bean, plain and simple, was a superstar at the junior hockey level this past season. He led all WHL defenseman in goals with 24, 12 of which came on the man-advantage (also league leading).
On top of that he added another 21 assists on the powerplay, totaling for 33 of his 64 total points.
Conclusion
Bean will bolster any team's defensive prospect pool the moment he hears his name called in June. If Ron Hextall has the chance to select him, just as he showed in selecting Ivan Provorov in the 2015 draft, it'll be interesting to see if he does so.
Hextall has taken the best player available approach since starting his reign as general manager because he's aware that the players he's selecting for the organization aren't for the 2016-17 Flyers, they're for the 2020-21 Flyers.
Glen Stricker is a Temple University graduate with a degree in Media & Communication. He is the Lead Writer for the Philadelphia Flyers for The Hockey Writers as well as the social media coordinator and contributor for @PHLFlyersNation