Vancouver Canucks' General Manager Jim Benning zeroed in on a couple of areas of need this offseason with one of the most important being the right wing position with Daniel and Henrik Sedin. Benning's solution: veteran Czech forward Radim Vrbata.
Vrbata is soft spoken and played in Arizona the last 5 seasons so most Canucks fans will be forgiven if they have only watched Vrbata play when he skated against Vancouver in recent years.
Canucks fans, however, got word of the Vrbata signing this past offseason, Googled his stats and became giddy with excitement when they saw a track record that featured multiple 20+ goal seasons on a seemingly inferior Coyotes team.
The stats are nice, but what skills does Vrbata offer on the ice that will hopefully mesh with the Sedins and translate into a successful season?
HOCKEY SMARTS TO FIND OPEN SPACE
Radim Vrbata's most proficient season came in 2011-12 where he netted 35 goals to go along with 27 assists. The video clip above catalogues every one of his goals from that season and a few common themes emerge which shows that Vrbata will fit right in with the Sedins.
The video is not even one minute old before you begin to notice that Vrbata is always around the net. The first two goals he scores are goal mouth opportunities created because Vrbata is able to find the open space in the congested area in front of the opponent's net.
The most encouraging aspects of Vrbata's game come at the 1:10 and 1:25 marks of the clip. First, at 1:10, Vrbata takes part in a break out rush where he lets the play develop before making a B-line to the net with his stick on the ice. Second, Vrbata forces a turnover in the defensive zone, quickly moves the puck out to create a rush and finishes the chance with great effort down low by crashing the net.
I have outlined the style of play the Canucks will play under Willie Desjardins this season and Vrbata fits perfectly with what the Canucks' coach will want to employ. Vrbata can play the quick transition style of game, as shown in the 1:25 clip, and has the smarts to find the open space in front. The Czech's ability to find vacant pockets of ice plays perfectly into the Sedin's proficiency at finding their teammates in dangerous areas from the cycle. Add in the fact he has a right-handed shot and Canucks fans will get used to seeing multiple one-time opportunities in the slot.
Vrbata also has a very active stick and lethal shot. At 2:28, Vrbata forces a turnover at his own blue line because of his active stick and at 4:00, Vrbata lets go of a howitzer from the sidewall. For good measure, at 5:55, Vrbata fires a beautiful wrist shot from the high slot that ends with the ping sound of a perfectly placed wrister.
Burrows on losing spot to Vrbata: "Winning games is far more important." http://t.co/KcWBnvnAIB @lukefoxjukebox pic.twitter.com/ONt2q1UpCX

— Sportsnet (@Sportsnet) August 6, 2014
None of Vrbata's goals are overly pretty or jaw dropping. What is fantastic about his efforts, however, are that most come from in close or off of a very quick shot. Vrbata wastes no time when given an opportunity and he will have plenty with the Sedins feeding him the puck this season.
AH, THE SHOOTOUT
The Vancouver Canucks suck and always have sucked at the shootout. There have been some decent shootout seasons, but nothing all that great.
Jim Benning, while discussing the Vrbata signing, really harps on the Czech's shootout ability, almost to the point where it seems that that was the key determination into whether or not to give Vrbata $5 million a year or not.
Vrbata encompasses calm, cool and collected when deking out Roberto Luongo. Vrbata also went 5/12 in shootout attempts last year, which is an indication that Vrbata will lead the Canucks in shootout efficiency this upcoming season.
Vancouver will need every point they can get in order to fight for a playoff spot. Fleeting points in shootout losses this year will mean the Canucks won't make the playoffs.
A SELFLESS RADIM VRBATA
Radim Vrbata is 33 years old and was drafted in 1999; therefor he has a wealth of experience to offer a team that wants to get younger. But the impact of veteran leadership and what that looks like is a fickle idea especially for us media types on the outside looking in.
Nevertheless, Vrbata's demeanour off the ice offers a glimpse into the man Vancouver has brought in to the lead the scoring charge.

Early in the interview, Vrbata similarly breaks down his game to the way I have previously: he likes to get open and play off his linemates.
The key aspect of Vrbata's own admission of his style of play is his selflessness. He mentions he doesn't beat players one on one, an indication of holding onto the puck too long, but rather tries to get open and offer passing or shooting lanes for his teammates.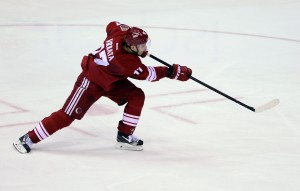 Vrbata is not overly boisterous either, so his leadership will come in the form of a lead by example rather than the "rah rah" locker room speaker. A selfless, play off the puck attitude is a welcome change to the style of hockey a certain former #17 exhibited in previous seasons for the Canucks.
Radim Vrbata's ability to get open and quick shot will fit right into the style of hockey the Sedins play, and his quick stick will create fast break transition opportunities akin to what Willie Desjardins will want to deploy. Jim Benning signed a forward that has the skillset and intangibles to mesh well with what the Canucks want to do this season.