Despite having traveled along a particularly bumpy road since arriving in the National Hockey League, it might just be that Benoit Pouliot has finally arrived upon a more tranquil pathway.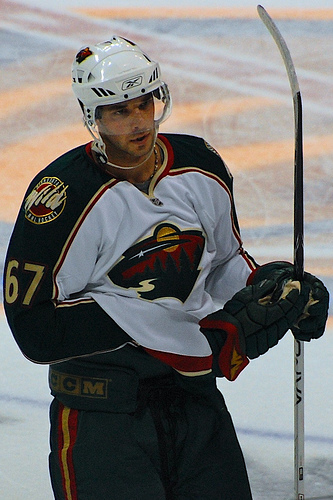 In fact, Pouliot speaks to a newfound confidence that will accompany him now that he has acquired a five-year security cushion from the Edmonton Oilers. "It's been five years I had been on one-year deals, and that's not easy on the mental side. You're thinking about that all the time. About next year, and you don't want to get hurt. You don't want to do this, you don't want to do that. It's not easy. But now I'm a little bit more comfortable, and a little bit better right now since it's a five-year deal. And Edmonton's been showing great interest since before the deadline. It was an easy decision for me to make."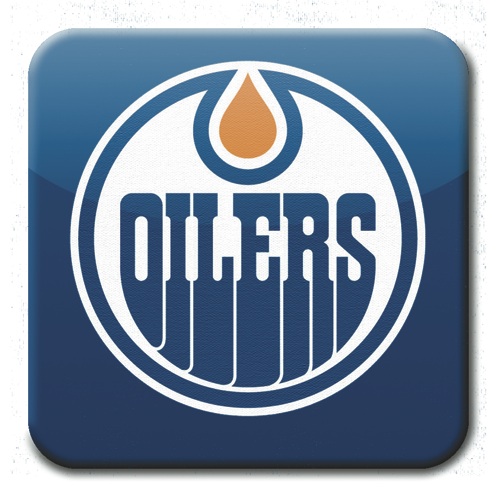 While Pouliot's 2013-14 production totals of 15 goals and 21 assists remained modest, many pundits have agreed that his play during New York's run to the Stanley Cup final was unlike anything they had ever seen from the Alfred, Ontario native.
However, like most players with a modest outlook, Pouliot credits his teammates, and coach Alain Vaigneualt for their belief in him. "I think it's a bit of everything. The guys I played with helped me a lot. I think it was awesome playing with those two guys. And then the coach. The coach let me play. He didn't panic. He didn't hit the panic button right away, and he kept me playing. You know I got into a groove. I got a little bit better as the year went on, and then after that it went very well."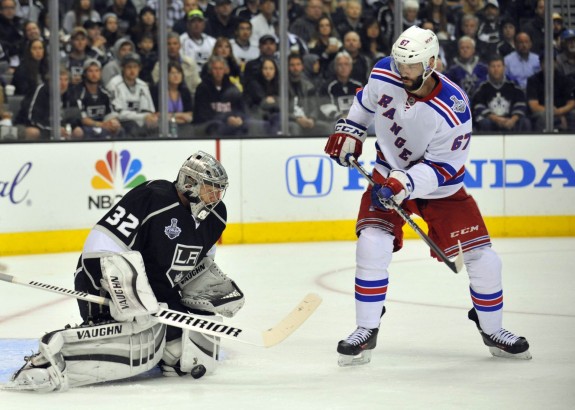 Meanwhile, in addition to the personal success that Pouliot achieved during the 2014 playoffs, he still raves about how special it was to reach the finals with his Ranger teammates. "Unbelievable. It's tough to get there, but once you do it's a great feeling. The team gets closer every round, and it's just a blast. I had a great time in New York. Everything was awesome. Now I'm moving on. It's a new year, a new team, so I'm excited for that."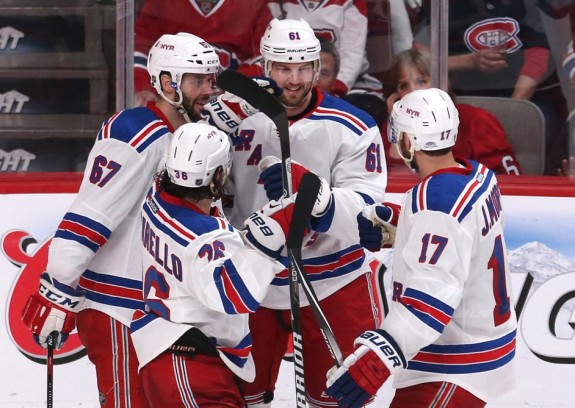 Now that Pouliot has inked a new five-year deal with the Edmonton Oilers, he looks forward to the new challenges that will follow him to western Canada. Pouliot insists that his size and grit will provide the Oilers with a different look, a look that might have been lacking in recent years. "Well they got the skills. They got the speed. They got everything you can win with. It's just a matter of everyone being on the same page, and following the game plan. For me, I'm a little bit of a bigger guy. I just have to bring the game that I brought to New York. Use my speed; be in front of the net. Cause some trouble in front and stuff like that. I think Edmonton is more of a lot of the same type of players. And now you gotta mix it up a little bit to go far."
            For the Edmonton Oilers, and their playoff starved fan base, all can only hope that Pouliot's play with the New York Rangers was not simply a flash in the pan. Instead, perhaps it was just the beginning of a late bloomer hitting his stride at the NHL level.