For the final stretch of the regular season in Dallas, all eyes will now be on Jason Spezza.
Tyler Seguin took a skate to the back of his leg late in the 4-3 victory over the Tampa Bay Lightning Thursday night. It is now known that he suffered a cut to his Achilles tendon and will be missing from game-action for at least 3-4 weeks.
That leaves the middle of the ice open to Spezza and I don't think fans will be disappointed. Jamie Benn, John Klingberg and Seguin have all had superb seasons but Spezza may be the team MVP so far this year. While everyone else has had their mid-season slumps, Spezza has consistently been on the score-sheet this season. Although he hasn't always played with the most-talented line-mates, he makes whatever line he is on better and sets up scoring chance after scoring chance.
With Seguin out, the Stars will need Spezza to lead them to the division crown.
Creating Opportunities for Himself and Others
Spezza has always excelled as a play-maker and those skills have shown up once again this season. This season he has also taken it upon himself to shoot the puck more and the results are piling up. After just 17 goals in 82 games last season, Spezza has made a significant improvement this season. He has 29 tallies so far in just 66 games this season and has more goals (18) playing 5-on-5 than his entire total last season. The initial transition from Ottawa to Dallas wasn't an easy one, as head coach Lindy Ruff wanted Spezza to focus on playing in both ends of the ice. He has done a better job of that this season and the offense just follows along.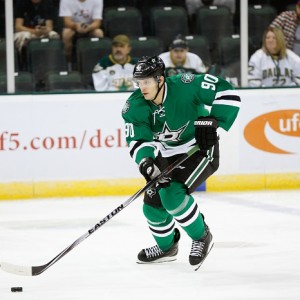 Spezza's improvement in his own-end shows in the underlying metrics. Spezza currently has the second-highest CorsiFor% on the Stars at even strength with a number of 55.08. The Stars have a 2.89% higher CorsiFor% when he is on the ice than when is off of it. In part this is thanks to how often Spezza is taking the puck away from his opponents. When playing 5-on-5 this season, he has 36 takeaways, good for third on the team. He has just 39 giveaways in the same situation. In 82 games last season, Spezza had 55 giveaways to just 45 takeaways. He's made a solid improvement in that part of his game.
Spezza's most frequent line-mates at even strength this season have been Mattias Janmark and Patrick Eaves. They have spent just over 140 minutes together playing 5-on-5 this season. While together, they have a CorsiFor% of 56.4 and a GoalsFor% of 75. When Janmark and Eaves have been on the ice without Spezza, they have a CorsiFor% of just 52.6 and a GoalsFor% of 50. He feeds offense and is a big reason that Janmark and others have had so many quality chances this season.
Been There Before
Aside from the obvious where he was the top center in Ottawa for so many seasons, he has experienced the spotlight in Dallas. Last season, Seguin was out for a very similar time-table with a knee injury in the midst of a playoff race. While the Stars were unable to make the run to the postseason, Spezza stepped up big-time in Seguin's absence.
In the ten games without Seguin (which will likely be the amount of time he is gone again), Spezza was a beast. He put up four goals and nine points in those ten games. He averaged over 19 minutes of ice-time a night and was dominant with the puck. He posted an even-strength CorsiFor% of 63.3 in those ten games, a pretty absurd number even considering the sample size. In that ten-game run, the Stars ran a 50.8 CorsiFor% when Spezza was not on the ice. He was an absolute force on the ice in Seguin's absence.
Spezza Has to Do It Again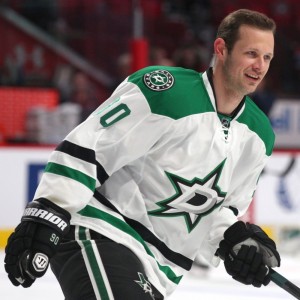 The Stars are now in the middle of a division-title race and will need Spezza to do what he did last season as Seguin heals. Although they've played the Blackhawks well this season, I don't think they want to deal with them in the first-round of the playoffs. They certainly do not want to get into a seven-game series with the ultra-physical St. Louis Blues, a team that matches up very well against them. Despite their struggles against them, the Stars would likely be better off taking on a Colorado or a Minnesota in the first round.
To ensure that, Spezza will have to keep his production going in the absence of Seguin. As for the switch in lines, that shouldn't be a problem for anyone. Ruff has moved everyone around so often this season that nobody should have any issues adjusting to new line-mates. One benefit of his consistent line-"Ruffling" is injuries don't seem to hit this team as hard as they have in the past. No matter who is out of the line-up, the Stars believe they can roll all four lines out at any time. It has worked well for them this season.
Although it may not be much different on the ice it will be different for people watching in the stands. Fans are expecting Spezza to further fill the void of Seguin and what he does on a night-to-night basis. Spezza has been the most consistent contributor of anyone on the team this season, he just needs to continue that if the Stars want a shot at winning the Central.
It's your spotlight now Spezza, and it's time to shine in it.
Jordan has been covering the Stars for The Hockey Writers since February 2015. He is originally from Iowa City, Iowa. You can follow Jordan on twitter @jordan_dix