Chemistry is a tough thing to cultivate in the salary cap world of the NHL. Trades are forced due to under-performing, large contracts. Some players are shipped off simply because that team no longer has room for them. Finding chemistry between players is hard when all that is forced upon them all the time.
Then you throw in line juggling. In Dallas, it is known as line "Ruffling", as head coach Lindy Ruff seems to enjoy mixing up his players on a period-by-period basis. There are not many games this season where the Stars' lines have not been augmented at some point during the game. Does it influence chemistry? Ruff downplays the importance of lines.
It had nothing to do with the lines," he said. "You guys make too big of a deal out of the lines. It has to do with the compete and the mental focus, it has nothing to do with the lines. Once you get past your blue line, it has nothing to do with who plays where. That's just an excuse.
That quote was from Ruff in December, courtesy of Mike Heika.
Ruff hasn't seemed to change his thoughts, often throwing players up and down the lineup. It has its benefits but it certainly isn't without some issues.
Creating Matchup Problems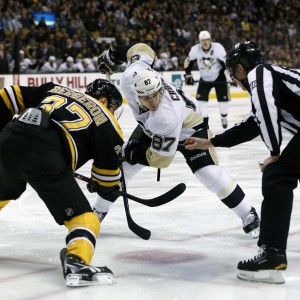 One benefit from consistently "ruffling" up the lines is it keeps the opponents on their toes. One shift they may face a loaded-up trio of Jamie Benn, Tyler Seguin, and Jason Spezza. The very next period, all three players could be spread apart throughout three lines, forcing them to decide when to deploy a shut-down unit. Especially on the road and in the postseason, teams like to have a shut-down line to throw out against their opponents' top scorers.
In Boston, Brad Marchand and Patrice Bergeron are used as an effective shut-down unit against the best of the best. In Chicago, there is Jonathan Toews and Marian Hossa to be concerned with. Last postseason, the defense pairing of Niklas Hjalmarsson and Johnny Oduya was often used against the top scorers. Juggling the lines and spreading out the scorers forces coaches to make a choice on who they want to put their best defenders up against.
The Dallas Stars have, at least, six consistently threatening offensive players on their team and they are often spread throughout the lineup. Those players are Benn, Seguin, Spezza, Patrick Sharp, Val Nichushkin and Ales Hemsky. Here is what the opposition might see to start the game:
Benn – Seguin – Eaves
Janmark – Spezza – Nichushkin
Roussel – Eakin – Sharp
Faksa – Fiddler – Hemsky
Two duos of scoring threats on the top-two lines and the final two players spread out on the third and fourth lines. If their opponents do a good job shutting this down, then they will see something fresh in period two:
Benn – Seguin – Sharp
Nichushkin – Spezza – Hemsky
Roussel – Eakin – Eaves
Faksa – Fiddler – Janmark
Now it's loaded up. All six scorers on the top-two lines and it is a handful. The line of Benn/Seguin/Sharp has been marauding at times this season with even the best defenders having zero answers for them. And if they are stopped again, something else will be thrown at them in the third. They have no shortage of combinations to work with and it has led to several multiple-goal comebacks this season.
It does, however, have its downfalls.
Lack of Chemistry
Chemistry is one of those things that seems to somehow be simultaneously under-rated and over-rated by people around the NHL. While it may be blown out of proportion at times, you can see chemistry (or a lack of it) on the ice if you look hard enough. The ability to know the tendencies of your line-mates is so important because of how fast-paced the game has become. It can give you an edge over an opponent who might not have the chemistry that you have with your line-mates.
I'm not an NHL coach and I'm not going to pretend to know more than Lindy Ruff or any other coach in the league. The following is speculation on my part and a way to "think out loud" on some of the line juggling that Dallas has displayed this season.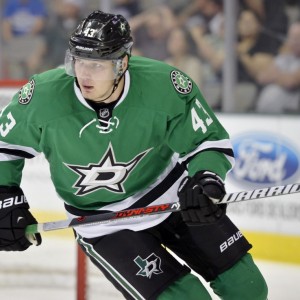 What kind of influence is the constant line juggling having on young players like Mattias Janmark and Val Nichushkin? Is it good for development for young players to play with many line-mates to learn how to play with everyone? Is it detrimental to development to not allow young players to get comfortable with the team? Answers to these questions may become clearer as time goes on. Janmark appears to have no issues as he seems to fit just about anywhere.
Nishushkin, on the other hand, seems as though he would benefit from being in a more consistent top-six role. His most frequent line-mates have still only been his line-mates for 15% of his even strength ice time. Compare that to another young-Russian who is seeing a ton of success this season, Artemi Panarin. Panarin has spent almost 75% of his even strength ice-time with the same two players. Connor McDavid has spent almost 33% of ice-time with one line and over 25% with another. Certainly Nichushkin isn't of the same caliber as those two players right now, but is he being held back?
It is certainly possible, and lack of chemistry for a young player trying to adjust can pose plenty of difficulties.
Is it Too Much?
The line juggling throughout the game is a benefit in my eyes. It helps keep things fresh which can motivate players throughout the game and give them a jolt of energy when they may be lacking in that department. The consistent juggling from game-to-game could be creating chemistry problems, however.
Players are practicing and playing with new people seemingly every week this season for the Dallas Stars. They've continued to pile on the offense.
Interestingly enough, until the arrival of Kris Russell, the Stars would rarely change-up the defensive pairings despite the goals-against problem they've experienced for most of the season.
Ruff currently has a stacked roster of offensive talent. He likes to mix it up throughout the game to create match-up problems for the opponent. If, however, is unable to win with that stacked roster, questions will arise. Will he change his style? Will he remain head coach of the Dallas Stars? How long does he have?
I have a feeling those questions may be answered in the postseason.
Jordan has been covering the Stars for The Hockey Writers since February 2015. He is originally from Iowa City, Iowa. You can follow Jordan on twitter @jordan_dix