Jason Spezza has to be one of the more exciting players to watch in the entire NHL. Since Spezza arrived in Dallas in July of 2014, the Stars have been one of the top-scoring teams in the league. Although Spezza hasn't been the point-per-game guy that everybody saw during his long career with the Ottawa Senators, he has played a much stronger defensive game while still producing quite a bit of offense. You watch him with the puck and it is simply a tremendous sight to see.
When you have a team like the Dallas Stars who is second in the conference and wants to contend for a Stanley Cup now, you have to nitpick sometimes when it comes to their overall game. Jason Spezza is fifth on the Stars with 39 points in 51 games. That's a pretty respectable total for a second line center. Here comes the nitpick.
That total could be so much higher this season.
Spezza Isn't Playing With the Right People
Courtesy of leftwinglock.com, Jason Spezza has spent the majority of his ice-time with Mattias Janmark and Patrick Eaves. Now before we get into some of the numbers, this is not a knock on either of those players. I'm ok with Janmark being up with Spezza as Janmark is a scoring-chance and possession machine, although he hasn't developed a finisher's touch when it comes to goal scoring quite yet. As for Eaves, I simply don't think he belongs in a permanent role in the top-six.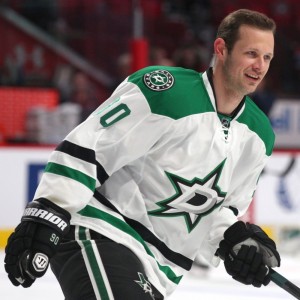 I love Eaves. He is a solid depth forward who can slide up the lineup when injuries occur. He just isn't a finisher that warrants a full-time spot in the top-six. Meanwhile, guys like Val Nichushkin and Ales Hemsky are stuck on the third and fourth lines playing with players who don't have similar offensive skill-sets. To a lesser extent you could even bring up a guy like Colton Sceviour, who has shown a knack for offense albeit at the AHL level.
Spezza is so talented with the puck on his stick. He's scoring quite a bit of goals this season (17) but his true talent is setting up his linemates. Janmark has been excellent at generating chances but the finishing touch just hasn't been on Spezza's line as often as it should be. Let's get into the numbers.
Eaves has three goals this season in 31 games despite spending almost 47% of his ice time with Spezza. Only one of those goals came while he was on a line with Spezza. On the season at 5v5, Eaves and Spezza have played just over 155 minutes together. During that time, the Stars have scored 6 goals and have given up 3 and those two players have a corsi-for-% of 54 together. Now that is just isolating Eaves and Spezza playing together, no matter who the third guy is.
Usually it is Janmark. Spezza's most frequent linemates have been Eaves and Janmark for over 20% of Spezza's ice time. While those three are on the ice together (roughly 136 minutes at 5v5), the Stars have scored five goals and given up two with a corsi-for-% of 55.3. Respectable numbers but not the goals you'd expect playing with Spezza.
Eaves personally is responsible for a total of 17 five-on-five high-danger scoring chances this season, less than half of Hemsky's 35 and Nichushkin's 43.
The second-most frequent linemates for Spezza have been Janmark and Nichushkin at 11.6% of Spezza's ice time. Those three have an identical five goals for and two goals against in half of the ice time (70 minutes). They have a higher corsi-for-% at 56.8 as well.
Overall, Nichushkin and Spezza have spent almost 230 minutes on the ice together with various third guys. It has been pretty fruitful with 10 goals for and 5 goals against and a 55.6 Corsi-for-%. Like Janmark, Nichushkin hasn't shown a consistent ability to finish plays yet but he has way better offensive instincts than Eaves at this point in his career. Nichushkin has 17 even-strength points this season compared to Eaves' two.
We haven't even touched on Hemsky yet, a player many find to be disappointing but may succeed if given a fair chance. He's played just over 71 minutes this season with Spezza and Janmark. They've given up five goals and only scored two but the PDO for that time is an absolutely brutal 87.1. You then look at a 64.2 Corsi-for-% and you think "Wow, I bet that PDO will even out and that line could be a dominate possession line with lots of quality chances".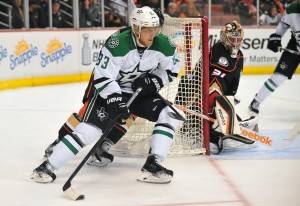 Patrick Sharp has also been on a line with Spezza and Nichushkin somewhat frequently (I use that word very loosely here). Just 58 minutes together but they've scored twice and given up just one goal and have an abnormally low shooting-% of 5.26, below all of their career averages. They've driven possession as well with a 58.5 Corsi-for-%.
The Bottom Line
With a more consistent effort to put guys like Nichushkin, Sharp, or Hemsky up with Spezza and Janmark the offensive numbers would almost certainly go up without sacrificing much defensively. Hemsky is the only player I would consider a potential defensive liability on that line. Sharp and Janmark are the two best two-way forwards on the team and Nichushkin can hold his own in the defensive zone as well.
The line juggling (or "Ruffling") can be helpful but it hasn't allowed one of the best offensive forwards (who is getting paid $7.5M for the next four seasons) to shine. Lindy Ruff needs to give Jason Spezza a proven-scorer for more than a couple of periods at a time to really allow him to showcase his incredible talent.
Why else is he getting paid $7.5 million a season?
Jordan has been covering the Stars for The Hockey Writers since February 2015. He is originally from Iowa City, Iowa. You can follow Jordan on twitter @jordan_dix