You may not have heard of him as he plays deep in the heart of Texas and hasn't been too flashy of a player. His name is Mattias Janmark and he has an opportunity to change the Calder Trophy landscape in the unofficial second-half of this NHL season.
Does Janmark have a good chance at the Calder Trophy? Absolutely not. Players like Artemi Panarin and Max Domi have flown out of the gates in their NHL careers and are clear-cut favorites to take home the trophy. However big of a long-shot it is though, Janmark does have a chance. I'm going to tell you why.
Give Janmark a Shot at the Calder Trophy
At the All-Star break, Janmark had 19 points in 50 games, good for 12th among all rookies in the NHL. That number puts him 27 points behind the rookie-leader in points, Artemi Panarin. When it comes to Janmark and the rest of this rookie class, you have to look beyond the surface of just goals and points to truly see how effective a player has been. Panarin has lit it up with Kane, there is no denying that. But other players in this race have exhibited a more complete game and have looked wise beyond their years.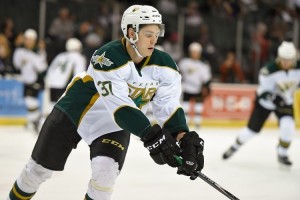 I took the top-14 rookie scorers and threw in McDavid because many believe he is still in the Calder race as well. Of those 15 rookies, nobody came close to touching Janmark's Corsi numbers at even strength. His 56.45 Corsi-for-% bests the rest of those rookies with Colton Parayko in second with a 54.88 CF%. Only Parayko, Sam Reinhart and Nikolaj Ehlers have lower corsi-against-per-60 numbers than Janmark which is absurd considering the Stars give up a ton of Corsi-events each and every night.
He's not a sheltered player either. He has the fourth-most defensive zone starts out of these rookies behind only Parayko, Eichel and Reinhart. His 54.98 offensive-zone-start-% is in the bottom-half of rookie players and significantly lower than Panarin's 74.94%. Janmark has been used in many situations by head coach Lindy Ruff, including a little power play time and some penalty kill time.
It's Not Just Possession, Either
I know I know, better Corsi does not equal better player. Goals and points will decide the race as it shows who can finish their chances. That is one thing Janmark could improve upon and if he does, it very well could vault him into the Calder race. How?
Because he racks up more chances at even-strength than any rookie in the NHL.
So far this season, Janmark has 107 individual scoring chances (per war-on-ice.com) at even strength. No rookie has more. Panarin comes close with 101 scoring chances. While Janmark is on the ice, the Dallas Stars have a +116 scoring chance differential. Coming in behind him is Joonas Donskoi of the San Jose Sharks with a +74. Janmark's 58.73 scoring-chances-for-% is far and beyond the best among this group of rookies.
When you flip the stat to high-danger scoring chances, the story stays the same. Janmark has 52 individual high-danger scoring chances at even strength, the best among all rookies in the NHL. His 59.06 high-danger-scoring-chances-for-% is only bested by Donskoi and Parayko. If Janmark can start converting on more of his incredible chances, he can sneak his way back into the Calder Trophy discussion.
The Dallas Stars as a team give up more high-danger scoring chances per 60 minutes of 5v5 play than anybody in the NHL. Despite that, Janmark has the fifth-lowest total of high-danger-scoring-chances-against-per-60 among these rookies. He has quickly grown into an excellent two-way forward.
Will the Points Come?
It is really the only question that needs to be asked with Janmark right now. His 19 points in 50 games is certainly a respectable total for a rookie as he looks poised to outscore Nichushkin's successful rookie campaign. For Janmark, he really just needs to work on finishing some plays. He's a very smart hockey player already at age 22 and has some great vision on the ice. If he works on his shot a bit more, he could easily be a 50-point player in the future. If he elevates the puck more, with the chances he's getting, the points will start to pile up.
Janmark is the longest of long-shots to be a Calder Trophy candidate as we march down the stretch of the NHL season.
Jordan has been covering the Stars for The Hockey Writers since February 2015. He is originally from Iowa City, Iowa. You can follow Jordan on twitter @jordan_dix