The Dallas Stars loaned left wing Curtis McKenzie to the Texas Stars Monday, making the decision that the Stars' management recently admitted they might be forced to; Mattias Janmark will start the 2015-16 campaign with the big club instead of returning to Sweden.
Janmark is under contract with Frolunda in the Swedish Hockey League, so if his time with Dallas comes to a close this season, the option to send him back to his home country remains.
Jim Nill acquired the center in the trade that sent veteran Erik Cole to Detroit before last season's deadline. While his was a name that was largely overlooked by or unknown to Stars fans coming into training camp, the long-time assistant GM of the Red Wings had obviously seen something special in the young man.
Signs of a Scoring Touch
This opinion is justified by the young forward's play in Sweden; in 45 regular-season games as a member of the AIK U18 team, Janmark tallied 15 goals and 43 points. In his time with the the AIK junior squad, he recorded 38 goals and an even 100 points in 93 games. After two years where he accumulated 65 points for AIK's upper-level teams, he scored 13 goals and racked up 36 points in 2014-15 with Frolunda.
While the North American game can be a huge adjustment for players coming from Europe, Janmark responded extremely well during this year's preseason. He co-led the Stars with 11 shots on goal and added two goals to force management's hand and earn a spot on the opening-night roster.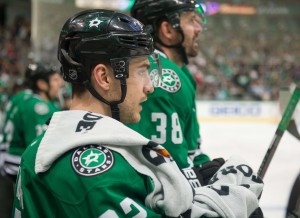 At Tuesday's practice he centered the fourth line with wingers Antoine Roussel and a rotating pair of Ales Hemsky and Colton Sceviour. The Stars will utilize five true centers to begin the year in Seguin, Spezza, Eakin, Fiddler and Janmark, but if Seguin slides over to the wing (Lindy Ruff ran a first-line trio of Benn-Eakin-Seguin Tuesday) or Janmark continues to produce at a high level when given minutes, he could see a significant amount of ice time.
Janmark's preseason was full of moments where he could have added to his two-goal total, and he shows signs of a genuine scoring touch. Opponents will be forced to line up their best defensive pairs and lines against the Stars' top two units, no matter who they consist of. If Janmark draws playing time with Travis Moen, Patrick Eaves, or Sceviour, he should produce, but if he draws favorable bottom-six matchups on a consistent basis and gets a chance to capitalize on the speed and gritty play of Roussel, he may be set up to contribute to the 2015-16 Dallas Stars more than many anticipated at the onset of camp.
Through six (preseason) NHL games with Dallas, Janmark has made enough of an impact to deserve his opportunity to stick in Dallas. Time will tell if the 22-year-old can take advantage of it.
Raglin contributes to The Hockey Writers' coverage of the Dallas Stars. He's a senior journalism major at Stephen F. Austin State University and currently serves as the sports editor of SFASU's The Pine Log. He has experience covering both news and sports at The Pine Log (http://thepinelog.com) and at Star Local Media (http://starlocalmedia.com).