It's February in the NHL so naturally the rumor mills are swirling. There has been talk of the Dallas Stars looking at defensive upgrades and that doesn't mean just on the blue-line. Loui Eriksson has been talked about as a good piece for the Stars to bring back to add to their top-six while still having a significant defensive upgrade. The Stars would love to have Eriksson back but do the Bruins want to deal with the media nightmare that would ensue if they traded the main piece in the Tyler Seguin trade back to Dallas? I'm not so sure.
Then there is Andrew Ladd.
The Jets are slipping further and further out of playoff contention, especially considering they are in the Central. They've got some major upcoming contracts and have expressed their interest in bringing back Dustin Byfuglien after the season is over. Ladd has seen his play slip a bit this season but he's still a solid top-six winger who can play a physical, solid game. The Stars could use a guy like that to fill out the top-6 as they have had some inconsistencies with a few of their top wingers.
Would Ladd be a good fit? Let's take a look.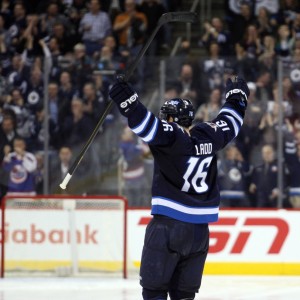 Ladd's Game
I mentioned it above but it is worth bringing up again, Ladd plays a hard style of game. The Stars don't have a forward that throws his weight around too much. Jamie Benn has some punishing hits every now and again. Roussel plays hard but he isn't an overly big guy. Ladd would be an excellent addition to grind away at opponents when the skill game just isn't there.
You've seen the Stars struggle against physical teams this season. Dallas likes to bring the puck into the offensive zone on the rush. They don't like playing dump-and-chase hockey. It's just not them.
You bring in a guy like Ladd who can play physical and big on the forecheck and it gives the Stars more versatility when they are playing a game that gets bogged down in the neutral zone. His 97 hits playing 5v5 is second among Jets forwards and would be first in Dallas. One big question for the Stars is can they make it through a seven game series against a physical team like the Los Angeles Kings? Ladd would help in that situation, undoubtedly.
Ladd's top scoring days may be behind him but he can still contribute on a top-six level. He has 18 points at even-strength with the Jets this season, that number would be good for sixth on the Stars behind some pretty dominating players. He would likely have the opportunity to play with a guy like Jason Spezza and that combo could produce nightly. Ladd has been a solid possession player with a 51.47 Corsi-for-% despite getting a lot of starts in the defensive zone. His style of play looks like it would be a welcome style in Dallas but will the logistics of the deal work?
Who's Going to Winnipeg?
There are two important questions to consider here for Dallas. One, what does Winnipeg want in return? And two, is that worth an almost-certain rental player? Dallas won't have a ton of money to throw around in the offseason and it's highly doubtful that they use what little space they have on an aging top-six forward. So with Ladd coming in as a rental to a division rival, what would Winnipeg want out of it?
Would they want a gritty forward with top-six potential in return? Maybe someone like Brett Ritchie comes into play with Ritchie and picks going to Winnipeg for Ladd. If they wanted defense instead, one of Jamie Oleksiak/Patrik Nemeth could go the other way with a draft pick or two for Ladd as well. The Stars would love to unclog that blue-line with high-potential players just sitting in the press box.
https://twitter.com/NicholsOnHockey/status/692459977185857536
Is Ladd worth more than a good prospect and a couple of high draft picks? Possibly, but the rental aspect of the deal is an important part to consider if you're Dallas.
Does it Work?
If the Stars are in win-now mode, which I believe they should be, Ladd is a guy they should go after at the deadline. He makes Dallas a much tougher team to play against and gives them a little more physicality without sacrificing offensive power. They so desperately need a more consistent option to pair with the ultra-talented Jason Spezza (more on that another time).
Dallas needs to be thinking defense-first if they are going to make a move at the deadline. The problem is there are many other teams that will be searching for the same guy. If defensive upgrade options just aren't there, Ladd is definitely worth strong consideration from Jim Nill and the Stars.