It's commonly agreed that the Stanley Cup is the hardest trophy to win in professional sports. Between four best-of-seven series, a minefield of dangerous opponents and referees that are always trying to screw you, the NHL playoffs are not for the faint of heart. The struggle, of course, is what makes the triumph so satisfying, and players often say that tasting success once only heightens your hunger for more. On the other hand, there is nothing more devastating than immersing yourself in the journey and falling a few wins short. The Stanley Cup, at once, conjures tears of joy and tears of heartache; it is likely the only thing on this planet that makes hockey players cry.
Over the years, hockey's Holy Grail has eluded many great players – Gilbert Perrault, Marcel Dionne and Pat LaFontaine are a few that come to mind. Sometimes, a little bit of luck is more important than a boatload of skill. And among the current crop of NHL stars, there are several players who have put together fantastic careers but lack the one distinction that matters the most. Today, let's celebrate their anguish and put together an All-Star team of the best active players in the Western Conference who have yet to win the Stanley Cup. (You can find the Eastern Conference here.)
First, a few parameters:
We're only considering players who have been in the League for at least five years – so don't scream at the omission of Connor McDavid.
We will be weighing past and current performance equally. This is about determining which players are the most deserving of a championship based on their entire body of work.
That being said, we're not concerned with how close players have come to a title in the past. It's not John Tavares' fault he's been saddled with lesser teammates.
We're trying to assemble a "team," so a player's position matters. If the three best forwards are all centers, we're only taking one.
Finally if I left out your favorite player, it's probably because he's not very good and I don't like him. Cool? Cool.
The guys below are a mix of MVP's and scoring leaders. Norris Trophy-winners and Vezina Trophy-winners. Perennial All-Stars and franchise cornerstones. And the great irony is each one of them would likely trade all the individual accolades for a single Stanley Cup ring. (At least hockey culture says they should.) Without further preamble, here it is: the Eastern Conference All-Star team no one wants to be on. 
Goalie: Ryan Miller (VAN)
The Reason: Miller has fallen off the radar a bit since signing with the Canucks prior to the 2014-15 season, and he's certainly in the twilight of his career. But for a seven-year stretch in Buffalo (2005-06 – 2011-12), he was one of the best goalies in the League. He won the Vezina Trophy after the 2009-10 season – the same year in which he nearly stole a Gold Medal for the U.S. at the Vancouver Olympics – and was a staple atop the statistical leaderboards for the majority of his Sabres career. Through sound positioning and economy of movement, Miller often made difficult saves look routine – think Braden Holtby today. Where some goalies impress with their acrobatics, Miller has always impressed with his simplicity.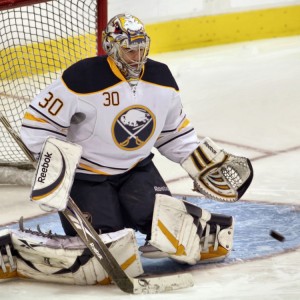 The Anguish: Since losing in the Eastern Conference Finals in 2007, Miller hasn't made it past the first round. It looked like he was primed for a deep run with a great Blues team in 2014, but then everyone remembered that great Blues teams don't make deep runs.
The Outlook: Miller might etch his name on the Cup yet, but it won't be with the Canucks. And wherever he is, he likely won't be the starter. But if settling for a backup role gives him a shot at winning his first championship, one has to figure Miller will happily sign on.
Honorable Mention: Pekka Rinne (NSH)
Left Defenseman: Ryan Suter (MIN)
The Reason: Arguably the best American defenseman in the game today, Suter has put together an 11-year career marked by untiring grace. His superb skating ability and impossible stamina allows him to play over 28 minutes a game without ever looking labored. The hallmark of a great player is the appearance of effortlessness, and no one seems to glide through the chaos as smoothly as Suter. By the way: since debuting in the 2005-06 season, only Duncan Keith has more defensive point shares than Suter.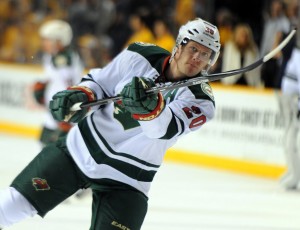 The Anguish: Suter has been to the playoffs in nine of his ten seasons, but hasn't made it past the second round. In his Nashville days, it was the Sharks who had his number; since signing in Minnesota, it's been the Blackhawks. (Yea, you and everyone else, says the Western Conference.) If Suter can find a way to get over the second-round hump, the rest should be gravy.     
The Outlook: As long as the Blackhawks are around, it's tough to feel confident about his chances in Minnesota. The defending Stanley Cup champs have knocked the Wild out of the playoffs each of the past three seasons, and all roads out of the Central Divison go through Chicago. That's without even mentioning St. Louis, Dallas and Nashville. Central Division, you win.
Honorable Mention: Jay Bouwmeester (STL)
Right Defenseman: Shea Weber (NSH)
The Reason: The career-long Predator has been one of the best defensemen in the NHL for the past 10 years. He makes forwards disappear with his suffocating defense, and makes goalies abandon the crease simply by lifting his stick in the air. Few defenseman bring as much to the ice as Weber, who came second in Norris Trophy voting by mere percentage points two years in a row (2011, 2012). Since his first full season in 2006-07, he ranks second among defensemen in total points.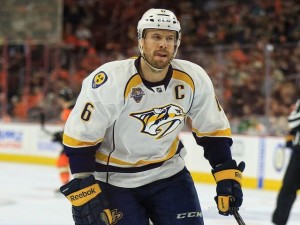 The Anguish: Weber has been to the playoffs on seven different occasions, advancing to the second round twice. But, like Suter, that's as far as he's come over a 10-year career. It has to sting for Weber, who seems to be watching his prime slip away with one playoff disappointment after another.
The Outlook: The pieces are all there for the Preds to make a run at the Cup, but, uhm, Blackhawks. At some point, Suter and Weber either need to finagle their way out of the Central Division, or say screw it, and hop on board in Chicago.
Honorable Mention: Alex Pietrangelo (STL)
Left Wing: Daniel Sedin (VAN)
 The Reason: Along with twin brother Henrik, Daniel has become a playmaking marvel in Vancouver. The Sedin's telepathic connection is unrivaled by any duo in the history of the game, and both players are a lock for the Hall of Fame as a result. Daniel's 940 career points are the second most of any left-winger since his 2000-01 rookie season, and his 586 assists are the most.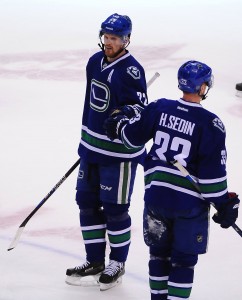 The Anguish: For Sedin, who has been to the playoffs 11 times in his 14-year career, it all boils down to 2011. After holding a 3-2 series lead in the Stanley Cup Finals, the Canucks lost Games 6 and 7 as the franchise's first championship slipped through their fingers. Sedin's career is littered with playoff disappointments, but a 4-0 loss on home ice in Game 7 of the Stanley Cup Finals is certainly the most painful of them all.
The Outlook: The question facing Sedin (both of them for that matter) is whether or not he's willing to leave Vancouver to chase a championship. If he is, there's still a chance he cracks his Cup curse; if he isn't, he'll retire without a ring.
Honorable Mention: Zach Parise (MIN)
Right Wing: Jarome Iginla (CGY)
The Reason: With apologies to Shane Doan, no one in the NHL right now deserves to win the Stanley Cup more than Iginla. His 608 career goals are the second most among active players, and his 1269 points are third. He built his career on one of the deadliest wrist shots of all time, but was never defined solely by his accomplishments as a scorer. Through 1466 games, he also racked up 661 assists. He's a six-time All-Star, two-time Rocket Richard Trophy winner and a flat-out beast: he's played a full 82-game season ten times. Oh, and by the way, he's headed for number 11 at age 38.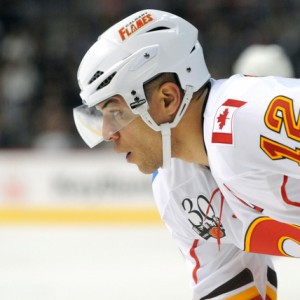 The Anguish: Just as Sedin's heartbreak centers around 2011, Iginla's is rooted in the Flames' Stanley Cup loss to the Lightning in 2004. With a chance to win it all on home ice in Game 6, Calgary was outlasted in double OT. Two nights later, the Lighting completed the comeback. Iginla later advanced to the Eastern Conference Finals in 2013 with the Penguins, but 2004 was the one that got away. 
The Outlook: This really depends on how much longer Iginla intends to play. He still has a year left on his contract with the Avalanche, although it's hard to see him winning in Colorado. If he's willing to make another late career move to a contending team, Iginla just might get his Ray Bourque moment.
Honorable Mention: Shane Doan (PHX)
Center: Joe Thornton (SJS)
The Reason: If it weren't for Jaromir Jagr laughing shamelessly in the face of Father Time, Thornton would boast the resume to beat among active players. Even still, he's racked up more assists, points and power play points than anyone since his 1998-99 rookie season, and none of the three races are close. For years, he was the game's premier playmaker, twice posting 90+ assists in a single season (2005-06, 2006-07). His numbers have fallen off a bit recently, but a quick glance at the leaderboard proves that Jumbo Joe's still got it: among all forwards this season, no one has more assists.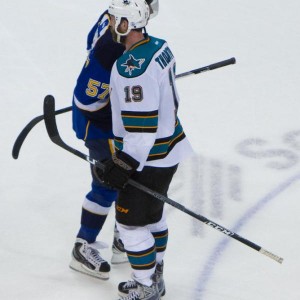 The Anguish:
Oh, where to begin? Thornton has had his heart crushed so many times in the playoffs there's just an empty hole in his chest now. Over a 17-year career, he's been involved in 22 playoff series and 132 playoff games; his record is 60-63. It's not just that Thornton's been there, though. It's that he was front and center every time. Think about all the times the Sharks have made the playoffs the past 10 years, all the times they've stormed through the regular season only to fall short of the ultimate goal. Sure, there was Marleau and Nabokov and Boyle and Cheechoo and so on and so forth, but those were Thornton's teams. When they failed, he failed.
The Outlook: There's still a chance, but the sun is setting on Thornton's career. And though a steady influx of young talent in San Jose has kept the Sharks competitive recently, they're not the juggernaut they used to be. Of course, for all the times they flamed out in the playoffs amidst Stanley Cup predictions, it'd be quite fitting to see them sneak up and win when we least expect it.
Honorable Mention: Henrik Sedin (VAN)
Will Burchfield covers all things 'New York Islanders' for thehockeywriters.com. A 2014 graduate of Boston College, he has extensive writing experience both online and in print.