As the Stars, and their fans digest another Christmas season, the annual dilemma of choosing a New Year's resolution approaches. Do we commit to one, or do we trudge along accepting our status quo?
Will we actually use that "Fitbit" Christmas gift? Or will we flip it on eBay, Craigslist or maybe just regift? As we prepare to tear off the last calendar page of 2015, we realize another year of aging and annual health checkups awaits.
Are you sensing a theme yet? Yes, Health!! Certainly with the Stars first overall in the standings (26-7-2, 54 points) continued good health should lead to more great results.
Counting Their Lucky Stars
Outside of a few games missed by Co-No. 1 goalie Kari Lehtonen and top four defenseman Jason Demers, the Stars seem to have been incredibly healthy this season. Have they hired A.J. Jacobs or Jillian Michaels as health consultants?
Jason Demers lower body injury. Will not return to the game. 😢 #DallasStars

— Sheri (@TexasSheri) November 22, 2015
Actually, the Stars have been incredibly lucky this season from a health perspective. Sure, Head Athletic Trainer Dave Zeis and team do a great job making sure the Stars are in tip-top shape, but even they can't prevent the occasional low bridge to the knee, shoulder to the head, etc.
The Stars are lucky because they are actually 11th in Man-Games Lost due to injury this season. Yes, as in 11th most Man-Games Lost due to injury in the entire NHL.
Stars Man-Games Lost Numbers
What exactly are "Man-Games Lost"? Pretty much exactly what they sound like, but I will share the official mangameslost website definition as provided by founder and THW alum Nathan Currier:
"Man-Games Lost is a term that refers to the cumulative loss of players (primarily due to injury) for a sports team. It is analogous to the terms "games missed due to injury" or "games lost to injury" used in many professional sports.
The term 'man-games lost' is most commonly used to refer to injuries in hockey (the National Hockey League) but it is gaining traction in its use in other professional sports leagues. Every game that a player misses due to an injury counts as one man-games lost for his team."
Of the Stars 108 Man-Games Lost this season, Jamie Benn, Tyler Seguin, John Klingberg, Patrick Sharp, Jason Spezza and Alex Goligoski have combined for zero.
Meanwhile, unproven youngsters Brett Ritchie and Curtis McKenzie have combined for 66 MGLs lost. Next on the list are depth forwards Travis Moen and Patrick Eaves with 17 and 13 MGLs respectively. Rounding out the list in single digits are Demers (4), Lehtonen (3), Antoine Roussel (2) and Jordie Benn, Jyrki Jokipakka and Ales Hemsky with 1 MGL each.
Of the 10 NHL teams with more than 108 MGLs only Ottawa, St. Louis and Detroit would make the playoffs if the season ended today.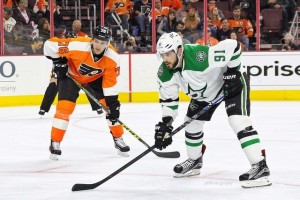 Of teams who made the Western conference playoffs
last season only Anaheim, Minnesota and Calgary had more MGLs than the Stars 2014-15 total of 241. We all remember Tyler Seguin's injury  (10 games). Not to mention the fact Jamie Benn and Alex Goligoski played hurt most of the season.
Since it is too late for a Christmas wish and they don't really need a New Years resolution at this point, let's call it a New Years wish for the Stars to stay healthy in 2016. Oh and give that "Fitbit" a try. If you're not already a physical fitness enthusiast, there was a reason someone got it for you.