Every year, a wealth of young, highly touted prospects enter into the first National Hockey League season of their careers. Although some of these young players will never each their full potential, there are select others who will excel in the NHL and become star players in the league for many years to come.
One symbol of future excellence comes through winning the Calder Memorial Trophy, which is awarded annually "to the player selected as the most proficient in his first year of competition in the National Hockey League".
Since its inception in the 1936-37, historical hockey icons such as Terry Sawchuk, Frank Mahovlich, Bobby Orr and Tony Esposito have claimed the trophy. In more recent memory, NHL greats and eventual hall of famers such as Mario Lemieux, Luc Robitaille, Ed Belfour, Martin Brodeur and Teemu Selanne. The most recent Calder winner, Nathan Mackinnon, is yet another example of a young player who has already displayed excellence in the NHL, and will undoubtedly become a star player in the league for the considerable future.
In the upcoming 2014-15 NHL season, there are plenty of young players who have the skills and potential to win the Calder Memorial Trophy. Due to the fact that this year's rookie class will be among the strongest in recent history, I have listed my top 5 contenders who I believe will battle for the right to raise the historic Calder Trophy as the 2014-15 rookie of the year.
The Top 5
5. Curtis Lazar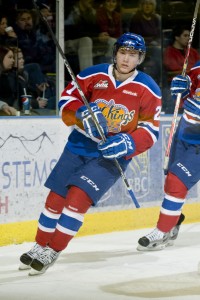 Curtis Lazar is without doubt the underdog on this list to win the Calder.
Drafted 17th overall in the 2013 Entry Draft by the Ottawa Senators, Lazar has enjoyed a successful three year career with the Western Hockey League's Edmonton Oil Kings; reaching the finals in all three seasons while winning the WHL championship twice alongside the Memorial Cup this past season. In what should be his final WHL season, Lazar experienced the best production of his career, notching 41 goals for a total of 76 points, good for second on the team.
During the past year Lazar also represented Canada at the World Junior Hockey Championship, impressing further by posting 7 points in 7 games, becoming a team leader known for his tireless work ethic and determination for team success.
At 6-foot, 196 pounds, Lazar has the potential to be a future star for the Senators. Curtis plays a hard working game and is responsible at both ends of the ice, willing to step up for his teammates. His soft hands down-low and in tight near the tight make him a dangerous player who can also distribute the puck using his great vision. Along with these skills, Lazar has great leadership traits, those which saw him become an alternate captain in his second season in the WHL.
4. John Gibson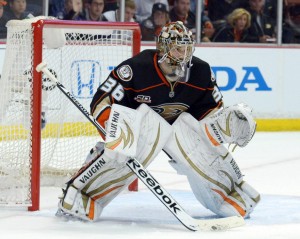 John Gibson is the only goalie who ranks as a top 5 five contender for this seasons Calder Trophy.
Selected in the second round, 39th overall by the Anaheim Ducks in the 2011 NHL Entry Draft, Gibson spent the majority of last season with the Norfolk Admirals of the American Hockey League. During his season, Gibson posted spectacular numbers, achieving a .919 save percentage to go along with a 2.34 GAA, solidifying his position as the top goaltending prospect in the NHL.
Given his abilities, Gibson was re-called late last season, appearing in 3 regular season and 4 post-season games, picking up two shutouts yet experiencing the (few) struggles associated with a young NHL goaltender.
Given his skill-set, Gibson should become a perennial all-star in the NHL. His large 6-foot 3, 210 pound frame works hand-in-hand with his natural puck-stopping abilities. Although Gibson often deviates from his butterfly style, resembling a young Dominic Hasek or Ed Belfour, John should experience great success this coming season. The one major obstacle Gibson may face is restricted playing time, as he will have to battle Frederik Anderson for the starting role.
3. Aaron Ekblad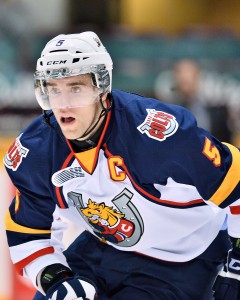 Surprised to see Aaron Ekblad at #3 on the list?
Selected first overall in the 2014 NHL Entry Draft by the Florida Panthers, Aaron was the second player to be awarded exceptional status by the Canadian Hockey League, and the second to be drafted first overall. In his third season with the OHL's Barrie Colts, Ekblad posted career bests in goals with 23 and points with 53 over 58 games. At almost a point-per game pace, Ekblad established himself as a premier blue-liner, drawing comparisons to Nashville Predators star and Canadian Olympian Shea Weber.
Ekbad also represented Canada at the World Junior Hockey Championships, playing a top-4 role at the age of 17, registering a goal and one assist over 7 games played. Prior, Ekblad captained Canada to gold at both the Under-18 Ivan Hlinka Memorial tournament and World Under-17 Hockey Challenge.
Standing at 6-foot 3, 213 pounds, Ekblad is a strong player willing to play physically in all situations. According to Dan Marr, director of NHL Central Scouting; Aaron is a great skater given his size and a premier puck distributor who "passes with authority and possesses and accurate shot from the point". Given his proven abilities, Ekblad will also have an outstanding rookie season in the NHL, providing much needed stability to an ever fluid Florida Panthers blue-line.
Aaron Ekblad will no doubt be a premier defender in the NHL, however I personally do not feel that his rookie season will be enough to surpass the players ranked # 1 and 2 on this list in contention for the Calder Trophy.
 2.Leon Draisaitl

Leon Draisaitl ranked second? I'll tell you why:
The third overall pick in the 2014 NHL Entry Draft by the Edmonton Oilers, Draisaitl recently concluded his second season in North America with the WHL's Prince Albert Raiders. Finishing his year with career-highs in goals, 38, and points, 105, Leon became well-known for his strong, puck possession based style of play, ultimately making him the highest drafted German player in league history.
Draisaitl also competed at the 2014 World Junior Championship, contributing 2 goals and six points in six games, while showing his physical edge in leading the tournament with 52 penalty minutes.
With a 6-foot 1 frame and 210 pound body, Draisaitl is known for his strong play down low and ability to guard and distribute the puck. NHL Central Scouting's B.J MacDonald commented that Draisaitl was "the best prospect from this draft class at protecting and handling the puck; he's very Jaromir Jagr -esque".
For example, take a quick look at Draisaitl's goal here at 0:43

Given the Edmonton Oilers' current situation at center, it is highly likely that Draisaitl will step in to fill the second line center void created when Sam Gagner was traded to Tampa Bay, and then the Arizona Coyotes. Alongside the other young guns which comprise the core of oilers forwards, Draisaitl will be given a great amount of ice time and opportunity to have an impact at the NHL level in his rookie season. Given that he will play amongst young star forwards in Taylor Hall, Jordan Eberle and Ryan Nugent-Hopkins, expect Draisaitl to have an immediate and considerable impact at the NHL level.
 1. Jonathan Drouin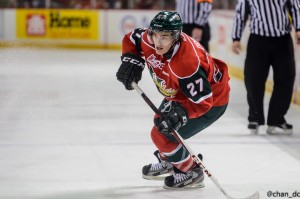 Jonathan Drouin at #1 should be no surprise and a sure-thing to win the Calder Trophy.
Drafted third overall in the 2013 NHL Entry Draft by the Tampa Bay Lighting, Drouin just finished his third season with the Halifax Mooseheads of the QMJHL. Coming off the shocking decision by GM Steve Yzerman to send Drouin back to Junior, Jonathan simply put up a new career high in points with 108 in only 46 games. At over a 2 point-per game pace, Drouin is seen as the NHL's top prospect.
Drouin, similar to the majority of players on this list, also took part in last years World Junior Championship. With 9 points over the team's seven games, Drouin furthered his image as an elite player on the international stage.
At a height of 5-foot 10 and 185 pounds, Drouin is a much smaller player than others on this list, yet makes up for it with his first-class skill set. Along with extraordinary stick-handling abilities, Drouin uses his a strong lower-body to protect the puck, while his spectacular on ice vision allows him to both slow the game down and make the perfect pass. It is his vision which demands respect from his opponents, allowing Drouin to maneuver into scoring position or set up a teammate.
Coming into this season, Drouin should no doubt make the Tampa Bay Lightning out of camp. If chemistry develops early between he and Steven Stamkos, the two could become one of the most potent offensive duos in the NHL for many years to come.
Clearly this years rookie class will be a strong one, with many top prospects vying for roster positions with their respective clubs. However, some players, in particular those listed above, will have rookie seasons amongst the best in the NHL, making them the top contenders for this years Calder Memorial Trophy.
Have a different opinion on who will win the 2014-15 Calder Trophy? Leave a comment!