You can find the Top 5 Forward Lineups Entering the 2015 NHL Season, here.
Assessing the best goaltending lineups heading in the 2015 NHL season is almost futile. There are so many variables when it comes to net-minders that it will make your head spin. Sometimes goalies have Vezina like years, then a season later look like a completely different player, see Antti Niemi. How do you judge a team that runs a goaltending duo such as St. Louis or Toronto against teams that have bona fide starters? What about teams with upcoming talent such as Carolina and Anaheim? There are so many elements involved with protecting the net it can drive you crazy.
Because of the variety of factors involved we are going to keep it simple. Only recent goaltending history will be considered, sorry Pekka Rinne. Also both the teams starter and backup will be evaluated together so as to be fair to teams with alternating starters. This also means that a top notch starter can be weighed down by a less than stellar backup. One goaltender does not play all 82 games, and only eight played over 60 games during the 2014 season. A lot of the teams who did not make the list have great starters but lack capable backups. With this in mind let us take a look at the best goaltender lineups entering the 2015 season.
[Related: Top 5 Forward Lineups Entering the 2015 NHL Season]
[Related: Top 5 Defense Lineups Entering the 2015 Season]
All projected lineups courtesy of DailyFaceoff
#1: Boston Bruins
Goalies

Tuukka Rask
Niklas Svedberg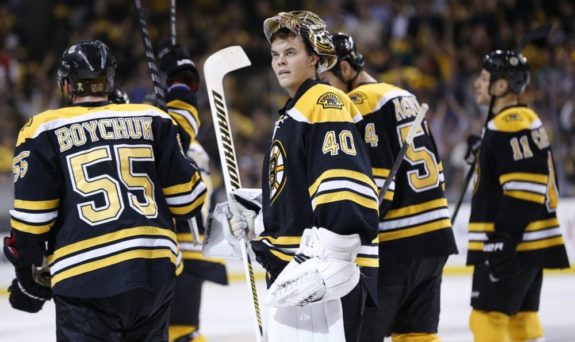 A lessen that Toronto needs to learn is to stop trading with Boston. Drafting Tuukka Rask has worked out so well for the Bruins that they were able to let Tim Thomas walk away without batting an eye. Over the past two seasons he has averaged just over a 2.00 Goals Against Average along with a .930 Save Percentage. Niklas Svedberg looks to be the backup to start the season despite only one NHL game under his belt. Still, he has proven to be quite capable at the AHL level and shouldn't have a problem playing 10-20 games. The last thing the Bruins are concerned about is goaltending entering the 2015 NHL season.
#2: Los Angeles Kings
Goalies

Jonathan Quick
Martin Jones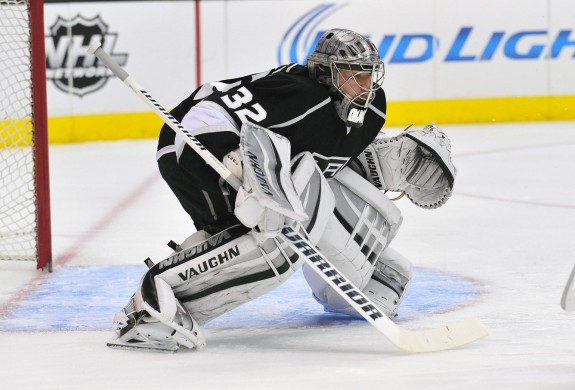 Los Angeles would not be holding the Stanley Cup in 2014 or in 2012 if it was not for Jonathan Quick. His numbers dropped over the past two seasons but the Kings were still among the league leaders in goal prevention. In addition, Los Angeles found a gem with Martin Jones whom they felt so confident with they traded away Ben Scrivens. The rookie Jones stole headlines for winning his first eight games in the NHL during the 2014 season. The Kings won't be concerned in the slightest putting Jones in net when Quick takes the night off.
#3: New Jersey Devils
Goalies

Cory Schneider
Scott Clemmensen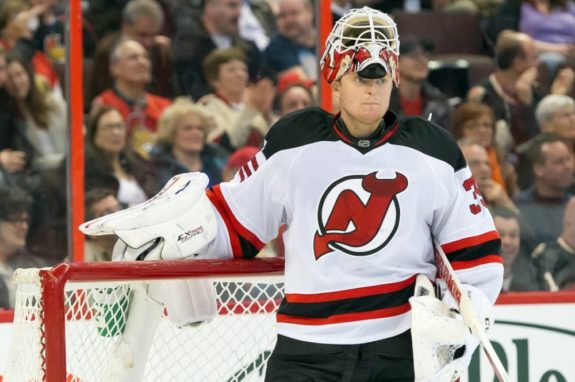 The Devils won't be expected to make the playoffs next season but their goaltending situation should give them a chance. Cory Schneider has replaced Martin Brodeur and quietly had a Vezina worthy season in 2014. He was the only netminder who played over 40 games and finish the season with under 2.00 GAA. Backing up Schneider is longtime backup Scott Clemmensen. This is his third stint with the Devils and through his career he has been an above average backup. His statistics took a dive since the Panthers made the playoffs in 2012. Nevertheless, he should be more than a capable backup in New Jersey entering the 2015 NHL season.
#4: New York Rangers
Goalies

Henrik Lundqvist
Cameron Talbot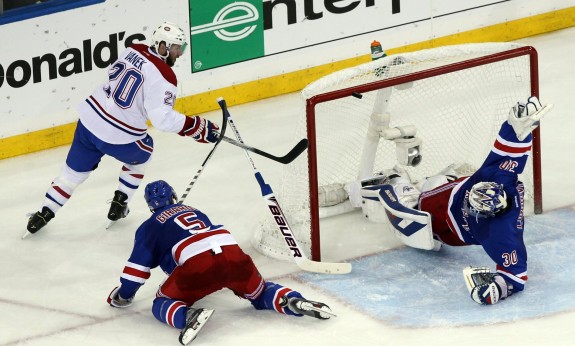 The Rangers boast the most consistent goalkeeper over the past decade in Henrik Lundqvist. He got off to a slow start in 2014 but finished the season strong and led his team to the Stanley Cup Final. Over the past two seasons his Save Percentage is near .925 while his GAA is below 2.25. The Rangers also found relief in rookie Cam Talbot. Like Martin Jones, Talbot also had a great rookie performance playing over 1,000 minutes. With a steady backup and possible successor to Lundqvist down the road, New York will continue to have one of the best goaltending lineups for years to come.
#5: New York Islanders
Goalies

Jaroslav Halak
Chad Johnson
The Islanders had a very busy summer but the moves that perhaps went most overlooked was replacing both their starter and backup in net. Acquiring both Joroslav Halak and Chad Johnson immediately solves the teams long woes of goaltending troubles, perhaps the Flyers should take note. This will be Halak's fifth NHL team since leading the Canadiens to the Eastern Conference Final in 2010. Last year alone hee played in St. Louis, Washington and for a short time was a Buffalo Sabre, though he didn't appear in any games. At the same time, Halak finished in the top ten in both GAA and Save Percentage for goaltenders who played over 40 games. Meanwhile, Chad Johnson put together a terrific performance in Boston playing over 1,500 minutes. Both goalies are under appreciated and undervalued in the league for what they offer. Don't expect so many goals to go in against the Islanders during the 2015 NHL season.
Missed the Cut: Montreal Canadiens, Tampa Bay Lightning
Goalies

Carey Price
Peter Budaj
The Canadiens have relied on Price ever since letting go of Jaroslav Halak and it has worked out nicely. Carey Price has averaged above a .915 Save Percentage and a 2.40 GAA during the last two seasons. Backing up Price is Peter Budaj one of the more consistent backups in recent years. While the Canadiens do have Dustin Tokarski in the depth charts, he has only played ten NHL games. In any case, if Tokarski plays like he did in the playoffs then Canadiens have a bright future in net.
Goalies

Ben Bishop
Evgeni Nabokov
If you were one of the many that did not understand this trade when it happened please raise your hand. I could not believe the Lightning went out of their way to trade, at the time, a rookie of the year candidate for a goaltender with very little experience. The all seeing eyes of Steve Yzerman at work again. Since then Conacher has been waived, claimed and released again. Concurrently, Bishop assumed the starting role and had a Vezina worthy season in 2014 finishing in the top ten in both Save Percentage and GAA. The Lightning also went out and grabbed Evgeni Nabokov. Though he is at the end of his career he played over 40 games the past three seasons for the Islanders. He should prove to be a safe backup in Tampa Bay.