When discussing the best forward lineups in the NHL we are talking about the best composition of twelve forwards on NHL teams. There are two qualities that we must take under consideration. The first quality is that having a great top-six lineup is not enough if the bottom-six forwards are lacking. A team must have strength from top to bottom. The second quality is that offense is not enough. Defensive hockey contributes to winning as well and if forwards can only score goals but not help to prevent them then they are not among the league's best. With these things under consideration let's take a look at the best forward lineups entering the 2015 NHL season.
[Related: Top 5 Defense Lineups Entering the 2015 Season]
[Related: Top 5 Goaltender Lineups Entering the 2015 NHL Season]
All projected lineups courtesy of DailyFaceoff
#1: Chicago Blackhawks
| | | |
| --- | --- | --- |
| Left Wing | Center | Right Wing |
| Brandon Saad | Jonathan Toews | Marian Hossa |
| Patrick Sharp | Brad Richards | Patrick Kane |
| Bryan Bickell | Andrew Shaw | Kris Versteeg |
| Jeremy Morin | Marcus Kruger | Ben Smith |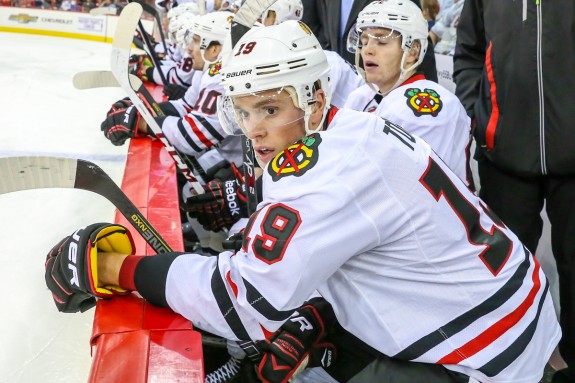 Despite losing in the Western Conference Final, the Blackhawks depth at the forward position was their biggest strength over the Kings. They easily boast one of the best top-six lineups in the league with Conn Smythe winners Jonathan Toews and Patrick Kane as well as playoff performers in Marian Hossa and Patrick Sharp. Still the Blackhawks strengths do not end there, as Marcus Kruger, Andrew Shaw and Kris Versteeg all finished will over 25 points in 2014. On top of that only Ben Smith and Marcus Kruger had negative relative Corsi numbers from the 2014 season. Even Brad Richards had one of the highest relative Corsi numbers while playing on the Rangers.
#2: Los Angeles Kings
| | | |
| --- | --- | --- |
| Left Wing | Center | Right Wing |
| Marian Gaborik | Anze Kopitar | Dustin Brown |
| Tanner Pearson | Jeff Carter | Tyler Toffoli |
| Dwight King | Jarret Stoll | Justin Williams |
| Kyle Clifford | Mike Richards | Trevor Lewis |
The Blackhawks may have been better at the forward position but it was not by much. The Los Angeles Kings have successfully blended a mix of old faces such as Anze Kopitar and Dustin Brown with new faces including Jeff Carter, Mike Richards, and Marian Gaborik. Add the likes of Jarret Stoll one of the best faceoff takers in the game and Justin Williams one of the best playoff performers in the league and you have yourself a well rounded forward lineup. The Kings do not score as much as other teams, except when it matters, but they sure know how to play defensive minded hockey. In 2014, only one of these twelve forwards finished a plus-minus under negative 1.
#3 St. Louis Blues
| | | |
| --- | --- | --- |
| Left Wing | Center | Right Wing |
| Alex Steen | David Backes | T.J. Oshie |
| Jaden Schwartz | Paul Stastny | Vladimir Tarasenko |
| Dmitrij Jaskin | Patrik Berglund | Steve Ott |
| Magnus Paajarvi | Maxim Lapierre | Ryan Reaves |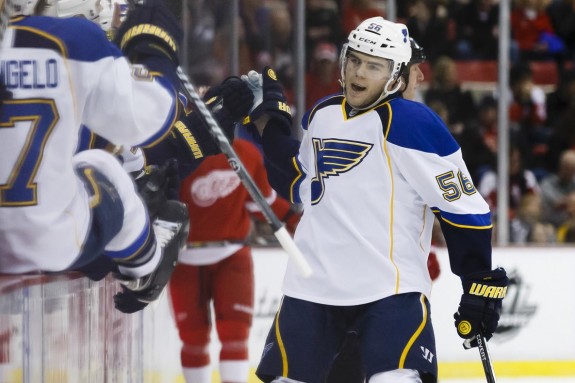 Don't be fooled by the early exits, the St. Louis Blues are good. They just keep getting the misfortune of facing off against teams that are better than they are year in and year out. Alexander Steen and TJ Oshie provide the offense while David Backes and Patrik Berglund provide the defense up front. Not including Dmitrij Jaskin who played 18 games, only three of their twelve projected starters finished with negative relative Corsi numbers in 2014. Losing Vladimir Sobotka, and Derek Roy hurts the Blues but gaining Paul Statsny who finished both top four in points and relative Corsi for the Avalanche easily makes up for it. The bottom six also has some potential to be offensive if Magnus Paajarvi and Jaskin continue to develop during the 2015 NHL season.
#4: Anaheim Ducks
| | | |
| --- | --- | --- |
| Left Wing | Center | Right Wing |
| Matt Beleskey | Ryan Getzlaf | Corey Perry |
| Patrick Maroon | Ryan Kesler | Jakob Silfverberg |
| Andrew Cogliano | Rickard Rakell | Dany Heatley |
| Kyle Palmieri | Nate Thompson | Devante Smith-Pelly |
The Ducks young stars mixed with veterans make for a potent combination. The top-six looks like a wrecking machine with the added contribution of defensive minded Ryan Kesler. If you include Dany Heatley the Ducks only have three of their twelve projected starters that finished with under a -2.0 in relative Corsi in 2014. Devante Smith-Pelly, Patrick Maroon and Jakob Silfverberg are primed to grab more headlines during the 2015 NHL season. This does not even include Emerson Etem who did not make the projected roster for convenience sake.
#5: Boston Bruins
| | | |
| --- | --- | --- |
| Left Wing | Center | Right Wing |
| Milan Lucic | David Krejci | Loui Eriksson |
| Brad Marchand | Patrice Bergeron | Reilly Smith |
| Carl Soderberg | Ryan Spooner | Jordan Caron |
| Daniel Paille | Gregory Campbell | Chris Kelly |
I'm sure the Bruins wish the never traded Tyler Seguin. Still, this team is at the top of the Eastern Conference. Like the Kings, the Bruins are not known for scoring as many goals as other teams but they know how to play defensive minded hockey. Of these twelve forwards only Jordan Caron finished with a negative plus-minus. The Bruins top-six is still a force to reckon with, as five of those forwards finished with over 50 points last season. The bottom-six still encompasses numerous Stanley Cup winners and though they are aging the entire fourth line collected over 15 points apiece in 2014. The Bruins are easily the definition of strength from top to bottom as each line presents its own strength both offensively and defensively.
Missed the Cut: Minnesota Wild, New York Rangers
| | | |
| --- | --- | --- |
| Left Wing | Center | Right Wing |
| Zach Parise | Mikko Koivu | Jason Pominville |
| Thomas Vanek | Mikael Granlund | Charlie Coyle |
| Matt Cooke | Erik Haula | Nino Niederreiter |
| Stephane Veilleux | Kyle Brodziak | Justin Fontaine |
The Minnesota Wild have quietly stockpiled young talent in their prospect pool for years and it has been paying dividends. Erik Haula and Mikael Granland from within the system and Charlie Coyle, Kyle Brodziak and Nino Niederreiter from outside. Add to that veterans Mikko Koivu, Zach Parise and newly acquired Thomas Vanek and the Wild look ready to take on the top dogs in the Western Conference entering the 2015 NHL season.
| | | |
| --- | --- | --- |
| Left Wing | Center | Right Wing |
| Chris Kreider | Derek Stepan | Rick Nash |
| Carl Hagelin | Derick Brassard | Martin St. Louis |
| Lee Stempniak | J.T. Miller | Mats Zuccarello |
| Tanner Glass | Dominic Moore | Jesper Fast |
A trip to the Stanley Cup Final is tough to keep off peoples radar but most people did not foresee the Rangers making it that far. Not including JT Miller who played 30 games, the Rangers only have three of their twelve projected starters who finished the 2014 season with a negative relative Corsi. Derek Stepan, Derick Brassard, Mats Zuccarello and Dominic Moore provide each line with a solid two way forward. Add Rick Nash and Martin St. Louis to the mix on the right wing and the Rangers easily have one of the best forward lineups in the Eastern Conference and NHL.