Fan Fest starts this week in Toronto as the Maple Leafs and their fans gear up and ready themselves for the start of the 2014-15 regular season. In addition, the Leafs will announce two former players that will join Ted "Teeder" Kennedy as the inaugural members of the new Legends Row in Maple Leafs Square.
Now, the Leafs – being one of the Original Six teams – have a long and storied history. With so many players having put on the Maple Leaf blue and white, who's earned a statue on Legends Row?
"Legends Row will be a fitting tribute that honours many of the greatest players to ever wear the Maple Leaf while giving our fans the chance to feel a part of that history. We are thrilled to include Ted Kennedy, a player who always gave everything he had to his team, and two other Leaf greats, as the first three players to be recognized."

– Maple Leafs president Brendan Shanahan on NHL.com
While the organization has announced that there will likely end up being 10 or 11 statues, the question becomes: Who will end up on Legends Row?
Who will join Ted Kennedy on Legends Row? Find out at Fan Fest, pres. by ur Toronto Area Ford Dealers :: http://t.co/rZi7khuykt #TMLTalk

— Toronto Maple Leafs (@MapleLeafs) August 30, 2014
I put together a short list of the top five candidates who should be enshrined outside of the Air Canada Centre. While it's a tough decision – and will be for the organization – keep in mind there are others who could find themselves alongside Kennedy.
5. Borje Salming, D #21
Borje Salming wore the crest of the Maple Leafs for 16 of his 17 NHL seasons – from 1973 to 1989. Over the 16 seasons, he was a part of 12 playoff teams. While he didn't see a Stanley Cup championship with the Leafs, he did manage to achieve numerous accomplishments, including six team records and one NHL record.
Salming holds the all-time record for career points by an undrafted defenceman (787). As for his team records, Salming holds the mark for the most career points by a Leafs' defenceman (768) with Tomas Kaberle a distant second with 520 points. He holds the record for most career goals (148) by a Leafs defenceman and most career assists at any position on the team (620). Finally, he holds the team record for the best career plus-minus rating at plus-155 and most assists in a single season by a defenceman with 66.
Along with being named to the IIHF's Centennial All-Star Team in 2008, he was inducted into the IIHF Hall of Fame in 1998 and the Hockey Hall of Fame in 1996.
Awards:

NHL All-Star (1975, 1976, 1977, 1978, 1979, 1980)
Viking Award (1976, 1977, 1979)
Molson Cup (1974, 1977, 1978, 1980)
Charlie Conacher Humanitarian Award (1982)
74th on The Hockey News' 100 Greatest NHL Players list in 1998 (highest ranked Swedish-born player)
Inducted into the IIHF Hall of Fame (1998)
Inducted into the Hockey Hall of Fame (1996)
Maple Leafs Statistics:
Regular Season: 1,099GP, 148G, 620A, 768PTS, +155, 1,292PIM, 44PPG, 6SHG, 13GWG
Playoffs: 81GP, 12G, 37A, 49PTS, 91PIM 5PPG 1GWG
Jim Morrison and Dick Duff at @MapleLeafs Legends Row where Kennedy's statue will be #Teeder http://t.co/oZbQdy543R pic.twitter.com/x4kAKmsOtc

— Lauren Howe (@LaurenHowe) August 14, 2014
4. Mats Sundin, C #13
Mats Sundin is the most recent Leaf that will find his name on this list. He played 13 seasons with the Leafs (from 1994 to 2008) and led the Leafs into eight playoff seasons. While the nine-time all-star certainly set the tone for the blue and white, he never had a chance to win a Stanley Cup with the Maple Leafs.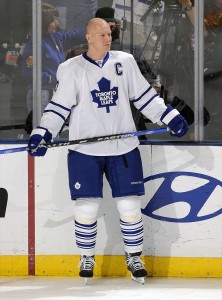 Sundin was the first European-born player drafted first overall in the NHL (in 1989 by Quebec) and remains the only Swedish-born player with 500 career goals and 1,300 career points. Sundin also holds the franchise records for goals (420), assists (567) and points (987) and was inducted into the Hockey Hall of Fame in 2012 – his first year of eligibility.
He's tied for 21st with Joe Nieuwendyk on the all-time goals list (564), ranks 34th on the all-time assists list (785) and 27th on the all-time points list (1,349). He's also only one of three players to record at least 20 goals in each of his first 17 NHL seasons along with Jaromir Jagr and Marcel Dionne.
Awards:
NHL All-Star (1996, 1997, 1998, 1999, 2000, 2001, 2002, 2003, 2004)
Olympic All-Star (2002)
Olympic Gold Medal as Sweden's captain (2006)
Mark Messier Leadership Award (2008)
Viking Award (1993, 1994, 1997, 2002)
Inducted into the Hockey Hall of Fame (2012)
Maple Leafs Statistics:
Regular Season: 981GP, 420G, 567A, 987PTS, +99, 748PIM, 124PPG, 23SHG, 79GWG
Playoffs: 77GP, 32G, 38A, 70PTS, +7, 66PIM, 10PPG, 1SHG, 7GWG
3. Dave Keon, C #14
Dave Keon might not be the first Leaf that pops into your head when you think of the deserving candidates for Legends Row. In fact, he's probably one of the most deserving players to see a statue of himself erected in Toronto.
As Sportnet's Gare Joyce explains, Keon had a much bigger impact on Toronto's team than his numbers may suggest. Along with winning the Lady Byng Memorial trophy and the Conn Smythe with the Leafs final Cup win, Keon was a part of four Stanley Cup winning teams in Toronto.
He played 15 seasons in blue and white from 1960 to 1975. He was ostracized by former Leafs owner Harold Ballard and forced out of the NHL and into the WHA when Ballard refused to sign him in 1975 and asked other NHL teams for too much compensation in return for signing the former Leafs captain.
Keon ranks third all-time on the Leafs in points (858) and third all-time on the Leafs' goals list (365). He was inducted in the Hockey Hall of Fame in 1986 and now has an arena in Rouyn-Noranda, Quebec named in his honour.
Awards:
NHL All-Star (1962, 1963, 1964, 1967, 1968, 1970, 1971, 1973)
Paul Deneau Trophy (1977, 1978)
Calder Memorial Trophy (1961)
Lady Byng Memorial Trophy (1962, 1963)
Stanley Cup (1962, 1963, 1964, 1967)
69th on The Hockey News' 100 Greatest NHL Players list in 1998
Inaugural member of the WHA's Hall of Fame in the 'Legends of the Game' category (2010)
Inducted into the Hockey Hall of Fame (1986)
Maple Leafs Statistics:
Regular Season: 1,062GP, 365G, 493A, 858PTS, +63, 75PIM, 30PPG, 23SHG, 38GWG
Playoffs: 89GP, 32G, 35A, 67PTS, 6PIM, 1SHG
2. Darryl Sittler, C #27
In 1976, Darryl Sittler put up 10 points in a single game against the Boston Bruins – an NHL record that still stands today and one that will likely never be broken. Have I said enough? Of course not.
[ALSO: The NHL's Most Unbreakable Records]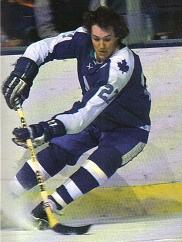 Along with his 10-point game, the former 8th overall pick by the Leafs ranks second all-time on the franchise list for points (916). He ranks second in team history in goals (389), third in assists (527) and had his sweater honoured by the Leafs in 2003.
He played in over 1,000 career games and recorded over 1,000 career NHL points. He captained the Leafs to 10 playoff seasons in 12 years with the Leafs (from 1971 to 1982). He was, deservingly, inducted into the Hockey Hall of Fame in 1989.
Awards:
Played in 1,000 games and recorded 1,000 points
93rd on The Hockey News' 100 Greatest NHL Players list in 1998
Maple Leafs Statistics:
Regular Season: 844GP, 389G, 527A, 916PTS, +34, 763PIM, 120PPG, 8SHG, 42GWG
Playoffs: 64GP, 25G, 40A, 65PTS, 120PIM, 13PPG, 1GWG
1. Johnny Bower, G #1
Doesn't it seem fitting that a man who wore a one on his back finds himself in the number one spot on this list. But Johnny Bower is certainly the cornerstone when it comes to remembering Leaf legends.
Bower ranks second on the franchises all-time wins list (219) behind only Turk Broda. He finished his Leaf career with a 2.49 goals against average and 32 shutouts which ties him for third on the Maple Leafs all-time list.
Not only did he win two Vezina trophies for being the NHL's best goaltender, but he was part of four Stanly Cup championship teams in Toronto. He spent 12 seasons with the Leafs – 10 of which they ended up in the playoffs. He returned to the Leafs after retiring for the 1976-77 and 1977-78 seasons as an assistant coach with the organization and was inducted into the Hockey Hall of Fame in 1976.
Awards:
NHL All-Star (1961)
Hap Holmes Memorial Award (1952, 1957, 1958)
Calder Cup (1948, 1951, 1953)
Les Cunningham Award (1956, 1957, 1958)
Vezina Trophy (1961, 1965)
87th on The Hockey News' 100 Greatest NHL Players list in 1998
Has a star on Canada's Walk of Fame
Inducted into the Hockey Hall of Fame (1976)
Maple Leafs Statistics:
Regular Season: 552GP, 250W, 195L, 90T, 37SO, 1,340GA, 2.51GAA
Playoffs: 74GP, 35W, 34L, 5SO, 180GA, 2.47GAA
Honourable Mention: Pat Burns
While Pat Burns didn't win any Stanley Cups in Toronto, he's a figure that shifted the culture for the Maple Leafs. He stood as the franchises bench boss for parts of four seasons before being relieved of his duties during the 1995-96 season. Over his four seasons with the blue and white, Burns led the team to a 133-107-41 record including three trips to the playoffs – two of which were ended in the third round. He will always be a big part of every franchise that he was a part of and Toronto is no different – which is why he could find his way onto Legends Row.
For more, follow Andrew on Twitter at @AndrewGForbes or his column at @Tape2TapeTHW.