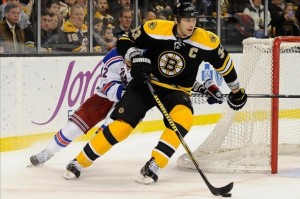 The problem in defense is how far you can go without destroying from within what you are trying to defend from without — Dwight D. Eisenhower
Watching Los Angeles play back-to-back games against Minnesota (4-3 SO loss) and Dallas (3-2 regulation win) got me wondering about how well the Kings play defense as compared to the rest of the league. True, Jonathan Quick isn't having a great season, likely due to his continuing recovery from off-season back surgery. However, as a whole, it appears the Kings may have taken a small step backwards. Granted, two of Los Angeles' best defensive defensemen (Matt Greene, Willie Mitchell) have missed the entire season so far, certainly impacting some of the results. But is that step backwards merely because Quick isn't the impenetrable wall we saw last year, or is there more to it than that?
While offensive teams are fairly simple to judge, defensively-oriented clubs require a little more subjectivity when trying to rank them from a standpoint of team effectiveness. Ottawa, for example, leads the NHL in goals against (2.06), despite giving up 32.7 shots per game — third highest in the league. And then there is Toronto, leading the league in both blocked shots (608) and hits (1,170), and yet just 16th in goals against at 2.67 per game.
Point being, albeit the most important statistic, goals against is just one measure from which to judge a defensive club. A top-notch goaltender (Niklas Backstrom) can help compensate for the deficiencies of certain lesser-defensive squads, just as a mediocre netminder (Ilya Bryzgalov) can deflate stronger defensive systems.
The methodology
Although arguable in terms of categories as well as weighting their importance, the six key statistics used in considering overall defensive prowess were as follows: goals against, shots against, blocked shots, hits, takeaways and faceoffs. In terms of weighting, 40% of the emphasis was placed on goals against (after all, that is the point), with shots against getting 20%. The other four components each receiving equal 10% weightings.
With that said, and keeping in mind this is a list in which the methodology has at least a degree of wanton subjectivity, the following are the top-five defensive teams in the NHL as of this writing:
#5: Los Angeles Kings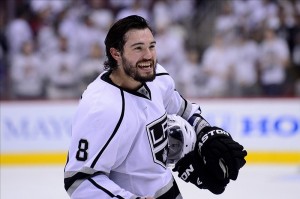 Well, lookie who we have here. The Kings make the list thanks to top-ten league rankings in goals against (9), shots against (2), hits (3), and faceoffs (6). They aren't well-ranked in shots blocked or takeaways, but what the heck — nobody's perfect. Darryl Sutter's system has managed to capture the effectiveness of former head coach Terry Murray's defensive system sans the repetitive tedium. Likewise, it hasn't sacrificed the offense, as Los Angeles is seventh in the NHL in scoring to this point in the season. At 5th overall in the West with 43 points, the Kings are in good shape to make the playoffs.
#4: San Jose Sharks
Following a team situated in the Pacific, I find this scenario to be deliciously ironic, as the Kings and Sharks seem to have swapped sweaters. For years, Los Angeles played solid defense but aimed their shots directly at the goalie's chest protector; now, it's San Jose doing the very same thing. The Sharks excel in goals against (9), blocked shots (2) and faceoffs (2) and are middle of the pack in both takeaways (12) and shots against (16). Alas, they are marshmallow-soft in the physicality department (24), an easy thing for me to say behind a keyboard. A rebuild may be in their near future, but at 6th in the West, the playoffs seem a present day reality.
#3: Chicago Blackhawks
With Patrick Kane doing spin-o-ramas and scoring pretty goals, you don't think of the Hawks as a defensive team. However, the statistics say otherwise, as Chicago is second in goals allowed, second in takeaways, and fifth in shots against. Pedestrian results in faceoffs (18) and low rankings in both blocked shots and hits aren't enough to undo all the good things the Chicago defense has done so far this season. Meanwhile, despite a pedestrian last ten games, the Blackhawks are rampaging through the West on their way to a likely #1 seed in the Western playoffs.
By the way, presented for your entertainment — the Kane spin-o-rama goal:
#2: Pittsburgh Penguins
I think of the Penguins as the Eastern conference version of the Blackhawks, and this season, that's particularly true. Not only are both clubs at the very top of their respective conferences, but they are also the highest-scoring teams and on this list of staunch defensive squads as well. Statistically, Pittsburgh is the most well-rounded of all the denizens of this list, as they performed well in almost every category: goals allowed (4), blocked shots (5), faceoffs (5), hits (8), shots against (12) and takeaways (18). Oh yeah, M.A. Fleury is kicking serious butt, too. With Jarome Iginla now in the fold, this will be one scary-ass team come playoff time.
#1: Boston Bruins
The other team allegedly getting Iginla at the deadline, Boston doesn't have the offense the Penguins do, but edges them out defensively thanks to being third in goals allowed, sixth in shots against, first in faceoffs, tenth in hits and tenth in takeaways. They may not lay down to stop 100 mile per hour slap shots very often (28), but that's why they still collectively have most of their teeth. Solidly in fourth as of this writing, the Bruins are just one point behind Montreal for the division lead and could well overtake them before it's all said and done.
Walter McLaughlin is a Los Angeles Kings correspondent for The Hockey Writers. He is an avid sports fan, having followed the Kings since living in L.A. in the mid-1970's, as well as suffering through Seattle sports teams' general futility. He has a Bachelor's degree in Finance and has worked in community banking for over 25 years, specializing in SBA loans. He is married and has two daughters.