After Sunday's overtime victory against the Washington Capitals, the Flyers sit only 2 points removed from the 8th and final playoff position. But with the trade deadline looming, it would be unexpected to see the Flyers act like buyers this time around.
The Flyers' offense has been inconsistent, but the defense continues to stand out as the weak point of this team, and it's not getting any prettier. In Saturday's victory against the Boston Bruins, only 3 defensemen – Kimmo Timonen, Luke Schenn, and Kurtis Foster – were in the season opener against the Pittsburgh Penguins.
Contenders use the trade deadline to beef up depth and plug minor holes. There's very little depth and major holes on Philly's blue line. Nicklas Grossmann shouldn't be out for long, but Andrej Meszaros is done for the season and Braydon Coburn is out indefnitely with a separated shoulder. Any sort of deadline deal wouldn't bolster this lineup as much as patch it up.
So what can we expect Flyers GM Paul Holmgren to do? Here's what he told Randy Miller of the Courier-Post:
On next Wednesday's trade deadline:

"I think if there's something at we could do right now that would help us now and for the future, we would talk about that. Obviously, we're not in a position to go after a rental player. It just wouldn't make any sense."
The Flyers need to focus more on deals "for the future," but teams aren't giving away impact defensemen – or even prospects – for nothing. Holmgren will need to part ways with some value in order to fix this defense.
Despite Danny Briere's regular season numbers continuing to trend downwards, and a monstrous $6.5 million cap hit over the next two years, Holmgren might have been able to ship him off to a contender for a prospect or a draft pick. Even if the return was something as sad as a 4th or 5th round pick, you have to think Holmgren would take it.
None of that matters now though – Briere is out indefinitely dealing with a concussion. So much for that idea.
At least Holmgren has managed to right the ship before. After the disastrous 2006-07 season when the Flyers managed to win a meager 22 games, he started his overhaul at the trade deadline by dealing Peter Forsberg to the Predators for Scottie Upshall, Ryan Parent, and a 1st and 3rd round pick. (Nashville's 1st rounder would eventually be traded back to them for the rights to negotiate with Kimmo Timonen and Scott Hartnell – I'd say that risky move paid off.) His other notable deadline move was sending an aging Alexei Zhitnik to Atlanta for a prospect named Braydon Coburn.
This season is different from that 2006-07 season in a few important details: the Flyers aren't franchise record setting awful, the few veteran assets that could land them any course-altering players in return are getting hurt, and they're facing a salary cap drop next season with some interesting amnesty options.
According to Capgeek, the Flyers are projected to be over next season's salary cap of $64.3 million. Rather than just cutting amnesty options (such as Briere) in the offseason for nothing, they should try dangling them as trade bait at the deadline to try and get something for their trouble. Or they could try shipping expensive underperformers for draft picks and spare parts. Meszaros and Coburn both have cap hits of$4 million or more, and could at least draw some interest from teams.
Oh wait, both of them are hurt too. This is becoming increasingly difficult.
All of these injuries coupled with poor play leads to the most likely scenario that the Flyers aren't going to be much of a player for any trade deadline festivities. A conditional draft pick for Kent Huskins might be all the excitement you'll see from the Flyers leading up to April 3.
A Crazy Suggestion…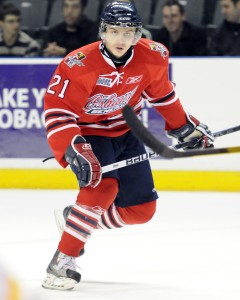 The offseason will be when the Flyers will have to make their moves. Unfortunately, other teams are going to be aware of their salary cap situation, which will drive the returns down. However, they do have other attractive pieces that could be used to dissuade other GMs from playing hardball and take a large contract like Briere's off their hands. What could entice other teams more than a player who's "untouchable?"
That's right – I'm talking about Sean Couturier.
Yes, I understand he's only 20 and there's plenty of time for his game to mature. But look at the organizational depth chart at the center position. Claude Giroux and Brayden Schenn are on the top two lines. Max Talbot is a bit overpaid at $1.75 million, but he provides veteran leadership with solid defensive play. Couturier has had opportunities to break out as a top six player, but seems better suited for third line duty and penalty killing.
There's another Flyers first round pick that sounds capable of handling those duties – Scott Laughton. Laughton looked surprisingly NHL-ready as an 18-year old during his brief stint with the big club, winning battles along the boards and playing responsibly in his own end. If that's all that is being asked of Couturier, why not package him and Briere together this offseason and let Laughton fill in his vacated position next year?
I don't have anything against Couturier. I'd be just as willing to trade Laughton for the same reasons, but I think that Couturier would pull a greater return.