Welcome to part two of the top-ten best defensemen in the NHL. Last week I published part one, and ranked players ten through six. You can read it here if you want to.
After publishing the article, my suspicions about how underrated Jake Muzzin is were confirmed when I was inundated with responses questioning my sanity, my hockey acumen, and even some things you wouldn't think would have very much to do with my opinions on defensemen.
The fact is, it sometimes takes a while for a player's reputation to catch up to his skill level and performance, doubly so when you are partnered with one of the game's best players. I stand by my inclusion of Muzzin and only wonder if I didn't rank him too low: he is, after all, the best possession defenseman in the NHL by a long-shot and last season he broke out for 25/41 points (ES/Total).
You are, however, entitled to believe anything you want to, so please keep in mind that this is (like I said last time) a subjective list, as are virtually all lists, about anything, ever.
Finally, my apologies for having to split this into two lists. I know there are many fans of Duncan Keith out there that won't believe this, but it takes a long time to put one of these together.
On with the show.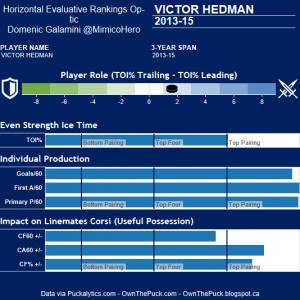 5.  Victor Hedman  
Not only did Hedman lead his team to the Stanley Cup Finals, he also scored 22 even-strength points (you'll recall the NHL leader among defensemen had only 33) in just 59 games. This scoring outburst had Hedman ranked fourth in points per/60 and, of the players who posted similar numbers, he's far an away the best defensively.
Hedman posted an impressive 53% CF and, if not for his injury, would have posted back-to-back fifty point seasons. He excels in all areas of the game,  his Hero Chart shows his entire game exceeds his ice-time, and he's going to be just 25 this season.  Partnered with Stralman, they constitute one of the game's premier duos and should have the Lightning in contention for years to come.  At $4 million for the  next two years, he also provides some of the best dollar-for-dollar value in the NHL.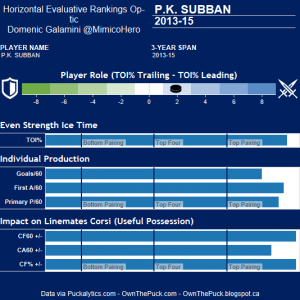 4. P.K Subban
Quite possibly the most fun player to watch in the entire league, Pernell Karl set a career high last season with 60 points, good for third in the NHL. Though he's a PP monster, Subban still put up a respectable 31 ES points, just two off the league lead.
I believe that P.K gets a lot of negative attention because he jokes around, has fun and commits what is (for the NHL) an almost unforgivable crime: he has a personality. While many of the old-school set believe players should be cliché spouting robots, who give 110% and know how many "i"s are in "team," P.K is just about the only player in the league who's just as fun to watch off the ice as he is on.
All this, coupled with the fact that P.K is an offense first defensman, has him being either a) underrated or b) rated normally by the well-informed, but with an unusually high number of detractors for his skill level.
In the last three years, Subban leads the NHL in total points by a defenseman by a mile. (Keith is tied with him but has played 30 less games.) Though this does owe somewhat to injuries to our #1 ranked d-man, it is never-the-less an impressive total.  He averages over 25 minutes per night and he is a positive possession player.  Offense. Defense. Fun to watch, and even a good interview.  Subban is the total package in a way that hasn't been seen since the decline of Bon Jovi's acting career.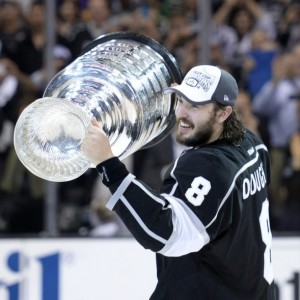 3. Drew Doughty 
I had to double check this, but Drew Doughty does not have a Norris Trophy.
Drew Doughty should have at least one. Maybe more than one Norris Trophies.
Over seven seasons, he's missed only 14 games. He has two Stanley Cups.
Last season, he finished with 27 5v5 points (six off the lead) and was second in the NHL (to Muzzin) with a 56.43 CF% (out of D who played 1000+ minutes).
He is the second best possession defensemen over the last three years (again, to Muzzin) while playing the second most minutes in all of hockey (Ryan Suter was first) and scoring the 9th most (total) points.
If you need your mind blown, here is a crazy fact: Doughty is just 25.  With respect to Steve Stamkos, I think it's pretty clear who should have been the top pick in the 2008 draft.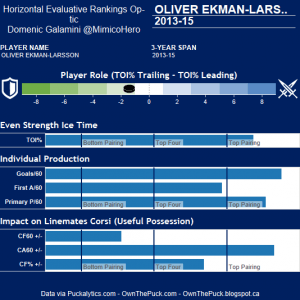 2. Oliver Ekman-Larsson
Full disclosure: I watched OEL play 70+ games last season, so I've seen him play a lot. I don't believe he gets near the credit he deserves, and believe, with all sincerity, that if he played on a high-profile team he'd be one of the biggest stars in the NHL.
His game is smooth and he is very skilled, but the most impressive thing about OEL is how smart he is – he always takes the perfect angle to the puck and plays the game in such a way that, even though he isn't overly physical, he still manages to be one of the best defensive-defensemen in the league.
But what about his offense? He led all defensemen with 23 goals last season, and if not for the lockout, he'd be entering this season looking for his fourth straight 40 point campaign.
Though he was able to generate 23 goals, playing on the offensively starved Coyotes killed his chances for putting very many assists. Taken in this context, his 19 5v5 points (just nine assists) are quite impressive.
Furthermore, relative to the team he played for, his 51% CF rating is other-worldly. Look for OEL to explode into mainstream popularity as the Coyotes – who have Strome, Domi, Duclair, Dvorak and Perlini coming up – start to become one of the NHL's most exciting young teams.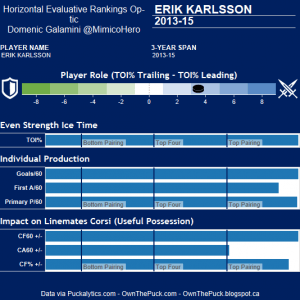 1. Erik Karlsson
I know that I've said that this list is subjective, but I don't think that applies to the number-one ranking. When I started this, I suspected EK would be #1, but I had no idea by how much.
To wit: In the last three seasons in which he was healthy (he missed almost the entire 2012-13 season, but still put up nearly a point-per-game) he has scored a minimum of 66 points.
Over the last five seasons, he has scored a league-leading (among defenseman) 146 5v5 points. Keith is second over that time with 145, but he  played in 79 more games.
No one else is within ten points.
If we look at total points, Karlsson has 291, Keith is again second, this time 22 points behind and still having played 79 less games. His 1.87 points per 60 is (obviously) tops in the game, and only Kris Letang is close over this five-year period.
Last season, he led all D in goals at even-strength, came second in points. He has two of the top four highest scoring seasons by a defenseman, dating back to 2002.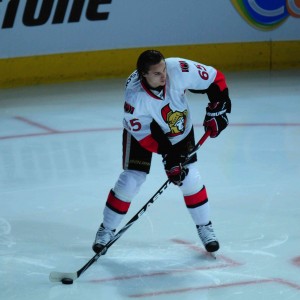 He's led the NHL in defensive scoring in three of the last four years. He's never posted a negative Corsi rating.
Since 2010-11 his goals per 60 are .47 and the next closest defenseman is .26 (min. 6000 minutes played). He has 22 goals more than any other dman (who doesn't also moonlight as a forward) during this time, while playing in 70 less games.
He has the most ice-time in this period (5v5) and (obviously) the most PP points.
O.K, he's good at scoring, but what about the defense?
Erik Karlsson's defense is massively underrated. I believe this is because people need to see hits and blocked shots to think a guy plays good D. This isn't true: Karlsson dominates puck possession, massively outscores and outshoots his opposition. He barely has to play defense when he's on the ice, but when he does, he is doing it at a far higher level than people apparently think.
It is not unreasonable to say that whenever Karlsson is on the ice, the Senators are the best team in hockey: that's the impact he has on a game.  He is the best defenseman in the NHL, by a mile. What makes this even crazier, is that over the last five years, his most common partners are Marc Methot, Phillip Kuba, and Chris Phillips:  PK gets Markov, Doughty has Muzzin, Stralman has Hedman, OEL had Michalek, Leddy has Boychuck, etc.
Over the last five years the only defenseman scoring even close to his level are Letang (who plays with Crosby and Malkin) and Subban, who plays on a way better team.
Karlsson is a one-man show on what has mostly been an otherwise bad team. Relative to the players his competition gets on the ice with, Karlsson has mostly skated with average players, making his accomplishments all the more impressive.
I wouldn't just call Karlsson the best defenseman in the NHL, i'd also say that in the last 30 years, only Nicklas Lidstrom has been better.
Thanks for reading.