A couple weeks back I updated my list of the Leafs top five prospects (you can read it here) and it was crazy how much interaction it prompted between myself and the people who read it. Between the comments section here, Twitter and Facebook, none of my other articles have ever inspired so much conversation.
So, taking the reasoning from many of the people who discussed the placement of the top five with me and combining it with my research, opinion and projections, here is the next half of that list.
6. Connor Brown
After leading the OHL in scoring two years ago, Brown followed it up by leading the Marlies in scoring last year and winning the AHL rookie scoring title with 20 goals and 61 points in 76 games.
Brown has a high upside but has been doubted seemingly his whole career so far. But he's got talent and there is no reason to doubt him any longer. Will he be a 30 goal scorer in the NHL? It's hard to say, I mean, that's a pretty tough thing to do, but of all the Leafs prospects, outside of Marner and Nylander, the highest potential ceiling may belong to Brown.
Check out this sweet Brown highlight video
7. Andreas Johnson
If you didn't know better, you'd never believe that Johnson was only a seventh-round pick, based on they hype that has surrounded him lately.
Since being drafted, Johnson has won the Swedish Hockey League's rookie of the year award and this year was that league's highest scoring player under 21. This is important because the SHL is filled with former NHL players and a lot of draft picks ranked higher than Johnson.
An excellent skater with a great shot, being 5'10" seems to be the only thing holding Johnson back. He may or may not be an NHL star – although the track record of successful  young players in the SHL is good – but he definitely has a high ceiling.
Will he reach it? In a league that is starting to covet skill over size, the timing for a  player such as Johnson could be fortunate. Check out the videos posted here, which is also where I got all this information about his performance in Sweden.
8. Travis Dermott
In a weird way, I think Dermott may been ranked as a second-rounder because he was on a team with Strome and McDavid. There certainly seemed to be a lot of people offering up the "anyone in his position would succeed" excuse, but I don't buy it.
Sure, being  on a stacked team helps, but when I read the reports on Dermott, I hear the kind of things that I think you should be on the look out for in a defenseman: mobile, good transition and intelligent.
It is the same kind of things people were saying about Duncan Keith before he was drafted. I don't want to Lonny-Bohonos the kid here and overrate him like crazy, but even just a mild comparison to Keith is enough to excite me.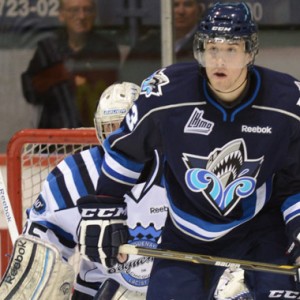 9. Frederik Gauthier
In a lot of ways, Gauthier is the opposite of Brown: the high-end ceiling isn't there, but the likelihood that he ends up an NHL regular seems to be much higher. With the way the NHL is now, with teams paying attention to analytics and expecting offensive production from everyone in the lineup, Gauthier has long had his doubters.
That being said, a lot of people ripped me for not having him in the top five, and apparently he has his fans. If he can indeed be a two-way centre then maybe his ranking is low, so far, however, he appears to just be a defense-only centre.  He did miss a lot of time last season due to injury, but his offense in the Q was fairly constant over his three years there.
I hope he can score enough to make the NHL because he is big and defensively sound, but at this point I'd need to see more before I can get more excited about him.
10. Scott Harrington
Acquired in the Phil Kessel trade, Harrington, along with Stuart Percy, may be the closest prospect the Leafs have to being NHL ready. He already has two AHL seasons and ten NHL games to his credit.
Harrington is a big defenseman who can move the puck and while he isn't likely to be a high-end scorer, he looks to be a potential top-four defenseman with some good up-side, and, at worst, a decent bottom pairing defenseman.  Though bottom-pairing defenseman aren't exactly exciting, they are necessary and having good ones can give you an edge over many teams in the league.
Covering the Leafs for the Hockey Writers.