Toby Enstrom presents the Winnipeg Jets with a conundrum ahead of the expansion draft.
On the one hand, Enstrom is not, for most Jets fans, priority number one to protect. The Jets are no doubt reluctant to go the 4×4 (four defensemen and four forwards) route, as this would expose somebody up front that they would dearly miss. But if they go the seven forwards/three defensemen route, protecting Enstrom means leaving one of their big guns on the right side exposed.
On the other hand, losing Enstrom in the expansion draft or trading him doesn't exactly solve the Jets' problems. The team is thin on the left side on defense, and trading or losing Enstrom leaves them an injury to Josh Morrissey away from not having a top four defender on the left side.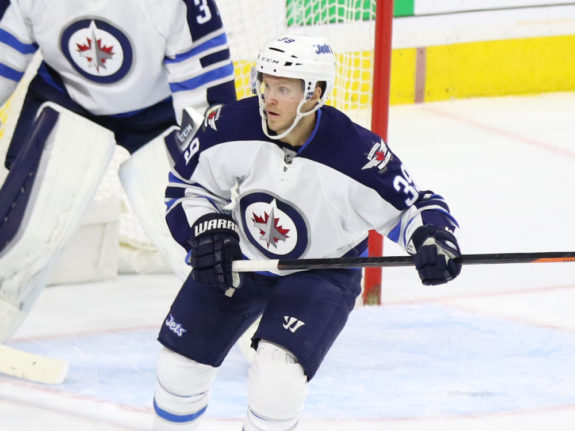 Then too, there's Enstrom's no-movement clause (NMC). Given his declining production, it seems silly to think the team is paying him $5.75 million a year with an NMC, but when he signed the deal it made sense. Now, of course, it's something of an obstacle.
Enstrom is far removed from the player who posted back-to-back 50 point seasons with the Atlanta Thrashers, or even from the one who put up 10 goals and 30 points in 2o13-14 with the Jets, but he's still useful, and the Jets have no immediate replacement for him. So, what to do? What to do?
Option 1: Waive No-Movement Clause
Getting Enstrom to waive his NMC would solve a lot of problems. That would leave the Jets free to go with seven forwards and three defensemen. Which three defensemen you protect is obvious (Dustin Byfuglien, Jacob Trouba, and Tyler Myers) and the ability to guard seven forwards gives them some wiggle room. The Jets are almost certain to lose a decent player either way, but this lessens the blow and makes them less likely to have to expose one of Adam Lowry or Mathieu Perreault.
Exposing Enstrom doesn't necessarily mean losing him either. His cap hit is a bit of a turn-off for an expansion team that has to hit a cap minimum but not the same minimum as the rest of the NHL. His experience might be attractive for, what promises to be, a very young Las Vegas Golden Knights squad, but his advanced age and sharp decline in offensive production might have the opposite effect.
There are some in Winnipeg who might say the Jets would be better off losing Enstrom in the draft. After all, his $5.75 million salary could be used on one of Josh Morrissey, Trouba or Nikolaj Ehlers, all of whom will need new contracts at the end of next year. And last year, the Jets showed they can still keep pace without him.
Jets are now 12-4-3 this season when Enstrom not in the lineup.

30-13-8, last 3 seasons when Toby is out.#nhljets #gojetsgo

— unadvanced_stats (@jswpgjets) April 2, 2017
Of course, the Pittsburgh Penguins are statistically better without Sidney Crosby in the lineup and no one is suggesting they expose him. Also, Enstrom's cap hit comes off the books after next season anyway.
All of this is moot, of course, if Enstrom doesn't waive his NMC. If he doesn't the Jets will have to resort to option number two.
Option 2: Back Door Deal
We now know that Las Vegas is open to receiving compensation for not drafting certain players at the expansion draft. For teams like the Jets, who are in a bind with their contract situation and risk exposing someone they'd really hate to lose, this could be a great way out.
Naturally, it's the @GoldenKnights that will be wheeling and dealing leading into the Expansion Draft. https://t.co/JdA0HlnwmD

— NHL (@NHL) June 2, 2017
This is a pretty simple option. The Jets ship a draft pick (based on what Las Vegas has been saying lately) in exchange for an agreement not to draft, say, Myers. Then the Jets can protect seven forwards and three defensemen, including Enstrom as his contract dictates, and voila!
Nothing simpler, right? I mean, it puts the Jets in the awkward spot of saying to Enstrom "please waive your NMC or we'll have to give up assets to keep both you and Myers," but it's better than the alternative of leaving one of their strong right-side defenders vulnerable to the draft.
Problem Unsolved
The fact is, regardless of what happens in the expansion draft, the Jets still have a conundrum on their hands with Enstrom. They've got an awful lot of money tied up in a rapidly depreciating asset. His advanced statistics are still promising but his offense has dried up and injuries are becoming an issue as he ages. In fact, it's been three years since he played a full season, and he's missed 54 games in that time.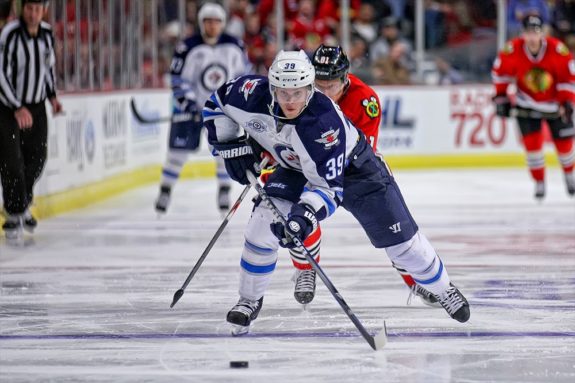 Enstrom's underlying numbers indicate he still has a role to play on the team. Morrissey is still young (even if his play doesn't indicate it) making Enstrom the elder statesman on the left side. Exposing him risks losing that elder statesman; Protecting him risks losing someone even more valuable.
Maybe the biggest trouble is that the Jets don't have a ready replacement for him in the system if he does get moved or go down with another injury. But that's another story.