By Wayne Whittaker, Boston Bruins Correspondent
Alex Ovechkin. Tim Thomas. Alexander Semin. Zdeno Chara. These are marquee names in the game of hockey.
Any one of these players could easily be the star of the Boston Bruins/Washington Capitals Eastern Conference Quarterfinals series, and no one would be surprised. But that's not how the story has unfolded.
Enter Braden Holtby.
Braden Holtby?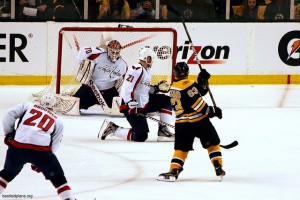 The 22-year old goaltender entered the post-season as the Caps biggest question mark, and could exit as their biggest hero. The team's third-string goaltender started only six games in the regular season, was forced into net due to injuries, and has been unbelievable through two games.
But that's just the thing: it is unbelievable. It's hard to completely believe in the authenticity of the rookie net minder.
Taking nothing away from his performance thus far, Holtby has gotten the help of a committed Washington team that has laid out in front of almost every shot Boston has attempted.
The Capitals have coalesced into a defensive system that has kept them in this series. Washington has been scrappy in front of their own net during battles for possession, locking up sticks and doing everything they can to frustrate and neutralize Boston's offense. Entering Game Three, the Bruins haven't been able to come up with any answers.
In other words, the strategy appears to be working.
Through 120 minutes of regulation hockey, Holtby has let in exactly one goal. The same can be said of Tim Thomas, however the two performances are in no other way identical.
While Washington tries to out-Bruin the Bruins in low-scoring affairs, Thomas has been able to stop the vast majority of pucks that have come his way. But the lack of offensive production doesn't seem to be frustrating the Caps. And why would it? Their sound defensive play, as well as taking what Boston gives, has kept the series very close.
The Bruins, meanwhile, appear to be flustered.
Dirty goals were once a Boston specialty, but this season they've grown accustomed to highlight reel goals courtesy of the Patrice Bergeron-Tyler Seguin-Brad Marchand line. In the post-season, it's been the third line grinders who have been the Bruins biggest threats.
Chris Kelly's OT winner in Game 1, Benoit Pouliot's game-tying net crash in Game 2. These are the types of plays that win playoff hockey games. The Bruins should know, as its exactly that type of play that brought them success last year.
Coming into this series the assumption was it would be Washington's offense that would give Boston the toughest time. However, it's become very apparent that the Caps defense is what the Bruins need to concern themselves with.
Come playoff time, no team can have any passengers. Every single player has to be giving 100%. The Bruins know that this hasn't been the case so far in this series.
As a calm but clearly concerned Milan Lucic put it, "I want to be better and I'm going to do everything I can to help this team win." He's not the only Bruin that needs to step up their game, but he could be a big part of Boston's solution.
When on his game, Lucic is one of the nastier players on the Bruins roster. That chippy style of play has been surprisingly absent thus far, as has the net-front presence that is so critical for coach Claude Julien's system to be effective.
Benoit Pouliot agrees, "we need more (traffic). I think we've some of the biggest guys in the league on our team and we're a big team."
The Bruins get another crack at it tomorrow night in Washington. Game three will be pivotal, as will be every game from here on out. If Boston can get a few pucks behind Holtby, it could go a long way for their confidence, and perhaps help bring the Caps netminder back down to Earth.
If Holtby is able to keep up this Ken Dryden-act, and the Bruins fail to capitalize on their chances, this series could become a nightmare for the defending Stanley Cup champions.
But then again, Boston has been in tougher spots than being tied 1-1 in a best of seven series, and they've persevered in the past. As Tim Thomas is quick to note, "it's better than starting down 2-0 like last year. You've got to take whatever positives you can out of situations like this."
—