In the aftermath of the announcement that starting goalie Jaroslav Halak is done for the regular season, the consolation for the Islanders is this: no team is better-equipped to handle such a loss than they are.
Their backup goalie to date, Thomas Greiss, has been sensational all season long. He leads the NHL with a .930 save percentage, and has won 18 games in just 26 starts. Between Halak and Greiss, the Isles boast – well, boasted – the best goaltending tandem in the league.
Greiss has been so good, in fact, that a growing number of fans began suggesting he was the stronger of the two back in January. Within time, that sentiment trickled down to the Isles' coaching staff, and coming out of the All-Star break there seemed to be a goalie controversy brewing in Brooklyn.
Let's pause for a moment and consider those implications. Halak, by all accounts, had been one of the league's steadiest goalies in the first half of the season, carrying a 12-9-4 record, .923 SV% and 2.14 GAA into the All-Star break. He had even gained some All-Star support around the league, and looked poised for a fantastic second half. And yet…
And yet Greiss had forced ownership of the crease into question. Without even glancing at his numbers at that juncture of the season, it's easy to appreciate how well he was playing.
Since then, he's been even better.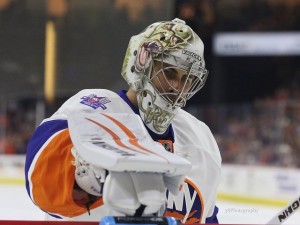 In his seven appearances since the All-Star break, beginning with his start against the Oilers on Feb. 7, Greiss is 5-0-1 with a .938 SV% and a 1.85 GAA. Those numbers likely aren't sustainable, but they're also not that far off from his season averages. Greiss is hot at the moment, to be sure, but he's been cooking since October.
And then there's this: as Greiss has taken off, Halak has come back down to earth. In Halak's ten post-All-Star-break starts, he owns a record of 6-4-0 to go alongside a .907 SV% and a 2.77 GAA. Those are pedestrian numbers no matter how you spin them, and they're flat out second-rate when you stand them next to Greiss'.
It's arguable that the Halak injury actually makes the Isles better. Not because they necessarily improve in his absence, but because they're forced to play a hand they should have laid down quite some time ago.
Still, six weeks is a long time. So long, in fact, that it extends into the playoffs, which is where things begin to get hairy for the Islanders. Greiss has been a terrific backup this year, but no one knows if he's cut out to be a starter. He'd never started more than 20 games in a season prior to this one, and we're not yet far enough removed from that benchmark to gauge his reaction to a heavier work load.
We got a glimpse of his capabilities as the number-one goalie when Halak missed a string of five games through December and January, and the results were encouraging. The German netminder posted solid numbers and lifted the Isles to three wins despite playing behind some awful team defense. (Seriously – a 3.33 GAA never looked so good.)
But the season was still young at that point, especially so for Greiss, who had started just 14 games prior to assuming the starter's role. When Halak came back, Greiss got nine days off until his next start, and then 25 more until the one after that. There will be no such indulgences now.
It's uncharted territory for Greiss from here on out. He's already blown past his career high for both starts and appearances in a season, and the Islanders still have 17 games to go. The further he presses into the unknown, the murkier his prospects will grow – but what other choice do the Isles have?
They're in a neck-and-neck race with the New York Rangers for second place in the division – and home ice advantage in the first round of the playoffs – and the Pittsburgh Penguins are beginning to creep up from behind. It's hardly the time for experimentation, and complacency is a luxury the Isles can't afford.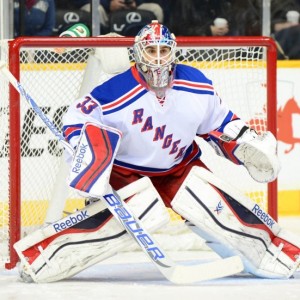 About a year ago, it was the Rangers who found themselves in a similar fix. With Henrik Lundqvist ruled out for more than a month and the team battling for a playoff position, the Blueshirts turned to their steady backup, Cam Talbot. All Talbot did was rip off 16 wins in 23 starts and basically guide the Rangers to the Presidents' Trophy.
Some people expected Talbot to excel, citing his strong statistics up to that point. Well, look at Greiss'. And others expected the team to do the same, noting a collective call to arms in the face of adversity. Who's to say the Isles won't rally in kind?
As daunting as it may seem to lose Halak at this point in the season, the Islanders haven't been backed to the edge of a cliff. (The Devils, upon losing Cory Schneider, went tumbling right off it.) Greiss should step in without much of a glitch, and the Isles can lessen some of the load by playing a sound brand of hockey in front of him.
Looming above all this is the unsettling notion that Halak will likely miss the first round of the playoffs. Given Greiss' postseason experience – just one appearance – versus Halak's – a total of 30 – it's a fair concern. Might this great season ultimately be for not? Might the Isles' championship dreams come crashing down in the face of an overwhelmed goaltender?
Sure.
But look at it this way: if the Islanders make the playoffs, it will have been Greiss who led them there. And by that point, he'll feel much more like the team's starter than its backup.
The Isles aren't crippled by the loss of Halak. They aren't suddenly a lesser, more vulnerable team. The upshot of Halak's injury is the team's better statistical netminder assumes more playing time. A lot more. If there's a downgrade in goal, it's in reputation alone. 
Note: This post was written before the Islanders' game against Toronto on 3/9. 
(Photo courtesy of Amy Irvin / The Hockey Writers)
Will Burchfield covers all things 'New York Islanders' for thehockeywriters.com. A 2014 graduate of Boston College, he has extensive writing experience both online and in print.