The plight of a superstar is very difficult. The collective effort of a group's parts determines success in professional team sports, but the brunt of their failure will fall squarely on the shoulders of the franchise player. It takes a village to achieve a set of goals, and yet one individual will unquestionably receive the majority of blame when those goals are not reached.
This takes us to Washington D.C., where the Capitals have been bounced early from the NHL postseason once again. 26 playoff appearance in 41 years, but no Stanley Cup trophies exist their display case. Many players, coaches, and executives have come and gone in the last decade, but one force has remained constant for the Capitals. Alexander Ovechkin, three-time MVP winner and six-time Maurice "Rocket" Richard Trophy winner (for scoring the most goals in the regular season), has played 11 jaw-dropping years in the District of Columbia. Over 500 goals and seemingly 10,000 bone-jarring hits later, Ovechkin has yet to take part in a Conference Final. How is that possible? How has the greatest goal-scorer of his generation never made it past the second round? Why has his team struggled so mightily when it mattered the most? And just how much of the blame does the Great Eight deserve?
It's not as simple as that last question would indicate. Hockey is a team sport, but one that leans heavily on the talents of star individuals. And there are certain aspects of this beautiful game that do not show up on stats sheets or YouTube clips that can help explain why the Capitals, and Ovechkin, have failed to get the job done on the grandest stage.
Looking at the Stats
Ovechkin is not the best postseason player in the history of the NHL, but he's far from a perennial scoring bust. His point per game average during his playoff career (eight postseasons in total) is .976, good for 36th highest all-time. Only four active players have higher averages, and Ovechkin ranks ahead of names like Jaromir Jagr, Brett Hull, and Sergei Federov. So if we're going off of numbers, then the "Ovechkin lets his team down" narrative is complete hogwash.
But here's the thing about hockey: numbers don't always tell the full story. Ovechkin has taken individual games by storm with his frenetic goal scoring, but there have been inconsistencies with his playoff performance. Some people hate the points per game stat because it can be misleading, as it fails to account for a lack of performance in the elimination games that hold greater weight. Fair enough. Here are Ovechkin's stats in those such games:
18 elimination games – 9 goals 10 assists
Points per game average: 1.056
Not exactly the letdown you were expecting right? Ovechkin still came to play in most of his team's darkest hours, and still delivered when there was no tomorrow. His performance in 18 elimination games illustrates that he actually elevated his play, producing at a more feverish clip. Some of Ovechkin's best work occurred during postseason turmoil, but was often overshadowed by his team's lack of overall success.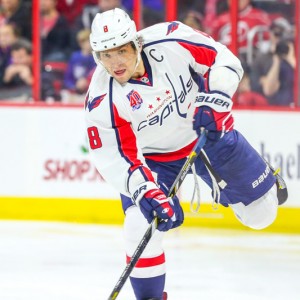 Now to be fair, there have been some duds in Ovechkin's individual postseason resume. In 2012 and 2013 against the Rangers, the Russian simply didn't get the job done. If He has been rendered ineffective on several occasions, including instances where his team has desperately needed a spark. But who hasn't? Sidney Crosby himself, the man with the highest points per game total among active players (1.153), registered all of two assists against the Capitals in his team's six game series. Yet the Penguins won, and that was the centerpiece of any discussion, not Crosby's lack of production. As it should have been.
Defense and Intangibles
There was certainly a time when Ovechkin deserved to be bashed for his lack of effort and commitment to the defensive side of the ice. While those days are not gone entirely, he has come a long way from his youthful loafing days. Here was a play in the first round against the Flyers that illustrates Ovechkin's willingness to play hockey outside of the offensive zone:
Much of the credit belongs to head coach Barry Trotz, who deserves to be at the helm for the long haul. Trotz has had his struggles in the postseason (in Washington and Nashville), but he is starting to build a defensive structure that his star players are buying into. In 11 seasons, Ovechkin has never developed the reputation as a defensive stalwart, simply because he's never been asked to take on that role for his team. This is a player that routinely remains on the ice for an entire two-minute power play, while also being called upon to shoot upwards of 10 times per game (anyone who thinks shooting a puck expends little energy is sadly mistaken). Ovechkin expends most of his energy in other areas of the ice, which is why his coaches have demanded less of the lion's share on defense. Now he's finally willing to give them that.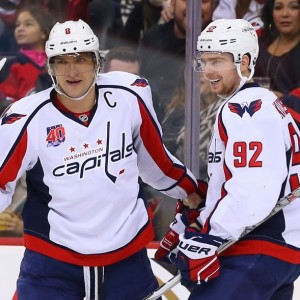 If there are no longer any glaring holes in Ovechkin's skill-set, then can we look at the intangibles? Sure, why not. Ovechkin has been Washington's captain since 2010, and in that time he has taken his own game to new extraordinary heights. But the Capitals continued to hit the same miserable pitfalls, and now an added pressure was placed on their superstar. Was he the root cause? Do the players not respond to him?
Listen, from the moment Ovechkin was given the C on his jersey, there haven't been any rumblings of his inadequate leadership. No former/current players have dogged him as a teammate, and all of his professional coaches hold him in high regard. There's a heck of a lot more to being a great hockey player than natural ability, and maybe Ovechkin isn't all-worldly as a leader. But if his co-workers enjoy his presence, identify his desire to win, and respect him as a competitor, then it's very difficult to use intangibles as the brush to paint #8 as heartless.
Did The Capitals Really Choke?
In eight trips to the postseason, how many times did Ovechkin's team really choke? Per the rules of choking, you have to clearly be better, more accomplished, and of a superior skill-class to your opponent. That criteria was definitely met for Washington's 2010 series against Montreal, and that's it. Many of his teams were at a clear disadvantage, and needed their shooting machine to drive as far into the playoffs as they did. Eventually, skill caught up with them. It wasn't choking in most cases. It was talent, or lack thereof.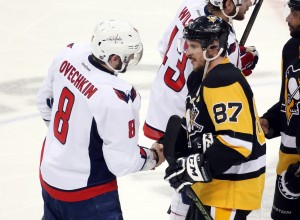 As for this season, one in which the Capitals won the Presidents' Trophy, I still don't consider this the epic collapse that many people are depicting. The Penguins came into their series on an absolute tear, had an absurd amount of depth at forward, and stumbled upon the hottest goalie in all of hockey (Matt Murray). Upsets are a part of this sport, and further demonstrate how spread out the talent level is across the NHL.
Alex Ovechkin is an all-time great, with or without a Stanley Cup on his mantle. He might not be on par with the Gretzkys the Orrs, or even the Crosbys of hockey lore, but he still deserves better than to be blamed for every single gut-wrenching loss his team has suffered. Hockey is a game that puts the team before any individual, no matter how dominant. The Capitals have lost all of these playoff series', not Ovechkin. In most cases, he actually did his part. Sometimes a good narrative misses the net.
Just a hockey loving American. I grew up in Cleveland, Ohio, and attended Saint Louis University where I skated for the Billikens. From 2013-14 I covered the St. Louis Blues for ESPN Radio St. Louis. I currently work in sports video production in Los Angeles, and will always show solidarity for stay-at-home defenseman.