Everyone loves to play the "What If" game today. It happens. Teams make bad trades and you go back and wonder what would have happened if the trade never had come to light.
What do most Flyer fans think of when it comes to these trades? Mike Richards, Jeff Carter, James vanRiemsdyk, and Sergei Bobrovsky. You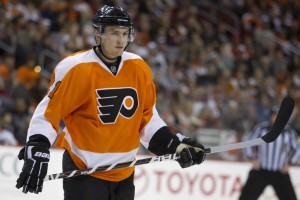 usually almost never see draft picks included in those, until now.
Steve Eminger may ring a name with Flyer fans. He had a short stint for the Flyers in the 2008-2009 season playing 12 games for the orange and black. What's even more concerning, is what the Flyers forked out to get Eminger.
Before the 2008 NHL Entry Draft the Flyers traded their 1st round (27th overall) pick to the Washington Capitals. In exchange they were given Steve Eminger, and a 3rd round pick. Well, that pick turned out to be John Carlson. Steve Eminger played 12 games as a Flyer and amassed 2 assists and 8 penalty minutes.
John Carlson became a staple for the Washington defense. Now in his 6th NHL season, Carlson has never missed a game due to injury, has 165 points in 357 NHL games, and is a career plus-40. If that isn't the exact type of defenseman the Flyers are in need of right now, then quite frankly I don't know what is.
Now of course, you have to figure that if the Flyers had that pick, they may have skipped over the American-born defender, even so, just look at some of the names that were drafted after him. Roman Josi, Justin Schultz, Derek Stepan, Travis Hamonic, Jori Lehtera, Adam Henrique, Braden Holtby, T.J. Brodie, and Gustav Nyquist were all taken post-Carlson. All of these names are starting to really take their stronghold in the NHL.
Had the Flyers taken John Carlson, they certainly would have been drastically different on the defensive front. Carlson has a history of scoring timely goals, such as the Gold Medal Winner at the World Juniors in 2010, or the Calder Cup Winner later that year, after scoring a huge goal in game 2 against the Canadiens in the playoffs.
Nearly six years after he was drafted, Carlson is poised to be a solid defender in a league that is always looking to fill that void. The Flyers missed out on their chance by settling for their quick-fix mentality once again. He's exactly the type of defenseman the Flyers could have used. But hey, like I said, we can only ask, "What If?", right?