The day was April 16th, 2003. I was 12 years old, and in the midst of a family road trip from Michigan to North Carolina. We made the first portion of the drive and decided to stop at a family friend's house in Kentucky to break up the drive. None of that mattered to me. The only thing that mattered was Game 4 of the Western Conference Quarterfinals between the second-seeded and defending champion Detroit Red Wings and the seventh-seeded Mighty Ducks of Anaheim. The Ducks, coached by rookie head coach Mike Babcock, had the opportunity to sweep the defending champions out of the first round of the playoffs, something that had not happened since the Wings swept the defending champion Toronto Maple Leafs in the 1952 playoffs.
The Wings had Chris Chelios, Pavel Datsyuk, Sergei Fedorov, Brett Hull, Curtis Joseph, Igor Larionov, Nicklas Lidstrom, Luc Robitaille, Brendan Shanahan, Steve Yzerman, and Henrik Zetterberg. That's 11 guys who either are in the Hall of Fame, have been strongly considered, or will be in the Hall of Fame when retired. Early on in the broadcast of Game 1, the TSN commentators laughed at how Luc Robitaille, a 600-goal scorer, was playing on the fourth line with Hall of Fame center Igor Larionov. This upset was not supposed to happen. I remember TSN showing the predictions for the series. The four TSN panelists each picked Detroit, but a monkey that was polled picked the Ducks. This was really not supposed to happen. However, rookie goaltender Jean-Sebastien Giguere decided to "get Jiggy with it", and thus his legend was born.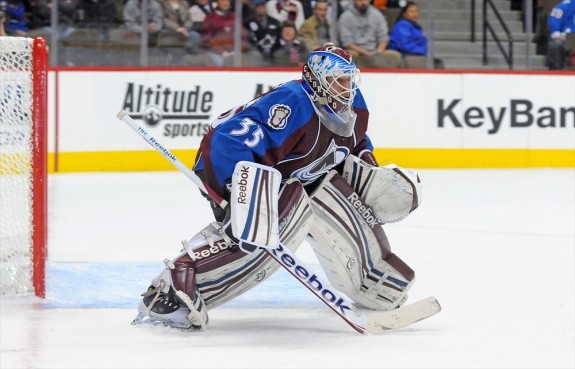 Through the first three games, the Wings outshot the Ducks 137 to 93. Corsi fanatics would go nuts over that kind of puck possession dominance. Despite the sizable shot advantage, the Wings fell victim to the spectacular goaltending of "Jiggy", a 25-year old goaltender who was making his playoff debut. Giguere stopped 133 of those 137 shots for a remarkable .971 SV%. His first career playoff start, Game 1, saw him make 63 saves in a 2-1 OT victory. Oh by the way, those 63 saves tied a then-NHL record for most saves in a playoff game. I vividly remember watching those first three games and finding myself at a loss for words. "Jiggy" made save after save…after save…..after save. Being the naive 12-year old kid I was, I still was confident that the Wings would find a way to crack Giguere. There was no way that a goalie who had never played in the playoffs before could stonewall one of the greatest offensive teams of the past decade.
Game 4 came and I thought the Wings had a chance. Rookie forward Henrik Zetterberg struck first and I thought that this was going to be the goal that opened the flood gates. However, Ducks captain Paul Kariya tied it just two minutes after that, causing every Red Wings fan to resume hyperventilating. The first period ended in a 1-1 tie and it was one of the more even periods, as the shots were 8-8. This was the 11th period played between the two teams, with the Wings outshooting the Ducks in eight of those periods. The second period was largely uneventful, with the Wings outshooting the Ducks 12-8, but again, failing to beat the man called "Jiggy".
The final period began, and my nerves were through the roof. However, I was also experiencing another feeling, something that was very unnatural for the 12-year old me. That feeling was pure amazement at what Giguere was doing. Your typical 12-year old sports fan is a homer who illogically and unequivocally supports his team. Giguere's play actually got me to take off my homer glasses and truly appreciate how magnificent his performance was. Back to real time, it's around 11 pm EST and I'm sitting in the basement of a house that I'm unfamiliar with, all by myself, crossing every finger and toe, praying for a Wings victory.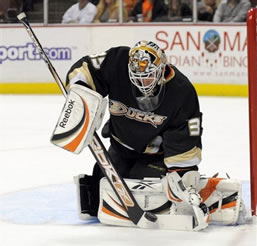 Unfortunately, the Ducks scored in the first five minutes of the third period, causing me to curse loudly, something frowned upon when you are still a preteen in an Indian household. After being chastised by everyone I woke up, my eyes turned back to the TV to see that there were just five minutes remaining. My thoughts were racing and I was freaking out. Then, like a gift from the hockey gods above, Fedorov scored on a fluke goal. I thought "finally, this was the break the Wings needed". I thought, just like Nick Lidstrom scoring from center ice a year ago in the first round against Canucks goalie Dan Cloutier, this fluke goal would wreck the confidence of "Jiggy". The game went into OT tied 2-2. The Ducks put me out of my misery early, as Steve Rucchin scored on a one-timer just 6:53 into the overtime. I quickly turned off the TV and headed to my makeshift cot. My dad, another big Wings fan, heard me come by and asked "Score?". I said "they blew it", and went to bed. At that point in time in my life, every Wings' loss ate away at me. For some reason, all I could think about was how amazing Giguere was and how I wished he was on the Wings. To this day, he remains one of the few players on an opposing team that I truly admired.
Giguere continued to stay in "Jiggy-mode", dominating the #1 seeded Dallas Stars in round two, and then the Minnesota Wild in round three. In that second round series, Giguere was unreal. In Game 1 of that series, Giguere stopped 60 of 63 shots in a 5OT victory. He kept up that level of play, finishing the six-game series with a .936 SV% for the series. Actually, that .936 SV% represents a significant drop in his play, considering that he stopped 165 of 171 shots faced in the Detroit series, good for a .965 SV%. Giguere's play didn't stay in the "gutter" for too long, as he rebounded in the Conference Finals to put on one of the most spectacular and under-appreciated performances in a single series.
In the series against Minnesota, Giguere stopped every shot he faced in the first three games. Yea that's right, he posted three consecutive shutouts, stopping all 98 shots he faced. He finally gave up a goal in Game 4, dropping his save percentage for the series to a measly .992 SV%. The man stopped 99.2% of the shots he faced in the Western Conference Finals. Through the first three rounds, totaling 14 games, he faced 496 shots (average of 35.4 shots against/game), and stopped 476 of them, good for a .960 SV%. That is absurd.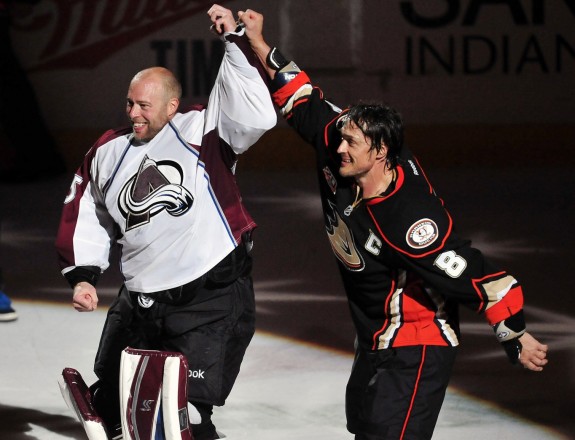 We know that Giguere ultimately was not able to carry the Ducks past the New Jersey Devils in the Stanley Cup Finals, but he was still rightfully named the MVP of the playoffs. He finished the playoffs with a 1.62 GAA and a .945 SV%, numbers that are mind-boggling. The 2003 playoffs saw Giguere "get Jiggy with it" and deliver a playoff performance unlike no other. He played well beyond his years as he stymied some of the best teams of the past decade. I became a fan of Giguere's and was extremely happy for him when he finally got to raise the Stanley Cup in 2007. He's toiled in anonymity the past couple of seasons, as he hasn't been able to stay healthy enough to play at the highest level. He decided to announce his retirement yesterday, but I'll never forget those 2003 playoffs and how he was able to break my 12-year old homer glasses as I basked in his brilliance.