The 2016-17 season hasn't gone as smooth as the Los Angeles Kings had hoped. Through 74 games, they sit nine points out of the playoff picture and are on the fast track to missing the postseason for the second time in three years.
However, a season that has seen the Kings struggle to find their offensive stride, both on an individual level and as a whole unit, one where Jonathan Quick missed 59 games due to an injury suffered in the season's opening period and one where they will likely be playing for pride down the final stretch of the season isn't a complete loss.
Kids Are Getting Their Chance
As the season inches its way to a lackluster conclusion, the youth movement is still getting valuable experience with the big club in Los Angeles. Sprinkled throughout the Kings' roster of seasoned veterans are young players who are experiencing the NHL for the first time.
Most notably is the time Adrian Kempe is getting in a Kings sweater. The 20-year-old was drafted by the Kings with the 29th pick in the 2014 draft and was called up from the Ontario Reign on Feb. 15. He has recorded two goals and six points in the first 18 games of his NHL career.
Whether or not Kempe, who was second in scoring on the Reign when called up, should get his first big-league call-up was a hot topic throughout much of the 2016-17 season. The debate reached season-highs when the Kings' offense became an obvious focal point of their struggles. But now, over a month into his first stint in the NHL, the Swede knows how valuable this time in the big league is.
Kempe talked to LA Kings Insider about how he his growing every game.
Well I think I've got better and better. I think I get more confidence every game. Some games can be tougher games than others. Yeah, as I said, I think I've played better and better and I think I try to get more confidence and I get used to the game a little bit more out there so I think, yeah, I'm starting to get used to it and I like the game.
Rookie defenseman, Paul LaDue is also making the most of his own first taste of the NHL. The 24-year-old was also called up in mid-February and is averaging more than 16 minutes of ice-time a game and has been skating with he team's second power-play unit in his first 17 NHL games.
Kempe and LaDue weren't the last of the Kings' late-season call-ups either. Forward Jonny Brodzinski, who led the Reign in scoring at the time of his call-up, was recalled by the Kings last week and made his NHL debut against the New York Rangers on Saturday night.
Welcome to the NHL
Outside of the late-season additions from Ontario are players who have been a part of the Kings' roster since game number one of the 2016-17 season. Players like Kevin Gravel, Nick Shore and Derek Forbort, who are all 24-years-old, and Nic Dowd, who is 26-years-old, are all in their first full NHL season.
This is a vital time for a Kings team that needs everything to go right if they want to make the playoffs. The biggest aspect of everything going right for Los Angeles is them taking care of their business first, which means win.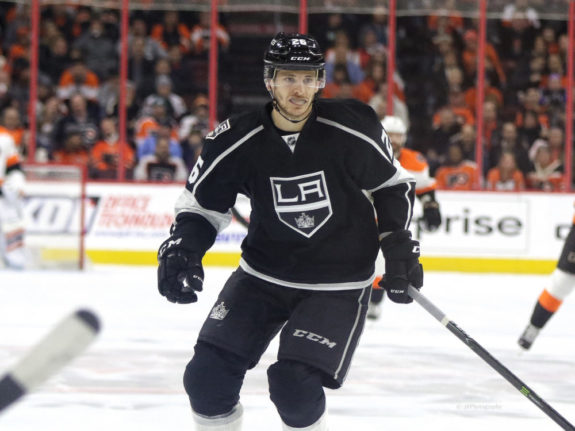 For the future of an organization, no matter how long they have been with the team, to be a part of an end of the season push for the playoffs is huge.
For those not keeping track, that's Kempe who was drafted in 2014, Brodzinski who was drafted in 2013, LaDue who was drafted in 2012, Shore who was drafted in 2011, Forbort and Gravel who were both drafted in 2010, and Dowd who was drafted in 2009. All of those young players are getting their first taste of what it's like to play with their playoff lives in the balance.
If the Kings ultimately miss the playoffs, which looks almost certain at this point, these are still reps for the players that will be looked to carry the torch in seasons to come. These are reps that can't be duplicated in a practice or in a preseason training camp.