This is an exciting time in the hockey calendar. Players and contracts are being dealt, fans of Canadian clubs eagerly await the NHL Entry Draft and GMs begin to sculpt their rosters for next season—some tinkering, others overhauling—while Hockey Insiders shine.
With the hype machine in full effect—fanning the media fire around the likes of Matthews, Laine, Puljujarvi, Dubois, Tkachuk (to name a few)—it's easy to overlook the valuable pieces already in place. In the case of the Columbus Blue Jackets, who have the good fortune of holding the third overall selection in the upcoming Entry Draft, they have already added an immensely valuable cornerstone last season in the form of a former fourth overall selection, Seth Jones.
This is how you cover hockey, right? Writing about stories from six months ago? Well, bear with me. Blue Jackets fans should be excited for what Seth Jones will become over the next five years, and, what better time to revisit his pre-NHL hype, pedigree and promise than right now, hours before this year's Entry Draft?
The Trade that Made Seth Jones a Columbus Blue Jacket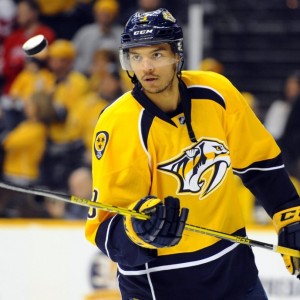 The cost was high. Dave Poile hit a home run in his books and only had to cast off his third-ranking defenseman to swap a pair of former 4th round draft picks and acquire his long-desired first-line centerman. It's easy to compare Johansen and Jones' January-April component of the season and feel the Preds came out ahead with the slightly-more-productive run Johansen put up down the stretch. He notched 34 points in 42 games and was +10 to Jones' 20 points in 41 games and -9.
Yes, we're comparing apples and oranges positionally and playoff teams to non-qualifying teams, but still, those numbers paint a bit of a picture.
With that said, despite modestly subdued hype and an expected adjustment period for Jones—instantly assuming top-pairing minutes—Jacket fans will be happier with this trade every year that passes. In the fullness of time, it will have delivered a future Norris winner and Stanley Cup winner to Ohio.
Sounds outlandish? Well then, you haven't done your reading on the 21-year-old Jones just yet—the kid knows how to win.
All He Does is Win, Win, Win
Only 21, Jones has already won three gold medals at the international level and is a WHL champion too—winning the Ed Chynoweth Cup in 2013—his first year in the league.
Oh, he was also the WHL rookie of the year that same year.
In his draft year, scouts compared Jones to St. Louis Blue, Alex Pietrangelo, and even suggested he was a blend of Shea Weber and Scott Niedermayer. Imagine that? Beyond a sublime skill-set and pristine offensive and defensive acumen, he has that x-factor found within players dubbed as 'franchise' guys. He gets the job done, he finds a way to win.
At present, there are no defensemen in this year's draft receiving that kind of attention. There are quality defenders, intelligent players, puck-movers, etc. But there are none that stand, without a doubt, to be the complete and total package.
If you're not yet grasping the bottom line here, it's that franchise defensemen of Seth Jones' caliber do not come around every year. Heck, even every two years. To further their rarity, star defensemen aren't always plucked from the first round (hello, Duncan Keith) and they develop their talents slowly, hitting their prime two-to-three years later than forwards tend to.
And, as it turns out, you can't quite win without a stud d-man. Kris Letang led the Pens to an outrageously enthusiastic Stanley Cup parade just a couple of weeks ago. Duncan Keith and Drew Doughty alternated championships for four years before that, and, previous to that Zdeno Chara let the B's to the Cup. Then Keith, Letang, some guy named Lidstrom, then Pronger and Niedermayer.
You get it.
Seth Jones is that Player. He is a Franchise Defenseman.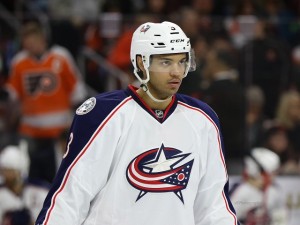 Amidst the pre-draft hype, frantic trade speculation in the wake of expansion (viva Las Vegas) and enthused online debate around the merit of NHL-award winners—let's not overlook the big splash last season that brought Seth Jones, future franchise defenseman, to the Columbus Blue Jackets. It was a timely move that addressed a mutual, long-standing need of two franchises and an opportunity that will seldom come around.
Much will be made of Seth Jones' pending RFA status and looming threat of the mystical offer sheet, but the Jackets would be wise to sign him to franchise-defenseman dollars at franchise-defenseman term. He is a cornerstone to build on and the type of player who can transform the Blue Jackets into a perennial threat in the Metropolitan Division. 
Opponents beware, it's only a matter of time before this d-man goes full beast on the East.
How's that for hype?