Even the most tepid NHL fans know that one of the most difficult things for a salary cap era GM to do is keep the team together year in and year out.  It is virtually impossible to do with the limits imposed by the hard salary cap. This off-season is going to prove to be a nightmare for Tampa Bay Lightning GM, Steve Yzerman.
Many in Thunder Nation have bought into the Yzer-Plan. We have seen the trades: Ben Bishop for Cory (where is he now) Conacher. We have seen the free agent signings: Anton Stralman, Brian Boyle. We have been struck with team pride on the draft picks: Nikita Kucherov in 2011 with the 58th pick. Imagine, that draft when 57 times an NHL GM passed on Kucherov? But I digress.
The point is that the Tampa fan base believes in Yzerman. Does he hit it out of the park on every decision? Absolutely not, but his hits far outweigh his misses and with one GM of the Year award already on his mantel, Yzerman has the bona fides as a top flight NHL executive. But this summer is different. It feels different even to the casual fans.
First, the team could very well take the ice next year without Steven Stamkos. The former #1 pick (2008) has been in Tampa since he was 18 years-old. We have seen him mature into a world-class NHL player. He is the captain of the team. This is his team and yet he may no longer be a Lightning within the next week. Unless an 11th hour deal is struck, he ceases to be in the only organization he has known on July 1st.
Of course, belief in the Yzer-Plan doesn't limit the questions all season long about why hasn't the team locked up Stamkos already? The armchair GM's in town have been posing this query since last July 1st. This is simple they thought. Sign your cornerstone player, your captain, your top offensive player. Yet, here we are on the eve of the NHL draft with free agency about a week away and no signing of Stamkos appears imminent.
Now that we have arrived this close to the free agent period, the cottage industry that has become the Stamkos rumor mill is in full bloom. Is he going to Buffalo? Is it Toronto? I hear Vancouver is in the mix. While this may be fun for a lot of NHL fans, this has become heartbreaking for Lightning fans. Talk around town is that if Stammer goes, the next player to wear the captain's C should be a guy we could stand to lose. Because if Stamkos leaves Tampa, the Lightning would have lost their third captain in three years. First, Vinny Lecavalier three summers ago, then Marty St. Louis the March before last and now…..Stamkos.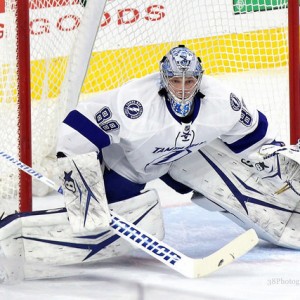 Now if the Stamkos saga wasn't enough for Yzerman to lose sleep over, the NHL gave the Lightning the worst possible news this week by confirming that an expansion team has been awarded to Las Vegas for 2017. The upshot for Tampa is that they most likely will not be able to protect both of their NHL goalies. Ben Bishop and Andre Vasilevskiy have or will have too much NHL tenure for the Lightning to protect both players in the expansion draft.
That being the case, it would behoove Yzerman to trade one of these two players right now in order to avoid losing them next summer for absolutely nothing. If Yzerman pulls the trigger on a trade involving one of these two net minders, then it will most likely be Bishop that goes. Not because he is expendable. A Vezina finalist two of the last three years, Bishop is an elite goalie. But in comparison with the younger Vasilevskiy, it is Bishop's age and only his age that makes him the trade bait. Bishop will turn 30 in November. Vasilevskiy turns 22 next month. If their ages were reversed, it would be Vasilevskiy that would be traded.
If that wasn't enough for Yzerman, he has a host of free agents, although most are restricted, to deal with now. Most notably, Kucherov who in the past season has become a solid 30 goal scorer in the NHL. It is what he has done in the last two post-seasons that has really upped his value. In 43 playoff games, Kucherov has 41 points. That is stellar production in any league and Yzerman has to pony up big dollars to lock up Kucherov.
Lastly, there is a big free agent looming next summer. His name is Victor Hedman. So, when people think that Yzerman should just lock up Stamkos, that it's a no brainer, they forget that there are other players that are critically important to the future, both short-term and long-term to the Lightning. Hedman is one of those players. Number one defensive players as good as Hedman are a rare commodity. Hedman deserves a contract north of $8 million per especially when division rival Florida just signed Keith Yandle to a seven-year deal with an AAV of $6.35 Million.
Easy to say that Yzerman has his work cut out for him. No one should be surprised if he looks like he needs some sleep in the next few days. He has a lot on his plate. But to those fans who have doubt or concerns about what is going to happen to their favorite NHL team in the upcoming weeks, have some faith in the Yzer-Plan.
In his six years as GM in Tampa, the Lightning have been to the Eastern Conference Finals three times and the Stanley Cup once. They are still one of the youngest teams in the entire league. Is Yzerman going to make moves that make everyone happy? No, but that is ok because when playoff time comes around next April, the boo-birds of this summer will have migrated to parts unknown. For the Lightning, with Yzerman at the helm, will continue to be among the elite teams in the NHL.