If anyone should be more irritated over Philadelphia's winless sputter through their first four games, it's Flyers forward Wayne Simmonds. But despite his team's 0-2-2 mark, the sixth-year veteran is off to the hottest start of his career through four games (seven points). We all knew Simmonds was good at hockey, but does his early season dominance illustrate just how good he's become?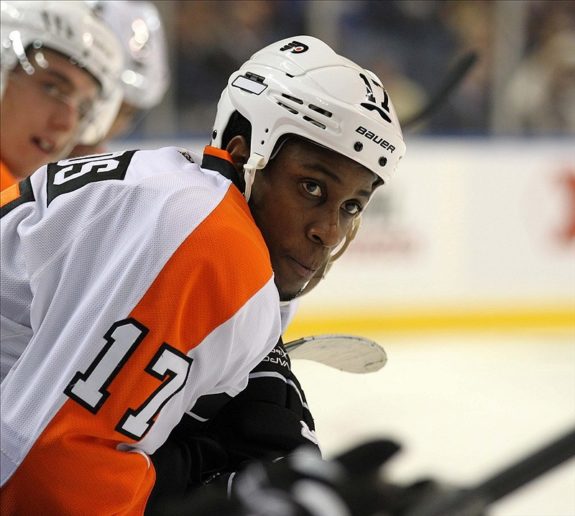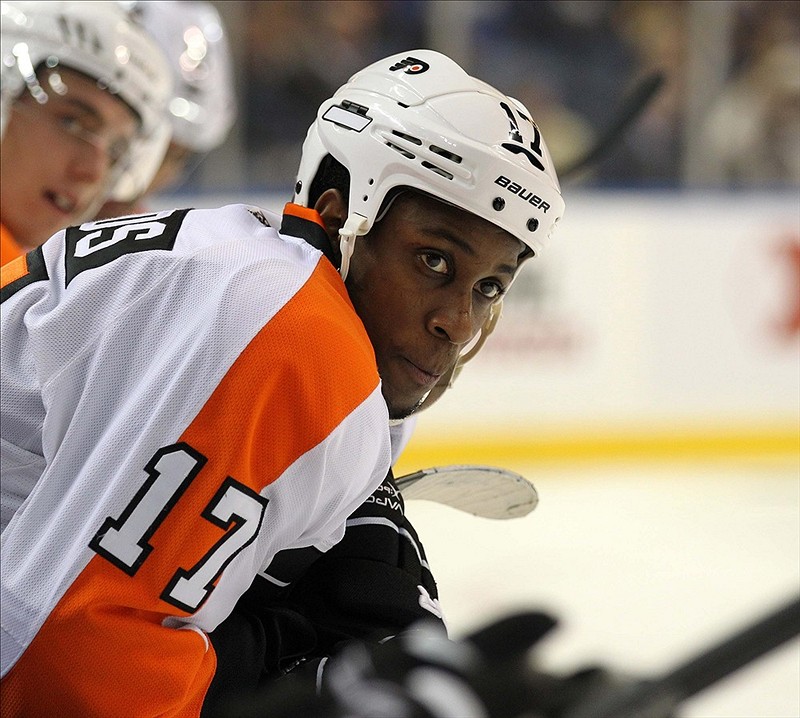 The Jack-of-all-Trades
Since being held scoreless in Philadelphia's season opener against Boston, Wayne Simmonds has exploded, becoming one of the NHL's most daunting offensive threats. Since being limited to 16:13 of total ice time against Bruins on opening night, the 26-year-old winger has had his number called more and more, skating in at least 19 minutes of game time in Philly's last two.
Considering the fact that Simmonds saw 19 minutes, or more, in only nine games last season, it's a sound prediction that he'll surpass his 16:46 average time on ice from a year ago. Ironically, Simmonds' ice time was up last year from the 2011-12 season, which stood at an average time of 15:38.
Is that really all that surprising? Simmonds helped the Flyers play catchup after a 1-7-0 start to the season by posting a career-year in goals, assists, and power play points. If the start to the new season this year is any indication, Simmonds stands to exceed the rapid pace he set last season.
Even more admirable, Simmonds' five goals in four games have come on only 15 shots. While that trails only Claude Giroux's 19 for the team lead, it leaves Simmonds with 33.3 shooting percentage, while ranking 23rd in the league in shots per game with 3.8. In other words, the feisty forward has been one of the league's most effective shooters in the entire NHL through Oct. 14th.
Wayne Simmonds is love, Wayne Simmonds is life

— Flyers Nation (@FlyersNation) October 10, 2014
For Simmonds, though, the rapid fire start was simply a matter of picking up where he left off last year – especially at home. All of Simmonds' five goals this season have been scored in the comfy confines of the Wells Fargo Center, a venue he's certainly taken a liking to.
TSN gave further detail, reporting:
Simmonds scored two goals in each of the last two games. He's been on a bit of a hot streak at home, dating to the 2014 post-season. He scored three goals against the New York Rangers in Game 6 of a first-round Eastern Conference playoff game.

Simmonds hasn't cooled down since and has blossomed into one of the few reasons for Flyers fans to cheer during a dismal start to the season.
Philadelphia's Jack-of-all-trades has set his blazing trail so far by scoring three of his five goals on the power play – a facet the Flyers haven't struggled in for some time. Still, Simmonds and the Flyers have been hounded by less than impressive even strength-numbers for about the same amount of time that their man advantage started firing on all cylinders.
"We're putting it together," said Simmonds after recording his third straight multi-point game of the season. "We're showing that we can play in spurts. It's the full 60 that we've got to play and we've got to compete for a full 60 minutes or else we're not going to win."
You really can't say enough about how Wayne Simmonds has looked to start the year. Been great on PP, sure, but he's been a force at 5v5 too.

— Broad Street Hockey (@BroadStHockey) October 12, 2014
But despite Simmonds' league-leading trio of power play goals after Oct. 14th's action, his current pace of five-on-five play is not only on track for career- high's in several of those statistical categories, they're also a morale booster for a Flyers team that's been plagued with disheartening even-strength totals. Simmonds' even-strength career possession numbers, including his first four games this season, are listed below.
As you can see, Simmonds' Relative Corsi-For percentage at even-strength is not only on track to finish at a positive rating, his Fenwick-For percentage at even-strength is currently 10 points higher now than at the conclusion of last season.
Additional Value
Whether the credit for Simmonds' abundance of success so far can be attributed to another year of maturation, or coach Craig Berube's emphasis on team discipline, Simmonds has added value in more than just racking up points.
Through the first four games last season, the Scarborough, Ontario native had amassed 11 penalty minutes. This go-round, however, Simmonds has yet to spend a single minute in the sin bin, yielding to team-leader Luke Schenn's seven-PIM. Last season, the Flyers led the league with 14.4 penalty minutes per game, with Simmonds accounting for 106 of their 1,180 total penalty minutes.
This season has been a different story so far, though. Randy Miller of nj.com said:
The Flyers, annually among the most penalized teams in the league, are determined to stay out of the penalty box more this season, and one way to do it is by playing fewer tough guys.
Although Simmonds gives the Flyers an edge, never shying away from a challenge to drop the gloves, he's been just as handy in the corners and along the boards. His signature positioning in front of the net represents the grit he takes out on the ice with him, creating scoring opportunities for his teammates, as well as himself. After all, Simmonds did earn his fifth goal of the season by banging home a Claude Giroux misfire that left a scrum in front of the net.
The former Los Angeles Kings winger brings more than brute force, even if he does play beyond his 6-2, 183-pound frame. Against the Devils, Simmonds displayed the skill set that makes him a dual-threat by dropping a toe-drag goal on New Jersey's Cory Schneider. Less than a minute later in that Oct. 9th matchup, Simmonds struck again with a game-tying power play goal that just beat the sound of the horn.
https://www.youtube.com/watch?v=Sk41CKQivfU
As Simmonds continues to elevate his game, as well as the teammates that surround him, naming the fourth-year Flyer an alternate captain seemed like a no-brainer. Even when the Flyers lost one of their most steady of leaders in Kimmo Timonen, there were plenty of candidates with more experience in leadership, if not years in the league.
Before joining the Flyers last season, Vinny Lecavalier served as the captain for the Tampa Bay Lightning for six seasons, while top line defenseman Braydon Coburn was entering into his 10th season in the league.
"We've got a ton of leaders in here," said Simmonds after being chosen as one of the team's two alternate captains. "There's numerous guys who could have worn the 'A' this year. This is a huge honor for me, to have that [letter] on my jersey."
In the end, of course, it was Simmonds, along with defenseman Mark Streit, who were named Giroux's alternates. And while both Simmonds and Streit have hit the ground running in their new roles, it's Simmonds who understands that nothing is earned without bringing his lunch pail with him to punch the clock every day.
"You're not going to command any respect in your dressing room if you're going out there lollygagging on the ice and not working hard," said Simmonds. "I think first and foremost, you've got to be the guy out there that's working the hardest, and that's one of the things I admire the most about (Giroux). He's our most-skilled player, but yet he's definitely up there in the hard-working guys on the team."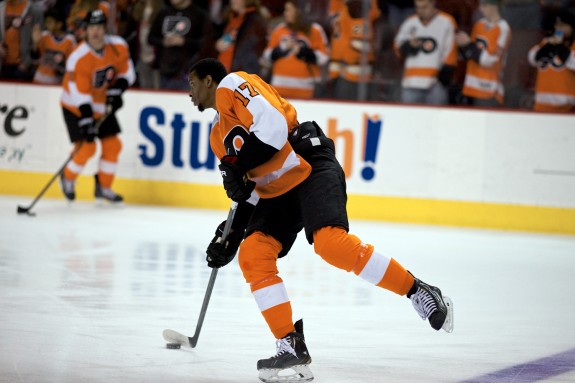 A Shootout Solution?
Philadelphia's 4-3 shootout loss to the Ducks dropped their all-time shootout record to 27-53. Since snatching the extra point four times out of 11 chances during the 2011-12 season, the Flyers have gone 4-12 since. In fact, according to Broad Street Hockey, their return to shootout disappointment now leaves them as the worst shootout team in the NHL since the tie-breaking format was implemented in the 2005-06 season.
To put it all into perspective, the league's best all-time shootout team, the Pittsburgh Penguins have won 34 more shootouts than the Flyers in 15 extra tries. The second worst historical team in the skills competition, the Florida Panthers, have gone home happy 14 more times than Flyers fans. Granted, the Panthers had 24 more shots at an extra point, but I digress.
With the Flyers out to an already tortoise-like start this season, points will certainly be at a premium. Just look at last season's New Jersey Devils, who missed the playoffs by five points, while dropping all 13 of their shootout opportunities. And to think, the Devils have 29 more shootout wins than the Flyers.
But that's not the point anymore. Truth be told, the uphill climb toward the post-season will be even steeper if the Flyers continue to leave points on the doorstep in the skills competition.
Travis Hughes of Broad Street Hockey recently wrote:
Regardless this season, we know the Flyers are going to fight to get into the playoffs, and there's a very real chance that the two points they just lost could be the difference between the playoffs and not. Or, if not, there's a good chance that the two points plus however many more points they continue to give up via the shootout make that difference.

I don't have any answers to fixing this team's shootout woes, but something needs to change sooner than later. The thing is here to stay, and a decade's worth of ineptitude is more than enough.
What does this have to do with Wayne Simmonds, and his new-found dangling skills? The recent numbers show that it's more than meets the eye. That's because the Flyers have been every bit as bad as their combined record in the one-on-one matchups. Aside from Claude Giroux, the Flyers have yet to find a dependable shootout artist. This includes Matt Read, who's dropped to 2-11 since gashing the added stanza with four goals in six tries in the 2011-12 campaign.
Simmonds is an interesting option, if not story. Since joining the Flyers in 2011, he's been used sparingly, and for good reason at that time. His total shootout tallies in orange and black stand at 1-8, and his career showing stands at a ho-hum 3-13. Since going 1-6 in his first year with the Flyers, however, the newly named alternate captain has been given only two opportunities (0-2).
How do you not ride the hot hand in the shootout? I don't care about his shootout history, Simmonds should of been in there tonight #Flyers

— Brady Trettenero (@BradyTrett) October 12, 2014
This isn't a declaration that Simmonds has become a shootout maestro, along with learning to speak several languages in a month's time. But with every lost point as the result of a shootout, the slimming chances for a playoff appearance shrink smaller and smaller. And yes, it rings true this early in the season.
Who knows? Maybe Simmonds is the long-awaited answer that's been under their nose this whole time. He is really good at hockey, you know. How good? Just consider yourself lucky to live in a time that Wayne Simmonds is playing the sport.