For the third consecutive season, the Flyers stumble out of the shoot leaves them now winless in their first three. Certainly, this trend hasn't been the norm throughout the history of the storied franchise. But despite salvaging a point in Saturday's 4-3 shootout loss to Montreal, is Craig Berube's job safe?
The Blame Game
When a team with the talent the Flyers possess continues to shoot themselves in the foot this early in the season, there's obvious blame to evenly distribute. And while Philadelphia entered the season with a mixed bag of expectations, a winless streak in three will assuredly dump gasoline on this proverbial flame of a candle.
As expected, scoring hasn't been the issue for a Flyers squad that's returned six of their seven 20-goal scorers from last season. Wayne Simmonds is tied for the NHL lead in goals with four, and sits second among league leaders in points with five. Claude Giroux, Jakub Voracek, Vinny Lecavalier, and Mark Streit all have three points in three games as well.
Speaking of Giroux, his team-leading 12 shots not only indicate he's back to full health, it's also a strong mark to discredit the trigger-shy reputation he's seemed to have developed.
But where the offense has shined, the defensive effort hasn't exactly reciprocated. And although the orange and black were without their top minute producing defenseman in Braydon Coburn in their last two outings, their blown three-goal lead against the Habs on Saturday was nothing less of a choke job, with responsibility extended to all.
"We didn't do a very good job to get some offense in the third,'' said Flyers forward Jakub Voracek. "We just sat back and waited for them to come at us.
"We have to find a way to win those games, no matter how they play. We have to keep the pressure on, we were forechecking with just one guy.''
The Flyers outshot the Habs 27-18 through the first two periods, but curled into a shell in the third stanza. Philly's ultra conservative scheme allowed Montreal to set up camp in the Flyers' zone, making the task of just clearing the puck a massive struggle. As the Canadiens pressed, Berube's team fell even further back on their heels, representing a penalty kill unit, instead of generating offensive chances of their own.
I'm not overreacting, but letting off the gas, skating on your heels, & blowing a 3G lead in 3rd is evidence of horrendous coaching. #Flyers

— Mikey D, O&BP 🤙🏼🏴‍☠️ (@MikeyD_OandBP) October 12, 2014
When regulation ended, Philly's three-goal lead had evaporated, and the Flyers were outshot by a 19-4 margin in the third period. And after a lifeless shootout push, Philadelphia took their first point of the season in an unsatisfying manner.
"When they got the first goal we stopped playing," said Berube. "We started watching.
"I think we went through it last year at times at the start of the season, same kind of thing," Berube said. "We had leads in the third period, might have been four or five of them at the start of the season, and lost them."
Although the Flyers were among four teams who played their third game of the season on Saturday, their defensive warts have already been exposed. Their 12 goals against not only leave them with a minus-four goal differential, it's also the highest total given up in the league through Oct. 11th. And of players who have appeared in all three games for the Flyers, only Simmonds and Nicklas Grossmann have a positive plus-minus to show.
So who's really to blame? Does Philly's lackluster start fall on the players who dictate execution, or lack thereof? Or does the early season hole fall on the shoulders of their "Chief," Craig Berube?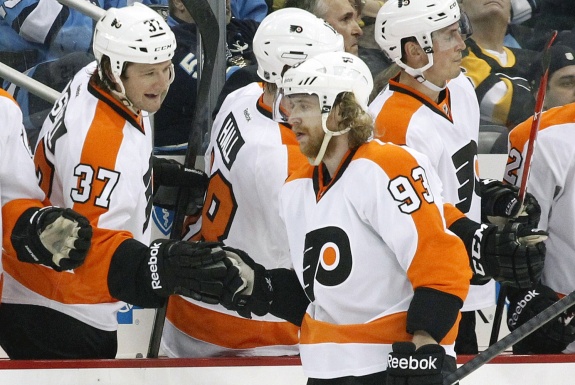 The Mixed Bag of Decisions
The loss of Scott Hartnell from the team's top line, along with a less than intimidating defensive unit, due to a bloated salary cap didn't leave Berube much to work with in regard to taking that next step forward. But for all the excuses one can make for a team that's only missed the playoffs twice in the last 19 seasons, it's equally noteworthy to point out their strengths, such as a Hart Trophy finalist in Giroux, and a power play He-Man, who's growing his five-on-five play in Simmonds. So where does this leave Berube?
Starting with goalie management, the decision to go with Steve Mason against the New Jersey Devils in the first of 14 back-to-back's was a head scratcher, despite fatigue being a non-factor this early in the season.
After turning in an admirable 31-save performance in the Flyers' opening night loss to the Bruins, Berube went back to his starter the very next night against New Jersey, despite an 0-4-0 all-time record against the Devils. Five goals, and another loss later, Mason fell to 0-5-0 against Philly's foes from Newark, with an .871 save percentage, and a 3.64 goals against average.
Charlie O'Connor from Broad Street Hockey wrote:
It was a questionable decision by Craig Berube to start Steve Mason on the second game of a back-to-back, especially so early in the season. Mason did not exactly justify his coach's trust. While most of the goals were not exactly Mason's fault (with the obvious exception of Zubrus' game winner), most of the goals were not completely unstoppable, and Mason was unable to come up with a big save at a key time. Just a needless risk on Berube's part tonight.
Emery, on the other hand, has fared better than Mason throughout his career against New Jersey. And although Emery's sample size is larger than Mason's, his 7-4-2 record looks better than Mason's winless mark. Furthermore, Emery's numbers against the Devils suggest he didn't just "steal" wins. His .931 save percentage against 362 shots leaves him with a stingy 1.91 goals against average.
In Berube's defense, Mason is his undisputed starter. And after coming up short against Boston the night before, despite strong play from Mason, it's understandable why Berube felt Mason gave his team the best chance to win.
The result, however, merely leaves him exposed to such questioning, which are based on all-time numbers – not current circumstances. In other words, if Berube does, in fact, find himself on the hot seat, it'll hardly be as a result of this decision.
Voracek had just 16:18 total TOI last night. In a game where Flyers had 5 PPs and only 3 against. And it went to a shootout. That's absurd

— Bob Roberts (@BobRbrts) October 12, 2014
But then there's the deployment and usage of top line forward Jakub Voracek. In their loss to Montreal, Voracek logged a total time on ice of 16:18, despite skating on a line with Claude Giroux and Michael Raffl. Sean Couturier, on the other hand, saw a total time of 22:50, which makes sense considering the Flyers took their foot off the gas in the third period.
But on the power play, it was Lecavalier who saw 5:54 worth of time, to Voracek's 3:43. And while Lecavalier brings his highest value to the Flyers on the man advantage, with a pair of power play assists in three games, Berube and the Flyers would increasingly benefit having their 23 power play point man from a year ago logging more minutes on the man advantage.
Speaking more of Voracek, Berube's shootout lineup against Montreal was perplexing to say the least. Never mind what looked like minimal efforts from Claude Giroux and Matt Read, the decision to send out Sean Couturier third in the lineup defies the logic in both riding the hot hand of Wayne Simmonds, as well as the more skilled Voracek.
Both Simmonds (23.1 percent), and Voracek (21.4 percent), owned higher career shootout percentages than Couturier's 16.7 percentage heading into the new season. Perhaps the team's disappointing showings in last season's skills competition can be attributed to Berube opting to use his shutdown center five times to Simmonds' and Voracek's single attempt each.
"I don't even want to comment on the shootout; it is what it is," said Simmonds after the Flyers dropped to 27-52 since the shootout was implemented in the 2005-06 season. "I don't think it's any way to decide a hockey game, but unfortunately that's the way it is and we've got to make sure we're getting better at that."
If Berube doesn't begin to pull the right strings as his team continues a brutal month of October on the schedule, the whispers of his job being in jeopardy could very well increase in volume.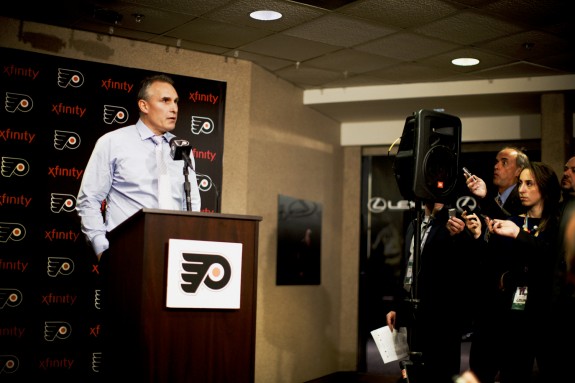 The Hot Seat & Knee-Jerk Reactions
While it appears to be more of the same from a results standpoint, Berube has shown that he can effectively rule by making other adjustments. Let's not forget how it was Berube who righted the ship after being thrown into the fire of a 1-7-0 start last season. And it was Berube who led the same components that left former coach Peter Laviolette jobless after eight games, to the sixth seed of the playoffs.
After his top line failed to generate much of a threat through the first two games, the second year coach didn't hesitate in breaking up the line consisting of Vinny Lecavalier, Michael Raffl, and R.J. Umberger.
"I would have liked to see them hang onto it a little longer rather than trying these plays that are hope plays almost. Keep the puck longer and protect it," said Berube after the Flyers 2-1 opening night loss to Boston. "They're a big line. They should be able to do that."
After dropping the 6-4 decision to the Devils, and the Flyers failing to record a point, the Brayden Schenn project on the top line was derailed before the final horn even sounded. The tweak appeared to pay dividends right off the bat, as Raffl not only scored his first goal of the season against the Canadiens, but showed a flowing chemistry with Giroux and Voracek.
Bill Melzter of Hockey Buzz had this to say:
Asked why Brayden Schenn had been moved down in the lineup, Berube minced no words after the morning skate. In essence, Berube said the player was not skating, creating or doing enough in general to make the top line better with his presence.
Also, Berube changed up the lines in the second. Umberger now with Couturier and Read, Raffl on Giroux line, Schenn back with Vinny.

— Broad Street Hockey (@BroadStHockey) October 10, 2014
Berube also recognized Philadelphia's lacking energy in last season's training camp, a key factor in their sluggish start last season. Along with GM Ron Hextall, Berube focused on player fitness upon assuming his leadership role last season, along with driving up the tempo at practice.
Tim Riday of CSN Philly explains more:
Since taking over as head coach of the Flyers last season, Craig Berube has put an emphasis on nutrition and conditioning. And we all know he likes to run an uptempo style on offense. The faster the better.

Since taking over as general manager of the Flyers this summer, Ron Hextall has made it one of his objectives to upgrade his team's ability to roll four lines.

Clearly, the coach and GM are on the same page.
Along with Hextall's cooperation, the Flyers are now showcasing four offensive lines that are not only capable of skating, but scoring as well. One of the team's biggest pleasant surprises of the season has been the effectiveness of Berube's fourth line, which consists of Pierre-Edouard Bellemare, Jason Akeson, and Zac Rinaldo.
Prior to opening night, Tom Foti of Buzz on Broad noted this:
Zac Rinaldo, Pierre-Edouard Bellemare and Jason Akeson are a blend of speed and skill the Flyers have not seen on their fourth line in some time.

During the last two games of the regular season, the trio was buzzing all over the ice. They combined for four points and more than ten minutes of ice time per game against the Rangers and Washington Capitals.
Although Berube has left himself open to certain criticism pertaining to Philly's 0-2-1 jump out of the gate, there's no doubt the organization's limited cap space, along with a treacherous opening month schedule, didn't do the head coach any favors. And after losing his top two defenders in Kimmo Timonen and Braydon Coburn, the fact that Berube has the Flyers competing in each game to this point is a success in itself.
Winning, of course, cures all. And if the Flyers can somehow find a way to gain some points against a slate of top tier opponents, Berube will be revered, not on the hot seat. A coaching change for the second consecutive season would not only be a knee-jerk reaction, it would be a move with little vision of answering the question, "what then?"
Not only would it cost the Flyers valuable time and potential points, to implement a new system, it's no guarantee a new voice would be the answer this go-round.
Be that as it may, oddsmakers in Vegas do not see it this way. Travis Hughes of Broad Street Hockey added his take here:
The Flyers head coach has 4/1 odds at being the first coach to be fired in the NHL, trailing only Toronto's Randy Carlyle (5/2 odds) and Islanders coach Jack Capuano (3/1). Kind of silly since Berube's chances of being fired this season feels like next-to-zero, but whatever.
A lot has yet to be determined, however. Especially if Lecavalier, who suffered an apparent foot injury against Montreal, is to miss any time. With a patient GM, who brings a long-term approach with him from Los Angeles, it's safe to assume that Berube's job is safe.  The Chief may not be Hextall's "guy" in terms of hand-picking a coach, but the two are unquestionably sitting on the same side of the table.