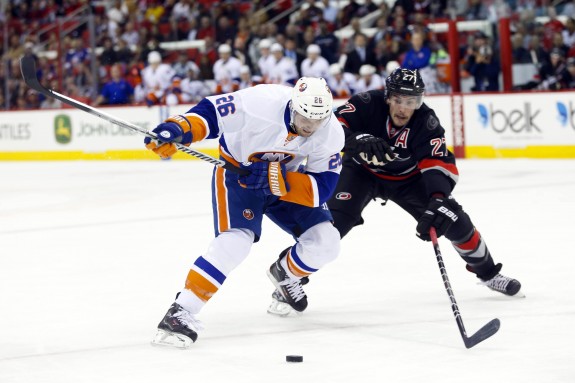 Trade deadline day in the NHL is always a passionate roller coaster of emotion. Anticipation, excitement and disappointment filled the air as usual, especially in hockey-mad Toronto.
A fan of an NHL team on trade deadline day normally isn't too saddened by their team's lack of movement. Maybe a little disappointed, but they can get over it. No trades may mean your favourite team didn't get any better, but it also means there's no risk of a swap turning into catastrophe. The Toronto Maple Leafs had a similar type of day on Wednesday except it didn't end quite as well.
The Good
The Toronto Maple Leafs are not the type of team that can improve by miles overnight. The coaching staff and players have invested too much time in the current system, even though it may not be overly effective, to simply switch things up and see success in a matter of one game. Management, we thought, did not have the assets to acquire the likes of Mike Cammalleri or Thomas Vanek.
It is an abundance of trades that have put the Maple Leafs in this situation. Trades like the Phil Kessel deal (although now working out well in the long-run) and others that have seen the Leafs sacrifice future for immediate talent have negated any plausible options to swing a deal and see immediate results. What you might call the Ryan Kesler "sweepstakes" were a prime example of this as the Leafs did not have the prospects to trade.
Another thing that hurt the Leafs in any look they may have taken at Kesler or other big-name fish on the market was their lack of current assets. Rumours had Nazem Kadri headed out of town, a move that would've benefited the Leafs had the right name joined the team. But aside from him and Nikolai Kulemin, few players on the Leafs' current roster were solid trade options. You might throw Tyler Bozak and James Reimer in there, but we all know where GM Dave Nonis & Co. stand in that regard not to mention how difficult it would be to separate Phil Kessel from his regular centreman at this point and the value of Reimer as a backup goalie.
With little in terms of prospects and NHL assets to move at the deadline, the Maple Leafs were best to remain quiet and avoid putting a bright future in jeopardy. That was until the NHL community began turning heads.
The Bad
Right when you thought deadline day was all wrapped up, it happened…
In a trade that came straight out of left field, the Montreal Canadiens acquired game-changing forward Thomas Vanek. It wasn't necessarily Vanek's destination that had people picking their jaws up from the floor, but rather what the Canadiens had to surrender to bring him to town: prospects Sebastien Collberg and a conditional second round draft pick (the Habs also received a conditional fifth round pick).
The last thing the Leafs needed at this point in the season was for a team they're battling in the Eastern Conference playoff race to go out and acquire one of the most sought-after players up for trade while giving away no immediate assets in the process. Vanek, playing for his third team this season in no thanks to his play, will bolster the Habs' lineup and bring the team to a new level offensively.
This leaves us wondering what the Leafs would have had to give the Islanders to pry Vanek out of New York. Perhaps a conditional second round pick, one that currently stands as being higher in the draft order than Montreal's, just as Habs GM Marc Bergevin did, and Tyler Biggs? A third round pick and Frederik Gauthier? The only wrinkle that might have to be worked out in either of those cases is salary cap space, but isn't that was NHL team executives are paid to do?
Dave Nonis and his staff played it wise on trade deadline day, or so we thought. Once it was announced that Thomas Vanek was sent packing to Montreal at a price that widely has Vanek considered a steal, everything changed.
And it was all too late for the Toronto Maple Leafs.
Twitter: @LukasHardonk | Email: lukas.hardonk@gmail.com | Lukas' archive