Dean Lombardi just traded for a sniper with some baggage.
Haven't we seen this story before?
A similar script was followed when the Los Angeles Kings traded for Justin Williams and Jeff Carter.
All three wingers were at least some time removed from their salad scoring days. Williams had suffered a string of injuries in Carolina; Carter seemed disenchanted in Columbus; Gaborik also "appeared disinterested or detached" with the Blue Jackets. And their respective GMs were more than willing to surrender them at less than peak value.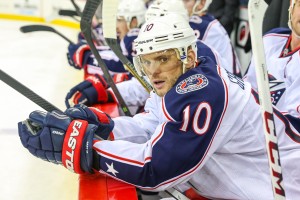 Let's ignore the draft picks involved in these deals as we're looking at just LA's side of things. At their best, who's better, Patrick O'Sullivan or Justin Williams? Jack Johnson or Jeff Carter? Matt Frattin or Marian Gaborik?
Lombardi is gambling on the big payoff. But why is he gambling in the first place? Why didn't he trade for a surer thing like Ryan Kesler or Thomas Vanek?  We're assuming that Los Angeles considered other players like Matt Moulson and Ales Hemsky to be lesser talents than Gaborik.
Let's start with the asking price.
Supposedly, the Vancouver Canucks wanted a "young centre, an elite prospect and a first-round draft pick in return" for Kesler. Following the question of whether or not the Kings could even meet such a price, the question is would you want to?
Now in the case of Vanek (like Gaborik), the asking price wasn't as much of an issue because the Austrian sniper was due for unrestricted free agency in July. However, the Montreal Canadiens still gave up a solid prospect in Sebastian Collberg. Let's say for Los Angeles, the equivalent might be Tanner Pearson. In fact, Collberg and Pearson were drafted two spots from each other in the 2012 Draft.
But consider a player's commitment.
As digestible a cost as Tanner Pearson and a draft pick might have been, this post-Deadline quote from Lombardi is telling:
"[Gaborik would] like to stay here. I like this that he's coming here with the purpose of staying here versus some of things you saw out there with some of the free agents where the player says, I'm going July 1st. Well, I have a hard time thinking somebody's going to go get his head smashed in St. Louis or San Jose when he's already talking about going July 1st."
Looking back at Lombardi's Trade Deadline transactions, he has shied away from high-priced rentals whose primary interest might be maximizing their market value come July 1st.
Market value is very much on Lombardi's mind.
Of course, he has to build the best team possible under a hard salary cap. Vanek will probably go to pretty much the highest bidder in a couple months. Gaborik? I believe that the Kings GM is hoping that he performs at an elite level, and then, because of his already-professed desire to play in LA plus all his past baggage limiting his expectations, will accept a more reasonable contract to stay.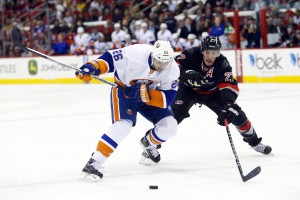 To get more than what you're paying for—that's pretty much the way to fill your team in this capped era.
Columbus is also paying half of Gaborik's remaining salary this season.
The Kings were up against the cap, so this is absolutely essential. For example, in the case of Moulson, the Sabres are already retaining three salaries (Vanek, Jason Pominville, and Ryan Miller), which is the maximum allowed by the current CBA.
So now we know why Lombardi chose him over other players. But which Gaborik are the Kings getting?
One, two, three Marians…
Lombardi still considers Gaborik "an explosive player that can make something out of nothing." At his best, he's every bit the sniper that Carter is and more. As for fitting in with the defense-first Kings? Well, we'll see. He managed to score under Jacques Lemaire in Minnesota, so anything is possible. The GM is hopeful: "The high-end guys like Kopitar, Carter, Doughty—all these guys have never lost sight of the fact that there's a price to be paid, now go do your thing. That's what we're expecting from [Gaborik], meshing with that team and then bring to this team what it does not have in its arsenal."
It must be pointed out that Gaborik hasn't produced at an "explosive" level since 2012. But he can still help the team producing at his recent, second-line level (18 goals in his last 69 games).
Of course, staying healthy has always been an obstacle for Gaborik. For what it's worth, before this season, he had played in over 90% of his team's regular season games since signing that five-year deal with the New York Rangers in 2009.
These are the three Marian Gaboriks—superstar, just another guy, and out—and it wouldn't surprise me if we saw all of them in the coming months. Of course, that's why Lombardi was able to pull off another three quarters for a dollar swap; it's worth noting, however, that Columbus GM Jarmo Kekalainen thought he had achieved the same thing when he pried the Slovakian sniper from the Rangers last season.
The standard "Get Me to the Church on Time" comes to mind—let's just get Gabby to the playoffs in health!