The Trade Deadline is the NHL's version of the black market.
Costs are exorbitant. High-quality product is limited, standard issue marked up, and even the proverbial lipsticked pig can be pawned off. Those who can afford to buy feel fortunate; those who must sell are made to feel low. All this, and the clock is ticking.
In these especially volatile times, it's critical to have a steady hand guiding your organization's fortunes, whether it's directed toward the unrestrained joy of hoisting the Cup or the calculated pleasure from making a killing in futures.
The Kings have a Deadline winner in Dean Lombardi.
Agree or disagree with some of his Deadline moves, as we go through each of his transactions, you'll see that by and large, he's done well as both seller and buyer.
In the end, I count a Trade Deadline record of 6-2-6; that's six Wins, two Losses, and six Washes/Undecideds. What's your count?
A winning Trade Deadline record plus a Stanley Cup. After suffering through the George Maguire, Nick Beverley, and Sam McMaster tears, what more could Kings fans ask for?
Breaking down Lombardi's Deadline deals.
For the purposes of this argument, any swap within a week of that season's Trade Deadline is counted. I should note that a "Win" trade for the Kings doesn't necessarily mean a "Loss" for the opposing side; it can be a "Win-Win" trade. Special thanks to McSorley's Stick, whose research was indispensable for this list:
Date: April 2, 2013
Los Angeles Kings acquire: 2013 5th round pick (#146 Patrik Bartosak)
Montreal Canadiens acquire: Davis Drewiske
Verdict: Undecided. Drewiske was just waived by Montreal, while goaltender Bartosak is turning some heads in the WHL.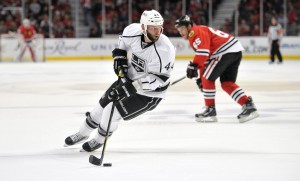 April 1, 2013
Los Angeles Kings: Robyn Regehr
Buffalo Sabres: 2014 2nd round pick, 2015 2nd round pick
Verdict: Undecided. Regehr is one of Lombardi's most controversial pickups ever. On one hand, he's a warrior who helped a worn-out Los Angeles defense reach the 2013 Western Conference Finals, and currently, leads the team in overall short-handed minutes. On the other hand, he's a drag on possession who the Kings should have left "to a Western Conference opponent so that he would drag their numbers down." Either way, we can probably all agree that a high price was paid for his services.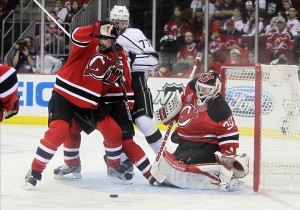 February 23, 2012
Los Angeles Kings: Jeff Carter
Columbus Blue Jackets: Jack Johnson, 2013 1st round pick (#26 Marko Dano)
Verdict: Win. Taking on a contract that lasts until 2022 is always tough, but Carter's contributions to a 2012 Cup-winning team that may not have even made the playoffs without him, plus his continued elite play, will be tough to tarnish. Lombardi took advantage of then-Columbus GM Scott Howson's problem with a disgruntled star in this classic three quarters (which may be generous) for a dollar steal.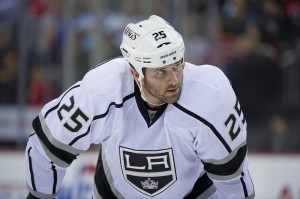 February 28, 2011
Los Angeles Kings: Dustin Penner
Edmonton Oilers: Colten Teubert, 2011 1st round pick (#19 Oscar Klefbom), 2012 3rd round pick (#91 Daniil Zharkov)
Verdict: Win. Can't argue with a Cup. Penner was brought to the Kings to do essentially one thing: Score, which he failed at miserably. However, he brought something unexpected: Clutch play in the playoffs. Big possession numbers and bigger playoff goals will ultimately define his reign here; he's this LA team's Robert Horry. Teubert has busted and Klefblom is still promising.
March 3, 2010
Los Angeles Kings: Fredrik Modin
Columbus Blue Jackets: 2010 conditional 7th round pick (if Kings win 2010 Stanley Cup) (not exercised)
Verdict: Win. Modin played more than well enough in the stretch run and playoffs to earn one last NHL contract. Not bad for a guy who was acquired for literally nothing.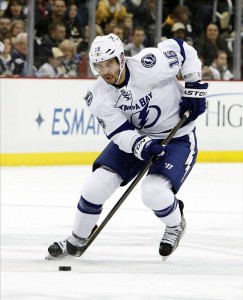 March 3, 2010
Los Angeles Kings: Jeff Halpern
Tampa Bay Lightning: Teddy Purcell, 2010 3rd round pick (#63 Brock Beukeboom)
Verdict: Loss. Besides the Dan Cloutier disaster, Lombardi's worst Kings trade ever. Unlike Modin, Halpern was a bad fit for the Kings. More importantly, Purcell has developed into a legitimate top-six threat, and while I'm not sure he would've flourished under LA's defense-first system, this transaction was certainly an example of poor asset management.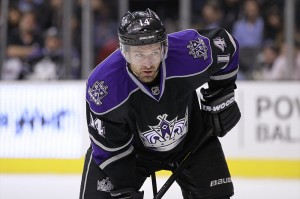 March 4, 2009
Los Angeles Kings: Justin Williams
Carolina Hurricanes: Patrick O'Sullivan, 2009 2nd round pick (#51 Brian Dumoulin)
Verdict: Win. Like the Carter deal, Lombardi sold high on a lesser player to gamble on a superior, but not without baggage, player. Williams has bounced back convincingly from fluke knee, hand, and foot injuries, while O'Sullivan shortly found himself out of the league. The Carolina Hurricanes included Dumoulin in their 2012 trade with the Pittsburgh Penguins for Jordan Staal.
February 26, 2008
Los Angeles Kings: 2008 7th round pick (#185 Paul Karpowich)
Anaheim Ducks: Jean-Sebastien Aubin
Verdict: Undecided. But it'll be no worse than a Wash as Aubin never played another NHL game after this deal. The 2008 7th round pick was dealt to the St. Louis Blues for a 2009 7th round pick which was used on center Nic Dowd (#197), who's still a legitimate Kings prospect.
February 26, 2008
Los Angeles Kings: 2008 2nd round pick (#61 Peter Delmas), 2009 4th round pick (#119 Ben Chiarot)
Detroit Red Wings: Brad Stuart
Verdict: Loss. Stuart would've looked great on Los Angeles's blueline as the team got better. That said, the 2008 2nd round pick was sent to the Colorado Avalanche for Brad Richardson and the 2009 4th round pick was packaged in a deal with the Atlanta Thrashers for a 4th round pick that became goaltender Jean-Francois Berube (#95). Richardson was a middling utility forward who contributed a big goal in the team's 2012 playoff run, while Berube is still developing in Manchester.
February 19, 2008
Los Angeles Kings: 2008 3rd round pick (#88 Geordie Wudrick)
Philadelphia Flyers: Jaroslav Modry
Verdict: Wash. The Kings got back a decent pick for a player that they didn't need; they just blew the pick.
February 27, 2007
Los Angeles Kings: Jamie Heward
Washington Capitals: 2007 conditional 5th round pick (if Kings re-sign Heward) (not exercised)
Verdict: Win. A cheap win. Heward didn't do much for the Kings; however, he cost nothing.
February 27, 2007
Los Angeles Kings: 2007 5th round pick (#137 Joshua Turnbull)
Tampa Bay Lightning: Jason Ward
Verdict: Wash. Again, the Kings got back a pick for an extra, but didn't do anything with it.
February 27, 2007
Los Angeles Kings: Johan Fransson, Jaroslav Modry, 2007 2nd round pick (#52 Oscar Moller), 2007 3rd round pick (#82 Bryan Cameron), 2008 1st round pick (#28 Viktor Tikhonov)
Dallas Stars: Mattias Norstrom, Konstantin Pushkarev, 2007 3rd round pick (#64 Sergei Korostin), 2007 4th round pick (#94 Maksim Mayorov)
Verdict: Wash. Fransson hasn't played in the NHL yet. The 2008 1st round pick was traded to the Anaheim Ducks to move up higher, and the Kings eventually chose Colten Teubert (#13), which led to Penner. But my overall feeling about this trade is that more could've been done with it, especially the Moller and Cameron picks. All in all, this doesn't seem like much of a package for the then-captain Norstrom. Fine acquisition of assets, not so precise execution. Dallas eventually turned the 2007 4th round pick into three 2007 5th rounders. And one of those 5th rounders? Jamie Benn.
February 26, 2007
Los Angeles Kings: 2007 2nd round pick (#61 Wayne Simmonds), 2008 4th round pick (#101 Justin Jokinen)
Vancouver Canucks: Brent Sopel
Verdict: Win. Brent Sopel had no future with a rebuilding squad in Los Angeles. Simmonds played well for the Kings and was eventually dealt in a package to the Philadelphia Flyers for Mike Richards. The 2008 4th round pick was relayed onto the Buffalo Sabres so Lombardi could move up in that round for defender Andrew Campbell.