The season has barely ended, and the most exciting Los Angeles Kings news this offseason may have already dropped.  With Slava Voynov re-signed, Jonathan Bernier traded, and at least five roster spots to fill at just over 6.6 mil of cap space, Dean Lombardi is between a ceiling and a hard place.  Already, some Kings fans are waving goodbye to UFAs Dustin Penner and Rob Scuderi, stalwarts from the most successful consecutive years in franchise history.
"[W]ith the cap coming down, it's all about making things fit."
The GM stated last Sunday that his first call after acquiring Matt Frattin and Ben Scrivens for Bernier was going to be to Scuderi's agent.  But it's hard to see how the Kings will be able to fit in "The Piece" at even his last contract's 3.4 mil AAV (leaving Los Angeles with 3.2 mil for four players).  In fact, being the premier stay-at-home defender in a defensemen-poor UFA market, coupled with his reputation as a winner, probably earns Scuderi a nice raise.  So if something can be worked out, great, as solid defense should be prioritized.  But I'm not counting on Scuds's return.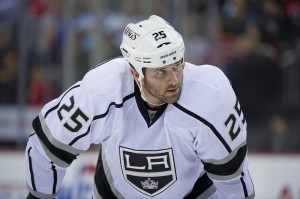 Which leaves Penner.  Coming off a 3.25 mil cap hit, he should cost less because of his wobbly regular seasons over the last three years.  But why would the Kings bring back a supposed scorer who's put up just 11 goals in 117 regular season games with the team?
Penner Drives Possession
Penner's main contribution to Los Angeles's success isn't scoring.  It's puck possession, especially when it counts most.  While his teammates suffered from uncharacteristic problems with controlling possession during the playoffs, he stood out, whether on the third or second line.
[table id=106 /]
While his playoff possession numbers weren't as outstanding in 2012, he faced the third-highest Relative Quality of Competition among LA forwards.  Puck possession and size are calling cards of the Kings' identity, and Penner is a cover boy.
Penner Provides Quality Depth
There's depth, and then there's quality depth.  Depth is warm bodies, while quality depth is players who can play on a higher line, and arguably, belong up there.  Mike Richards and Jeff Carter can obviously handle first-line duties; Jarret Stoll can hold his own on the second.
We hope that Frattin can eventually crack the top-six, but he hasn't proven it yet; Penner is a third-liner who has shown he can go up.   Re-signing Penner probably sends Frattin or Trevor Lewis to the fourth line, and that's a good thing, the kind of quality depth that can overcome injuries and overwhelm the opposition, much like how the Chicago Blackhawks rolled lines on the way to the Stanley Cup.
Penner Should Be Cheaper
This point is tied with the common complaint that Los Angeles doesn't need a regular season malingerer like Penner in their lineup.  Let's focus on what's more important: Regular season excellence or playoff performance?  I choose the latter every time.
If you demand both, you'll have to pay more, which is exactly what the Kings can't afford.  How else would it be remotely possible to re-sign Penner for say, 2 mil or under?
It's actually a blessing in disguise that he's not consistent in the regular season, as long as he's consistent when it counts most.  He's easily a three mil-plus AAV winger otherwise.  Also, it's worth noting that he loves living in Southern California and recently stated that he's "not closed to" coming back for less, depending on the overall market.
Penner Specifically Fits LA
In most other cities, Penner's regular season struggles could cause strife with management and within the locker room.  Such was the case in Edmonton, when Craig MacTavish called him out publicly in 2008.
In LA, Penner is a popular clubhouse figure, and the relationship he has with Darryl Sutter and Dean Lombardi allow them to prod and scratch without losing him at key moments.  There really aren't many locker rooms in the league, Cup contenders with the quality depth and organizational leadership, where his regular season M.O. would fly.
To further illustrate, let's use a basketball comparison that also works for non-basketball fans.  At one moment of his career, Robert Horry was a malcontent on an average team, who threw a towel in his coach's face.  In seven other moments, he was an NBA champion with the Houston Rockets, Los Angeles Lakers, and San Antonio Spurs, a playoff warrior who happened to have a reputation for taking regular seasons easy.
Horry was most valuable to a championship-contending team, as Penner is to the Kings.
Penner Is a Winner
In his career, Penner has had conditioning issues, a perceived lack of focus, freak injuries, and consistently inconsistent regular season efforts.  And he also has two Stanley Cup rings, enough to stuff both ears with and keep chugging on.
Above all, he's a winner, our Robert Horry.  "Big Shot Rob" was a role player who made the big shots to earn the moniker, just like "Playoff Penner" delivers the clutch goals.
So assuming that Scuderi becomes too expensive, and Penner is willing to take a sizable pay cut, here's my roster.  There are raises for Lewis and Alec Martinez; Scuderi, Brad Richardson, Keaton Ellerby, and Jordan Nolan are gone.  Linden Vey, Tanner Pearson, and hopefully, Bud Holloway, are in the wings.  The defense relies on Mitchell's return; if he's not 100%, he can be put on LTIR, and the Kings can spend past the cap for a suitable replacement.  Do you think Penner still fits the Kings?
CAPGEEK.COM USER GENERATED ROSTER
My Custom Lineup
FORWARDS
Dustin Brown ($3.175m) / Anze Kopitar ($6.800m) / Justin Williams ($3.650m)
Tyler Toffoli ($0.870m) / Mike Richards ($5.750m) / Jeff Carter ($5.273m)
Dustin Penner ($2.000m) / Jarret Stoll ($3.250m) / Matt Frattin ($0.488m)
Kyle Clifford ($0.714m) / Colin Fraser ($0.825m) / Trevor Lewis ($1.250m)
Dwight King ($0.750m) /
DEFENSEMEN
Drew Doughty ($7.000m) / Robyn Regehr ($3.000m)
Slava Voynov ($4.167m) / Willie Mitchell ($3.500m)
Matt Greene ($2.950m) / Alec Martinez ($0.850m)
Jake Muzzin ($0.635m) /
GOALTENDERS
Jonathan Quick ($5.800m)
Ben Scrivens ($0.550m)
——
CAPGEEK.COM TOTALS (follow @capgeek on Twitter)
(these totals are compiled with the bonus cushion)
SALARY CAP: $64,300,000; CAP PAYROLL: $63,246,144; BONUSES: $135,000
CAP SPACE (22-man roster): $1,188,856