With the Buffalo Sabres in a supposed rebuilding stage, much of the attention has been centered on the upcoming NHL Draft as the team has five picks in the top 69. However, we must not forget free agency. Even if the team won't be a major player in what is a very thin crop of unrestricted free agents, it's — at the very least — fun to think about nonetheless.
Daniel Briere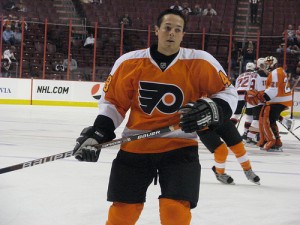 After the Philadelphia Flyers bought out Daniel Briere's contract, fans immediately made the leap that he could possibly return to Buffalo. At first glance, this notion may be a bit farfetched, given that the team is focusing on building for the future and Briere likely will want another shot at the Cup before he retires. Don't completely rule out a Briere return, though. He has publicly stated how much he enjoyed his time in Buffalo and will want to remain close to his children who will likely remain in Philadelphia with his ex-wife; Buffalo is just a short plane ride away. According to online betting site Bovada, odds are 5/1 of Briere signing with the Sabres.
The next logical question to be asked, does it make sense for the Sabres to sign Briere? Again, as a first look, it appears unlikely the team would want to bring in an aging player and take away a roster spot from a youngster. Former Buffalo Sabres and Hockey Hotline contributor Andrew Peters presented an interesting argument.  He stated that a guy like Briere would bring valuable leadership to the locker room and would be a great example for the younger players to learn from. The Sabres are very young down the middle with the likes of  Cody Hodgson (23), Tyler Ennis (23) and Mikhail Grigorenko (19). These players would benefit a great deal from watching how the 35-year-old veteran conducts himself on and off the ice.
Who Else?
Again, stressing the fact that the team likely won't be very active in free agency, lets look at some other possible fits. Also something to keep in mind, the possible trades of Thomas Vanek and/or Ryan Miller could also factor into the team's free agency plans.
Ilya Bryzgalov
If Ryan Miller is dealt, the Sabres should look for a veteran to support Jhonas Enroth; it'd be less than ideal to have an inexperienced goaltender playing behind him. Like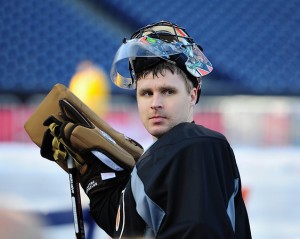 most of the free agency class, the goaltender crop is also thin. So, why not go for one of the bigger names in Ilya Bryzgalov? It may seem like a crazy notion, but this could make sense for a variety of reasons. Bryzgalov may come at a cheaper than usual price tag given that he'll be collecting money from Philadelphia for quite some time and he may seek refuge from the Philadelphia media in a smaller market like Buffalo. Imagine if Bryzgalov could revert back to the goalie he was in Phoenix. At the very least, having both Bryzgalov and Enroth would create a healthy competition. Bryzgalov will be looking to reprove himself, while Enroth wants to show he can be a full-time number one netminder in the NHL.
Rob Scuderi
After trading away Jordan Leopold and Robyn Regehr, the Sabres got considerably younger on the backend. As they continue to develop their young defensemen, they could use a veteran stay-at-home defenseman like Rob Scuderi to give the unit some cohesion. He could be a good partner to stabilize Tyler Myers as he tries to get his career back on track.
What do you think the likelihood of Daniel Briere coming back is? Who would you like to see the team target in free agency?