One of the reasons drafting is so important in the salary cap era is because sometimes teams can grab a player who blossoms early and can contribute before his entry-level contract is up. This allows the team to have a scoring threat who is being paid relatively nothing compared to others of his caliber.
With many teams however, that next contract after the entry-level deal poses problems, especially with so many young guns in today's game. Often times, players seek 5, 6, even 7 million dollars after their entry level deal, which can put teams in a bind when they sometimes go too far in ensuring their draft picks get their desired contract.
However, this is not always the case, and some teams find ways to make it work better than others. Which brings us to Nazem Kadri and his expiring entry-level deal. To sign him is a no-brainer. It must be done. But to what type of deal? He's certainly talented and likely going to be good for a long time but is it worth throwing money and term at him as many teams have done with rising young stars before?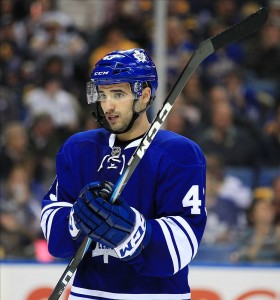 There's pretty much two ways this can go, one, is not uncommon and sees teams sign their young guns to five or six year deals right off their entry level deals. Example of this include Jordan Eberle (6 years, $36 million), Taylor Hall (7 years, $42 million), Evander Kane (6 years, $31.5 million), Bobby Ryan (5 years, $25.5 million) etc. For the record these are not really "bad" deals as most of these guys deserved the money they are going to be paid and have somewhat proven themselves.
However, there is a second, better way that things can be done. A "bridging" deal of sorts. A short, two or three year deal, that "bridges" the gap between "entry-level" player, and (hopefully) superstar. Deals like this include Matt Duchene (2 years, $7 million), Claude Giroux (3 years, $11.25 million), and Logan Couture (2 years, $5.75 million).
Kadri MUST sign a bridging deal and here is why.
Firstly, Kadri is NOT the player that Hall, Eberle, Ryan etc are. His breakout season was in a shortened year, and he still has a lot to prove. Now that teams know to key in on him, what can he do to adjust? Remember that Couture, Duchene and Giroux all had proven much more than Kadri has, yet they settled for less. Couture signed his deal after a 30-goal rookie campaign, Duchene had two good years (55 then 67 points) before an injury plagued one and Giroux was coming off a 21 point playoff performance. Yet they all settled for less money on a shorter deal because they understood they still had lots more to prove.
Second, the Leafs are known for throwing too much money, far too quickly. Two of his teammates can attest to this: Mikhail Grabovski and Joffrey Lupul. These two weren't given money right off of their entry level deals but I still believe they were given money prematurely. Grabovski was actually coming off back-to-back 50-point seasons, but there is NO WAY that makes a player worth $5.5 million for five years. Lupul has been around a long time but it's clear he's had issues staying healthy, given that he's missed 135 man games in the past 4 seasons. So despite the fact that he posted his career high in points (67) in 2011-12, it's still risky in my opinion to lock him up at 5+ million for 5 years. If the Leafs keep giving deals like these, they will find themselves in serious cap trouble.
Third, a bridging deal motivates a player. It's a deal that says "show me what you've got". If the player produces, then now you know he is worth a bigger, longer contract. If he can't, then you aren't stuck paying him for the next several years.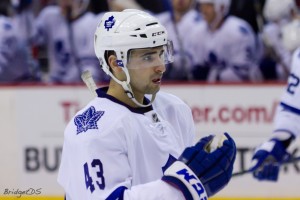 Will Kadri get $5 or $6 million a year? No, likely not. But I still advise against giving him $4 million a year for an extended period of time (five or six years). If I'm Kadri's agent, I look at JVR's contract, and say, "He's making $4.25 million and has a career high of 40 points. My client broke 40 points in 27 less games."
And that worries me. My ideal contract would be 2 years, $6 million for Kadri. Then after two seasons he can ask for something like 5 years at $5 million per. But right now, don't sign Kadri to a JVR like contract (6 years, $25.5 million, which by the way was signed by the Flyers, NOT the Leafs). First he must show consistency playing against the team's top defencemen night in and night out.
Nathan Kanter covers the Vancouver Canucks and Toronto Maple Leafs for The Hockey Writers. He received his master's in journalism from Western University in May of 2015 before serving as the first ever Digital Managing Editor at Western's university newspaper, The Western Gazette, in 2015-16. From 2016-18, he served as the radio play-by-play voice of the Battlefords North Stars in the SJHL. His work has been published in The Hockey News, at Sportsnet.ca and at Dobber Prospects.