The hockey world turns its attention to the transaction wire, as contending teams, and those close to contention, make moves at the NHL trade deadline, which is set for Wednesday at 3pm ET.
And really, who does the trade deadline better than the NHL, even after the implementation of the salary cap?
The Toronto Maple Leafs are one of those teams that should be considered 'close to contention', but not quite a contender, despite the fact that if the season ended today, they would be in the NHL's postseason tournament for the second straight year. Still, to their fans, it just doesn't seem like a playoff year. At times, they have displayed a good, even great, team, and then other times they have looked like one of the dregs of the league, incapable of beating anyone. And this has lasted for weeks on end. Paging, Dr. Jekyll and Mr. Hyde.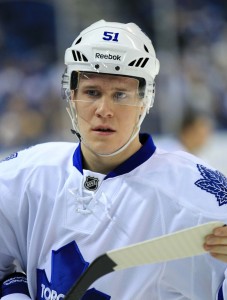 So what will the mighty blue and white do? Well, the answer will most likely be nothing. The team is fairly close to the cap, and outside of a smattering of small moves, it's unlikely we'll see the team do anything major. Sure, the tweeps of the world, and those in the chat rooms (are there still chat rooms?) and message boards love to wishcast, and they're probably quoting some unnamed source about a potential deal for John Tavares or Jonathan Toews, or heck, Sidney Crosby. But the truth of the matter is, general manager Dave Nonis is hamstrung by the salary cap, and it might appear that the team is more of a seller, trying to get something for guys with expiring contracts, than being able to bring in a game-changer.
The team will get C Dave Bolland (Achilles') back from injury, and it will feel like a trade acquisition since he has been sidelined for so long. He can be a difference maker.
I had been hopeful the team would be able to land Andrew MacDonald from the New York Islanders, but the Philadelphia Flyers ponied up a pair of draft picks to make that deal happen in their favor. I have no reason to believe the Leafs ever had talks about MacDonald, but is the type of guy the team could use, even as a rental player, to pluck some of the heavy responsibilities from the plate of Dion Phaneuf.
STAYING PUT
Nonis is on record saying that he does not expect to move G James Reimer, who will be restricted free agent at season's end. If the Leafs are strong at any one position, it is goaltender. And remember, Reimer is still just 25 years old. Things have fallen apart in other NHL cities when the top dog goes down, and there has been a trend in the league to have two starting netminders at the ready. The Leafs are lucky to have that important area covered, and the GM isn't likely to tinker with that just to potentially advance one more round in the playoffs.
As mentioned, Bolland will be back from injury soon, and even though he is in town on a one-year deal, it is more likely that the club would try to work on an extension to keep him around after a strong finish to this season, rather than let him go now that he is finally nearing a return to health. And another free-agent signing that actually panned out, Mason Raymond, will be a free agent at season's end, but he has been a vital part of the offense, especially on the power play, and it would not make any sense whatsoever to see him dealt, unless Nonis is secretly going to blow this thing up and try to regroup for next year. There are no such indications that is the course of action.
GOING, GOING, GONE?
It wouldn't be shocking to see D Jake Gardiner, a restricted free agent after the season, dangled as trade bait. Sometimes you need to give something to get something in deals, and he is the type of player with a bright future who just might fetch a difference maker.
D Cody Franson is also a UFA after the season commences, but any deal involving Franson would simply be to get something back in return. And it isn't likely to be much, and certainly won't quench the thirst of Maple Leafs fans for a title.
COULD GO EITHER WAY
There has been growing speculation that Nikolai Kulemin could be a potential trade piece, mainly due to his unrestricted free agent status at season's end. He has value for a contender looking for offense, but isn't that what the Maple Leafs claim to be? One of their biggest needs is a strong forechecker and two-way forward, something they already have in Kulemin, albeit probably for just 20 more games and however long they fumble around in the playoffs. A move of Kulemin seems like an admission that this team will not go far, and a lack of trying despite the decent business sense behind such a move.