Every trade, in any sport; much like every story, has two sides.
For the past week I, and most of my colleagues here at The Hockey Writers, have been all but singularly focused on what the Pittsburgh Penguins could potentially obtain in a trade deadline deal.
Names like Ryan Kesler, Matt Moulson, and Thomas Vanek to name a few.
But now, with the deadline just under 15 hours away (as of the writing of this article), I've decided it's time to look at the flip-side of this particular coin. To see just exactly what the Penguins might be giving up to "get better."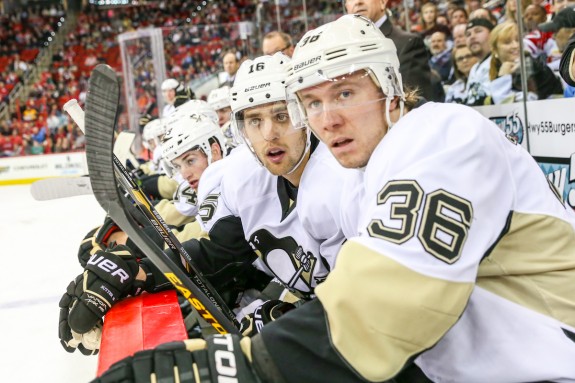 Brandon Sutter – C
This is the name that is all but synonymous with the Pens acquiring Ryan Kesler from the Vancouver Canucks. And it has to be, for three reasons:
He is nearly a perfect fit for what the Canucks are asking for; in terms of a current roster player. Young centerman, 20-25 years old.
Where would Sutter fit on this team after acquiring Kesler; assuming that Kesler will be the third line centerman?
The Penguins will have to move some salary in order to accommodate Kesler's $5 million price tag. Sutter's salary comes in at just over $2 million($2.066 million to be exact), which would help lessen the blow.
But Sutter is a guy whom Pens GM Ray Shero insisted on being included in the deal that sent Jordan Staal to Carolina. Shero wanted the guy who was going to slide into Staal's spot anchoring that third line.
Last season – well the lockout-shortened version of it anyway – saw Sutter post 11 goals and 19 points to go with a plus-3 rating in only 48 games. So far, through 61 games  this season he has tallied 10 goals to go with 11 helpers and a plus-2 rating. By comparison, Kesler this season has 21 goals and 38 points, but is a minus-10.
So do the ends justify the means? Is losing a player who is younger – Sutter is 25, Kesler is 29 – and most likely cheaper – Sutter will be a RFA at the end of this season and figures to double his salary, but not much more – but hasn't produced at the same rate; not considered to be as tough or as stringent defensively as his trade counterpart, worth the trade?
In this case; focusing solely on this comparison of two players who play the same position, the answer is a resounding yes. Kesler is by far the more talented hockey player, and not just based on stats.
But let's take a look at a few of the other names being bandied about.
Simon Despres – D
My personal opinion on this is I'd take a cheese and tomato sandwich for Despres. And that has nothing to do with the perceived laziness within the Penguins' organization that he possesses. His game has just never come around at the NHL level (he's been a monster in the AHL for the Baby Pens), and he takes far to many penalties due to poor positioning and not moving his feet.
But that perceived laziness by Shero and Dan Bylsma ultimately will be what forces Despres out of Pittsburgh.
But Despres does have an upside. He can move the puck and when he chooses to, he skates well. He strikes me as the kind of player who would benefit greatly from the ol' "change of scenery" bit. He can be an asset to a team looking for a young, puck-moving defenseman who will only get better by playing consistent minutes, night in and night out.
Brian Dumoulin – D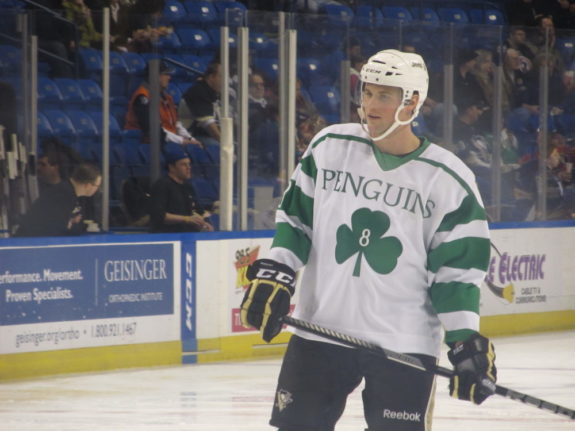 This is where things start to get interesting. Dumoulin, like Sutter, was a requirement in the Staal trade of two years ago. A big guy with soft hands and good defensive positioning is something of which this team is in need.
Kris Letang, Paul Martin, Olli Maatta and Matt Niskanen are all largely considered to be the ever-valuable "puck-moving D-man." Which is code for defenseman who think and play the game very offensively. Having three of those guys in your lineup, and paired with very defensive-minded D-men is a blessing. But any more than that and you start finding yourself involved in 6-5, 7-6, 8-6 shootout-type games. Everything in moderation. Have a yin to the yang. And that's precisely what Dumoulin is.
He's not Rob Scuderi-minded defensively, but he's not Kris Letang-minded offensively, either. He's a healthy mix of both. And for my money, those are some of the best defensemen in the league.
Think Shea Weber. His offense largely comes from running the point for the Nashville Predators' power play. He'll jump up on a play only when he knows his back is covered. Rarely is Weber out of position in his own end. By no means am I comparing Dumoulin to Weber from a talent or success standpoint. But their games are similar.
Dumoulin is not a guy that I think the Pens should be trading. He can be a part of a foundation (along with Letang, Niskanen, and Maatta) on which to build your defense of the future. Plus you have other talented defensemen in the organization that may actually fetch more of a return.
Speaking of other young, talented defensemen:
Derrick Pouliot – D
The Pittsburgh Tribune-Review's Rob Rossi, beat writer for the Penguins, said on Monday that Penguins' management had "softened their stance" on the idea of trading away 2012's 8th overall pick.
Pouliot nearly began the regular season with the Penguins out of training camp. But a logjam of defensemen, including 19 year-old Finnish sensation Olli Maatta, prevented that from happening. In turn, Pouliot was sent back to his junior team, the Portland Winterhawks of the WHL.
By all accounts he will be in the NHL next season. But Pouliot's game nearly mirrors that of Letang's. So once again the question becomes: how many of these offensive-minded defensemen do you want on the team. I dare say; and I'm sure there are plenty of you who will disagree with me, that three is enough. Scoring wins games, but defense wins championships.
I'm on board with Pouliot being traded, as I truly feel that he could fetch a king's ransom for the Penguins. Along with the knowledge that there are other puck-movers already entrenched with this team in the NHL.
Draft Picks
These are always hit or miss. You can never really be sure that you're getting what is advertised. Especially on the back-ends of rounds.
Sure guys like Sidney Crosby and Evgeni Malkin have been all they were advertised to be and more, but those are special players. Once you hit the halfway mark of round one in the NHL Entry Draft, it becomes a bit of a crap shoot.
That said, you can't build up your oganizational depth without drafting young players and developing them. This is something that the Penguins have done a masterful job with, in terms of their defensemen. But their forwward group cupboard is running bare, to say the least.
Beau Bennett is far and away the Pens best forward "prospect." And I'm not sure that you can call him anything other than a prospect at this point, due to his injury history.
Guys like Jayson Megna and Brian Gibbons are all over the NHL and AHL. Another Penguin; Chris Connor, is a perfect example of this. Guys who are great AHL players, but are relegated to third and sometimes fourth-line roles when they're called up to their parent club (with the obvious exception of this season for the Penguins, where Gibbons, Connor and Megna have all seen time in the top-6).
There have been other names of Penguins floated out there. I for one suggested trading Beau Bennett just last week. And as predicted, I was taken to task for my "idiotic" trade proposals.
Thomas Kuenhackl and Scott Harrington are a couple of other names that I've heard pop up in recent days.
All in all, when speaking specifically to the potential acquisition of Ryan Kesler, Brian Dumoulin is where I draw the line. To the Penguins specifically, I think he; and Scott Harrington for that matter, have too much value.
For Ray Shero, this will certainly be his most trying trade deadline in his 8-year tenure with the Pens. My advice:
Don't cut off your nose to spite your face.
Your comments are always welcome. Even those of you who tell me I should jump off a bridge.
You can comment here, or directly to my inbox at TDTorraoTHW@gmail.com
The new Mailbag will be up Thursday. Keep submitting those questions to my inbox or find me on Twitter: