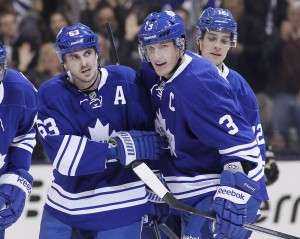 It's hard to believe that less than a year into his Maple Leafs career that Toronto fans could be waving goodbye to hometown centre Dave Bolland. But that could be the case on Wednesday's trade deadline.
The two-time Stanley Cup winner has played in 15 games this season for the blue and white putting up 10 points (6g-4a) and a plus-four rating. While many would argue that the oft-injured 27-year old should be on the Leafs' list of tradable assets, others disagree – pointing to his leadership and hard play as reasons to hold onto the gritty forward.
Maple Leafs' Record Worth Considering
Consider this, the Leafs were 10-5 in the games that Bolland was in the lineup. Chalk that up to leadership or an early season burst of success, there's no questioning that the team's struggled with consistency since he was injured on November 2 against Vancouver.
Leafs need to add a player this week. His name is David Bolland.

— NormanJamesCTV (@NormanJamesCTV) March 4, 2014
What's even more telling is that over that 15-game stretch, the Leafs beat teams like Montreal, Minnesota, Anaheim and Pittsburgh and decisively in most cases. The team even experienced three three-game winning streaks over the first month of the season – all with Bolland in the lineup.
Since then, the Leafs have managed a couple of streaks including one three-game win streak in late December and a six-game winning streak in January (including two shootout wins). Other than that, they've struggled to put together back-to-back wins and even were booed by their fans in their latest loss to the Columbus Blue Jackets.
Dave Bolland: Toronto Based, Toronto Bound
Heading into 2013-14, Bolland's best year was his second year in the National Hockey League. That year – 2008 to 2009 – he put up 47 points (19g-28a) in 81 games for the Chicago Blackhawks.
This year was different. He entered a new stage in his career – the grizzly, experienced veteran. He's back in Toronto, playing in front of family and in the city where he grew up.
Now, given that Bolland had recorded 10 points to open this season – a pace of nearly two-thirds of a point per game. Had he remained on that pace, he would have finished the season with just over 50 points – a new career high.
But it's not just what he could've done as an individual. It's been said that David Clarkson has been under-utilized by head coach Randy Carlyle this season. But imagine a line including Clarkson and Bolland. Both are hard forecheckers. Both are experienced. And both are Toronto-area natives.
Not only could Bolland bring that veteran presence to a younger franchise, but he compliments the other veterans on the team – including a struggling Clarkson. So, if the rumours are true – maybe the Leafs should reconsider. Maybe Bolland's playoff experience is more valuable than the team realizes.
https://twitter.com/RealKyper/status/440982146937667585
Whatever the case, it's been reported that Bolland is looking for a deal close to that of David Clarkson according to Michael Traikos of the National Post – a deal that would be in the seven year range and worth roughly $5-million per year. The Leafs may bait teams with the former London Knight, but he's a piece that teams looking to make a playoff push will need down the stretch – including the Leafs.
For questions and comments, follow Andrew on Twitter @AndrewGForbes or on Google+.
Check out our partners at TiqIQ for the best deals on Toronto Maple Leafs tickets for all 2013-14 games.