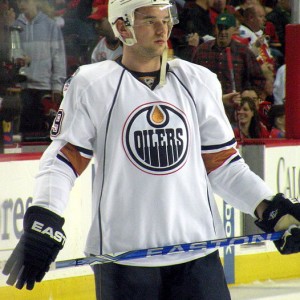 A week ago, former NHL top prospect Patrick O'Sullivan quietly signed with a Finnish team, HIFK Helsinki.
It would be easy to see this move as just another disappointing twist in a star-crossed career.
There was a time when O'Sullivan's story seemed destined to be adapted into a sports drama about perseverance starring Shia LeBeouf, tentatively titled, "Won't Back Down."
There's the verbally and physically abusive "sports dad" that a 16-year-old stands up to, eventually leading to a restraining order against John O'Sullivan.
There's the heartbreaking freefall in the 2003 Entry Draft, where a top-five talent drops to 56th pick, partly due to concerns about the mental and emotional trauma inflicted by an abusive father.
But then, there's the Minnesota Wild swooping in to save the day and a hockey god descending with words of encouragement.
There's scoring the winning goal to clinch the USA's first-ever World Junior Championship gold medal in 2004.
There's torching the AHL with 47 goals as a 20-year-old to win the Dudley Garrett Award for best rookie in 2006.
There's being traded to the Los Angeles Kings that summer for world-class playmaker, Pavol Demitra.
There's scoring 22 goals in 2008 in his second NHL season, poised to cap a Hollywood story by becoming a leading man for LA's young, rising Kings.
The next season, however, there's a contract squabble that eventually nets a lucrative three-year contract, but causes him to miss the entirety of training camp.
There's middling play leading the Kings to cut bait in the first year of his new deal, where he lands in Carolina and a state away from his still-estranged father, only to be quickly re-routed to Edmonton.
There's a public clash with Edmonton's head coach about icetime and microscopic scrutiny in a hockey-mad market about his "soft" play and a -35 in 2010 which contribute to the Oilers dumping him onto Phoenix for journeyman defenseman, Jim Vandermeer.
There's having the remainder of his lucrative three-year contract bought out immediately by Phoenix, then being waived by Carolina, and appropriately enough, Minnesota, over the next couple of seasons.
There's watching the Kings and the core of youngsters that he was supposed to grow with hoist the Stanley Cup in 2012.
There's being cut by Phoenix again, and finally, returning to Helsinki, the site of his most enduring athletic success, eight years after deciding the World Juniors.
There.  The story of a "bust."
________________________________________________
Wild, Kings, Oilers, Hurricanes, and Coyotes fans gather around a virtual campfire, shaking their heads, "What a disappointment.  Just another journeyman.  But he had a really bad dad.  I hope he makes it."
Patrick O'Sullivan was supposed to be a star.  A shining example of overcoming abuse.  The hero rising from tragic origin.
John O'Sullivan also thought his son was supposed to be a star.  A shining example of overcoming hard knocks.  The hero rising from a father's sacrifices.
An overbearing father and overzealous fans had unwittingly written similar scripts for Patrick to follow.
For John, it's probably too late.  But for us?  We can stop judging Patrick O'Sullivan's career against what we perceive as should have been.
________________________________________________
I wonder what he sees.
When he skates, does the shadow of his father's hand creep into his peripheral vision every once in a while?  Does he battle along the boards as a survivor?  Or a victim?
Maybe he's having more fun than we could ever imagine as still one of the world's better players of a child's game.
I shouldn't write any more scripts for him.
But perhaps…
Patrick O'Sullivan is contentedly writing his own story, far away from the reach of John O'Sullivan and the notoriety of outsized expectations, on a rink 5,000 miles away from Hollywood.